'Supernatural' Panel: How Jared & Jensen Will Feel When the Show Eventually Ends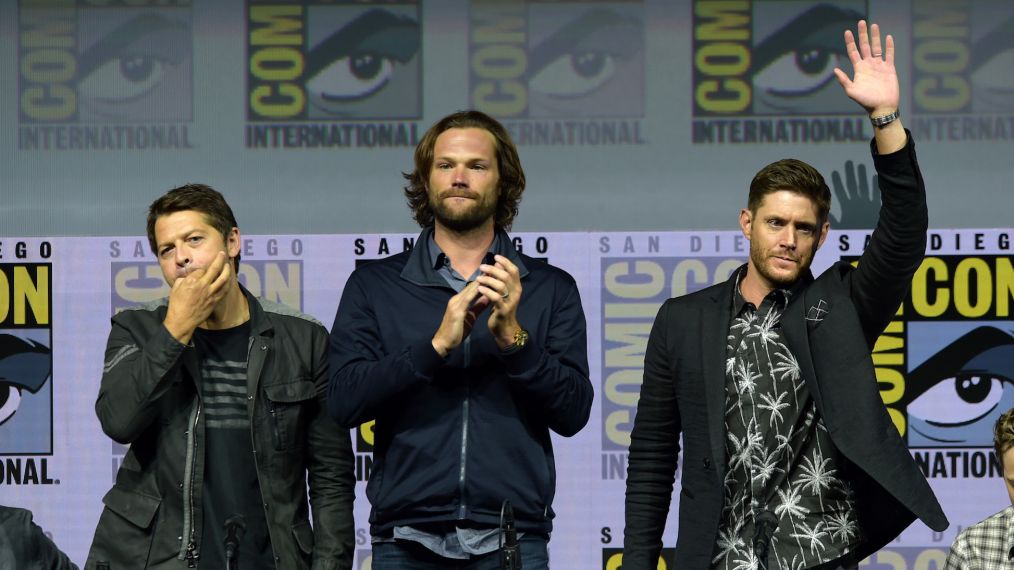 Supernatural, which stars Jared Padalecki and Jensen Ackles as ghost-busting brothers Sam and Dean Winchester, may be television's longest-running science fiction series, but it's showing no signs of slowing down.
Comic-Con 2018 attendees were treated to a preview clip of the Season 14 premiere (which airs Thursday, October 11), featuring Ackles not as Dean, but rather the character of Michael, the Archangel.
Read on to get the scoop on this shocking twist and more!
Ackles on the challenges of now being "Michael": "Dean's sitting shotgun while Michael is driving. It was a little challenging. You come back from break and you slide into [things]. Playing somebody different was challenging but very exciting and fun. I've got some cool scenes with some cool people [coming up]."
Ackles on asking Christian Keyes (ex-Michael) for advice on playing Michael: "I tried to pay attention to what Christian was doing last season. He did an exceptional job. I asked him is there anything you kind of keep in mind or a checklist before you go on camera [that you can share]? He said, 'Yeah, let me show you.' He's got this long coat. [Ackles then strikes a dramatic pose, flinging his arms backwards]. I've been doing that ever since."
See Also
Plus, portraits of the casts of 'Lucifer,' 'Supernatural,' and other shows.
Padelecki on how Sam is dealing with Dean's dilemma: "Sam, this year, has taken on more of a leadership role. His brother's not around and he's sort of distracted. He hasn't shaved in a bit. Sam, without Dean, for however long, needs to take the cues and the lessons he's learned from Dean and try to pass them along to the Apocalypse hunters."
Misha Collins (Castiel) on moving into the front lines in light of Dean's absence: "This is a role up his 'trench coat sleeves [moment]' I'm also taking Jack [Alexander Calvert] under my wing a little bit."
Collins on the resemblance to Calvert and if he could be his TV son? "Alex won't submit to a paternity test. I keep asking for one."
"Wait till I start wearing a trench coat," quipped Calvert.
See Also
Plus, is there a chance he and Jared are related in real life?!
Calvert on being at his first Comic-Con: "I'm not even going to try to play it cool. This is awesome! Thanks, guys!"
Calvert on if it's more difficult playing Lucifer's spawn or being kicked in the "crotchal region" (Padalecki's phrasing) by his castmates? "You know, Jack is going through a lot of struggles right now. So knowing I could be kicked in the balls at any given time really helps me focus on the loss and the pain. Thank you guys, so much. I'm so happy."
Brad Buckner, executive producer/writer, on Michael's agenda: "This falls on the incredibly long list of 'do not reveals.' What is his agenda here? What Michael did in the last world was decimating it. He called it purifying it. What is his definition of doing that on earth? Who is Michael going to organize as his support unit? He has a plan and we're going to see him recruit who he feels he has to."
Collins on sharing more screen-time with Calvert this season: "We touched on this already but I'm excited about it. Alex?"
"Working with Misha is almost as bad as working with Jared and Jensen," quips Calvert.
Calvert on Alex's relationship with Sam and Dean this season: "What's really cool about this show is that you…can break up relationships and have people go on a journey. The ultimate thing is getting Dean back. That's everyone's driving motivation."
Padalecki on what they'll take away from the show when it finally does end: "How long do we have? There are so many things. I started the show when I was 22, and I recently turned 36. There's a difference between a 22-year-old and a 36-year-old who's married with three kids. My life has gotten better by treating it as if it's going to be longer. It's about not trying to rush things anymore. I'm not about every day needing to be 'the best day ever' anymore. I've learned to take things more slowly."
Ackles on the same topic – the show's inevitable end: "I've learned things from everybody up here. I've consider Bob [Singer, executive producer] to be a mentor, and Alex, I've even learned a few things from you. When all is said and done and the show finally does come to an end there are a lot of things that I'll take with me. One of them will be the car because when they yell 'cut' there will be just a dust could. If I can make it through the border, you'll have a tough time catching me."
Supernatural, Season 14 Premiere, Thursday, October 11, 8/7c, The CW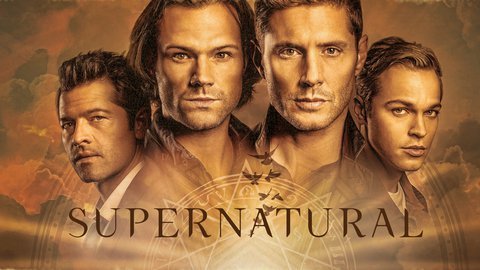 Powered by