'Wynonna Earp' Cast Talks the Comics, WayHaught, Jeremy's Past & More at Comic-Con 2018 Panel
The Wynonna Earp panel on Saturday night at Comic-Con 2018 got off to a great start when a clip package featured not only highlights of the show, but fans of the series who stayed glued to the monitor also learned that the hit series is being renewed for a fourth season!
The panel included Beau Smith, who created the Wynonna Earp comic book, TV series creator Emily Andras, and cast members Melanie Scrofano (Wynonna), Shamier Anderson (Dolls), Tim Rozon (Doc Holliday), Dominique Provost-Chalkley (Waverly), Katherine Barrell (Nicole), Varun Saranga (Jeremy), and Chantal Riley (Kate).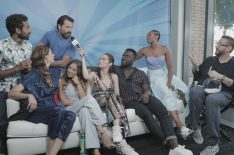 See Also
'We wouldn't be here without you,' Melanie Scrofano said to their viewers.
"It's a testament to you guys that we haven't premiered barely and we're barely getting a season four," Emily Andras, show runner, told panel attendees. "We would not be doing this without you!"
Read on for more highlights from the panel!
Provost-Chalkley on that big secret between Wynonna and Waverly related to their mother: "Of course, Waverly's heart is broken. There's no doubt. The relationship between Waverly and her mother was particularly special, probably because she didn't have a good relationship with her non-biological father. What I will say is one of Waverly's best traits is her ability to forgive."
Anderson on when will Dolls get some love after providing it to everyone else? "I think Dolls speaks to a therapist off camera that he chooses not to televise because he's very private. Dolls has gone through so much. We're seeing Dolls smile more and more every day, especially when Wynonna kisses him. The progression of his character is such a gift. We're seeing the layers peel off. I really hope you guys love what I do."
On how the TV show has influenced Smith in his comic work: "I've done Wynonna Earp for 20 years. What [the show] has done, and this is what Emily does, she turns everything upside down and when you think it's off kilter and could be wrong, it's completely right. She gave me the most gracious gift in that I can do the Wynonna Earp that I've always done and add this new layer to it that's been amazing. She created Doc Holliday, Dolls… all these characters. She's gracious enough to let me play with them using an unlimited budget."
How long did it take for Riley to experience the show's fan base? "I experienced it when they made the announcement about my joining the show. Everybody had let me know that Wynonna Earp has the best fandom in the world! That's what I experienced at the beginning. Now that the announcement is out I finally get to meet you guys!"
Can Saranga tease any information coming out about Jeremy's past? "We will find stuff out about Jeremy and then you'll have even more questions."
On what he'd experiment Smith would like to see the show do: "I'd like to see a complete cast role-reversal in which, say, Tim would play Wynonna. Dolls would be played by Dominique."
Provost-Chalkley on what it was like being directed in an episode by Scrofano: "It was a magical experience. I had the pleasure of being directed [by Melanie] in two scenes. She's such a natural. It felt like she'd been doing it for 10 years. She knows our characters better than we do, it feels like. She has an ability to say exactly what you need to hear and a sensitivity to know when to check in and when to give you space. I hope she does it again next season."
See Also
The casts of 'Lucifer,' 'The 100,' 'The Magicians,' 'Gotham,' and more gave us the scoop!
Would Scrofano want to direct herself? "There are so many factors that go into directing. It's honestly a logistical nightmare for a lead to direct themselves in an episode. If it happens, it's the right thing to do with the show. If it doesn't happen, it's because we're protecting our baby. I love telling the story from that angle because I just get to stare at these people. They look like angels. It was a new way to tell the story. It's a privilege."
On what similarities or differences there may be between Nicole and Waverly: "Nicole is perhaps more cautious to trust, but she wants to so badly. For Waverly, I think it's all hurt, all the time, almost to a fault because her heart is so open and can be so vulnerable at times," says Barrell.
Let's start this off right, #Earpers.

We'll be back for Season 4. #WynonnaEarp #SDCC pic.twitter.com/kOfdWrZ44z

— Wynonna Earp (@WynonnaEarp) July 22, 2018
"I think they're both people who like to put the attention on the other; a lot of the time, it's 'Are you okay?' 'No, are you okay?' In Season 3, you'll see them supporting each other in a really nice way," says Provost-Chalkley.
Andras on if the TV series will see any new monsters as often as they appear in the comics? "Yeah, it's one of my favorite things about the comic — that Beau is able to do that."
On Andras providing extra content online: "I'd like to see Kate's phone history, for sure. I'd like to see who she googles. Thank you everyone for reading the Yarn texts. I'm glad you like them. I think they got 1.4 million views. That's pretty good. Everyone who read them please also watch the show! That would be awesome. It's always about finding a way to tell story that enhances the show versus contradicts the show or the story's canon. I'd love to do more Yarns and we're certainly considering that."
See Also
'The stakes are higher,' added showrunner Emily Andras.
Smith on plans to have other cast members help him with writing: "Right after we leave here, Tim and I are going back to work on 'Bad Day at Black Rock,' which is a new Wynonna Earp graphic novel. Tim has come up with some incredible ideas. One of the things we'll investigate is Bobo Del Ray, his younger brother Mars Del Ray, and how their relationship and parallels Wynonna and Waverly's. If Emily would return my calls, I want to work with her in comic books at some point. As far as the rest of the cast, these are my friends and family. I'd love to write something with all of them!"
Which cast members were fans of comics before they joined the show?
"Actually, I must admit, I wasn't a comic book fan before Wynonna. After I was cast in the role I went out and bought the comics and started studying. I asked the guy in the shop if there was anything else I should read and he gave me Saga," says Chalkley-Provost.
"Locke & Key, published by IDW," says Andras.
"I'm just so happy Dominique reads Saga. I like a book called Lazarus and the Teenage Mutant Ninja Turtles is amazing. I'm more into old Silver Age books [like] The Fantastic Four. Also, Todd MacFarlane's run on the Amazing Spider-man. I bought Batman No. 151, the first appearance of the Riddler — in the Silver Age. I'm not a millionaire," says Rozon with a laugh.
Wynonna Earp, Fridays, 9/8c, SYFY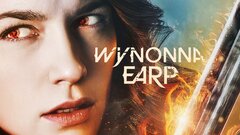 Powered by