'Wynonna Earp' Cast Talks Season 3, Character Deaths & Their Loyal Earpers (VIDEO)
The Wynonna Earp cast is ready for you to finally see Season 3!
It premieres this Friday on SYFY and the cast stopped by the TV Insider suite at 2018 San Diego Comic-Con to chat with Damian Holbrook about everything that Earpers can expect out of their characters in the all-new episodes.
Melanie Scrofano, aka Wynonna herself, admitted she gets nervous reading the scripts because in this type of show you never know if you're going to be killed off. But she is the main character, so her role is probably safe — or is it?!
See Also
Plus, Tim Rozon talks Wynonna and Doc — and his character's iconic mustache.
"Don't make Emily [Andras, the executive producer] mad. She's like 'I don't care who you think you are,'" she joked about her character's life span.
The cast also acknowledged their amazing fan base. "We love you! We love you!" they all chimed in. "We wouldn't be here without you," added Scarfano.
Watch the interview below:
Wynonna Earp, Season 3 Premiere, Friday, July 20, 9/8c, SYFY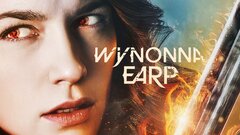 Powered by