'Wynonna Earp' Season 3: Melanie Scrofano on What's Next for Wynonna & Her Baby
"I feel like you have a Wynonna who's back to badass," said Wynonna Earp showrunner and executive producer Emily Andras during a recent interview with TV Insider at 2018 ATX Television Festival in Austin, Texas.
"She had to give up her daughter, she has the opportunity to face the demon of all demons — the one who cursed her family," Andras added. "So you have this determination and this sense that Wynonna is not alone."
Fans are looking for answers when the SYFY series returns for its third season on July 20. In the emotional Season 2 finale, "Earpers" watched Wynonna (Melanie Scrofano) give up her and Doc Holliday's (Tim Rozon) newborn daughter in order to save her life.
We wanted to know what's next for the demon-fighter and her "dysfunctional crew" after her life was turned upside down.
"The stakes are higher [this season]," teased Andras. "There are massive surprises and mistakes with shocking consequences. The villains are of a new caliber and Wynonna really can see an end to this curse and she's determined to break it."
Series star Melanie Scrofano shared the same sentiments. "Wynonna has a laser focus now," she said.
"Before she always wanted to break the curse but now there's a real life, tangible reason to do it. [The baby] being out there in the world makes everything Wynonna does have more weight to it. Now with Doc, we have this common bond, this child."
Someone Andras and Scrofano can't wait for fans to meet? Wynonna's mother.
"Wynonna has known where Mama Earp is but the narrative that we've always heard as the audience is that Mama left and that Wynonna has no idea where she is," said Andras. "So now there's the realization that Wynonna has known where mom is but Waverly maybe doesn't know where mom is, so what kind of rift or angst is that going to cause between the Earp sisters."
"These kickass women but come from a line of kickass women and Megan Follows [who plays Mama Earp] is absolutely phenomenal. I think her scenes with the girls this year are going to blow people away," she added.
Scrofano really likes how the audience will be able to see where Wynonna and Waverly get their traits from and both say the story line will provide another layer to the character.
Depicting these family relationships is what makes Wynonna Earp stand out in its genre. "People understand [the show is] about so much more," insisted Andras. "That [the show] is about these incredible flawed characters who are doing the best they can. I'm proud about the representation on screen. I'm proud about the way we portray women and this cast and how good and dedicated they are."
Wynonna Earp, Season 3 Premiere, Friday, July 20, 9/8c, SYFY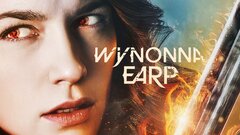 Powered by