All the Shark Week 2018 Celebrity Appearances, Ranked
It's that time of year. The sun is out, the beach beckons, and, we assume, the predators of the deep are out there, swimming around somewhere. Probably near Australia, if we had to guess. Hopefully far from our beach towels.
Dust off your floaties, team. Shark Week is upon us again. (Great Whites and Nurses and Makos, oh my!) It's their 30th anniversary, and they're doing it big.
Last year, we watched Michael Phelps go head to head against a Great White shark (and witnessed what was probably the closest Phelps has ever come to feeling like any opponent of Katie Ledecky). Mikey P, who swims six hours a day when training, was no match for a Great White (who swims literally all day long every single day), but it did make for great TV. And if something works, you work it hard.
Or, at least, that seems to be the motto over at Discovery Channel. This summer's lineup has not one but SEVEN (7!) celebrities appearing alongside various sharks over the course of the week.
Based entirely on a combination of Discovery Channel's official listings and our own expert knowledge as longtime Shark Week-heads (Hammerhead-heads?), we now present you with the definitive ranking, from worst to best, of the week's biggest stars who only have one row of teeth.
SPECIAL NOTE: Before we dive in (haha, get it?) to the official Shark Week Celeb Ranking 2018, we bring you a minor point, for practicality's sake. Aaron Rodgers, Lindsey Vonn, and Rob Gronkowski are all scheduled to appear in the same program (Monster Tag). Discovery Channel officially describes Monster Tag as "thrilling and urgent," but a little further digging revealed it to be neither thrilling nor urgent (even though we really want it to be!). As such, we have ranked the entire episode in its rightful place (last). In the interest of fairness, though, we will still be ranking each celebrity guest individually within that bottom-tier ranking, based on how much we think they will bring to the special (which, as far as we can tell, is basically just school about shark mating and tagging– where's the drama? Where's the danger? These are things we need).
7. Aaron Rodgers (Monster Tag)
What could NFL quarterback Aaron Rodgers really bring to this episode? We just don't think he has the star power necessary to spice up this special. He seems like a decent enough dude, and he did go to college, which is a plus as far as learning goes, but what we really need is a class clown, probably. Also, what are his Shark Week credentials? He's from Chico, California (not near the ocean) and plays in Green Bay, Wisconsin (also not near the ocean). We're not saying that everyone who's ever lived near the ocean has a deep personal connection to sharks and is thus uniquely qualified for a spot on a Shark Week special, but we're not not saying that either.
6. Lindsey Vonn (Monster Tag)
Aaron Rodgers' sister in landlocked-ness, Lindsey Vonn (of Vail "not near the ocean" Colorado) does at least have one thing going for her that Rodgers doesn't, which is that we get good classroom vibes from her. We think she'll probably do a good job of learning about satellite wildlife tagging, which we appreciate. Also, skiing is pretty dangerous, so maybe Vonn won't be too afraid to get up close and personal with a shark (which is all we really want from Celebrity Shark Encounters).
5. Rob Gronkowski (Monster Tag)
Foxborough, Mass isn't super close to the ocean, but it isn't, like, Green Bay-far, so we're giving him this one. Plus, his famously playful, fun-loving personality should be just the thing to make this shark tagging learning-based episode feel like a good time. We know the episode's about the worldwide decrease in shark populations, but is it too much to ask for it to be a little bit of a party too? Seems fair to us, and Gronk's gotta be our guy.
4. Guy Fieri (Guy Fieri's Feeding Frenzy)*
Disappointment has a name and it is Guy Fieri's Feeding Frenzy. "In the food world, Guy's known as the perfect eating machine…but he's finally met his match when he goes flip flop to fin with the ultimate feeding machines of the sea," announces Discovery Channel's listing. So…Guy vs. shark eating contest, right? Wrong. Seems like this episode is gonna be less Feeding Frenzy and more Diners, Drive-Ins, and Dives: International Plus Some Information About Sharks. He and his son Hunter are going to be diving without a cage, though, so we're looking forward to that. But seriously. All we wanted was some Phelps-style head-to-head battling. Who is the ultimate feeding machine? Guess we'll never know. Definitely not the bomb dot com.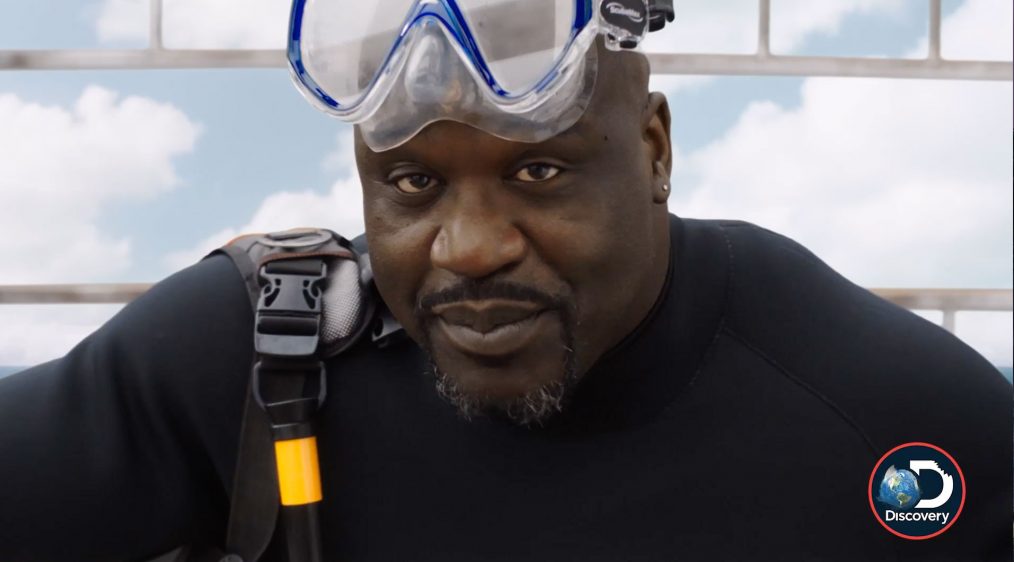 3. Shaquille O'Neal (Shaq Does Shark Week)
Technically, this one actually seems a little tamer than Guy's. But it's Shaq. C'mon. Honestly, we'd probably watch an hour of him just lying down next to different sharks to see who was taller. Or that Shaq Week promo on a loop. Shaq overcoming his fear of sharks is everything we didn't know we needed this Shark Week. Also, Shaq didn't betray us the way Guy did.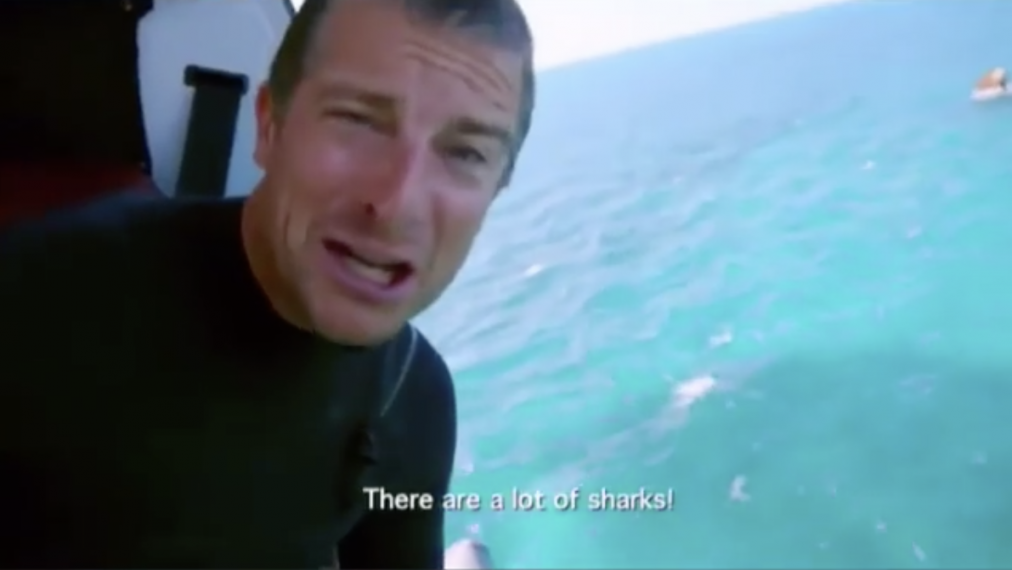 2. Bear Grylls (Bear vs. Shark)
On his special episode, Bear Grylls will be learning how to safely swim with sharks, among other things (tagging them, freeing them from hooks, etc.). It's marketed as a big face-off, but we're pretty sure Bear is gonna be on the same team as the sharks, and we're totally okay with that. This episode looks like it's going to be closer to the non-celebrity Shark Week shows we know and love. Sometimes you just need a little familiarity. Hey, he's still going to be swimming with sharks. We'd say that's plenty exciting.
1. Ronda Rousey (Ronda Rousey Uncaged)
You guys. Ronda Rousey is going to HAND FEED a BULL SHARK. That is fully wild. What even is there to say? She blows the competition out of the water (another water joke, nice) on the danger and excitement fronts. This episode also stars Navy diver/shark attack survivor Paul de Gelder, a Shark Week veteran, who will no doubt provide the scientific and technical expertise we have come to expect and crave from Shark Week. And he enables Ronda Rousey to prove herself to be the "Baddest Woman on the Planet" once and for all. Which she is. Obviously. When was the last time you handfed a shark?
There you have it. Our absolutely correct, completely unbiased ranking of all the celebs of Shark Week 2018. But let's not lose sight of the true stars of the week– the sharks (duh). Every single shark is perfect in its own way, and these celebrity guests would do well to remember that.
*We do want to give Guy special props for being easily the least qualified celebrity on this list to go anywhere near a shark. He is not a professional athlete. He is not in wilderness-survival shape. He is not really in any shape at all (except the shape of the person on this list a shark would probably most like to eat). He has frosted tips, which might look like a glowing snack to a shark underwater. We're not sure. But we're impressed, Guy. Guy Fieri on Shark Week is bananas, and bananas is good.
Powered by