Paul de Gelder on His Shark Week Adventure With Ronda Rousey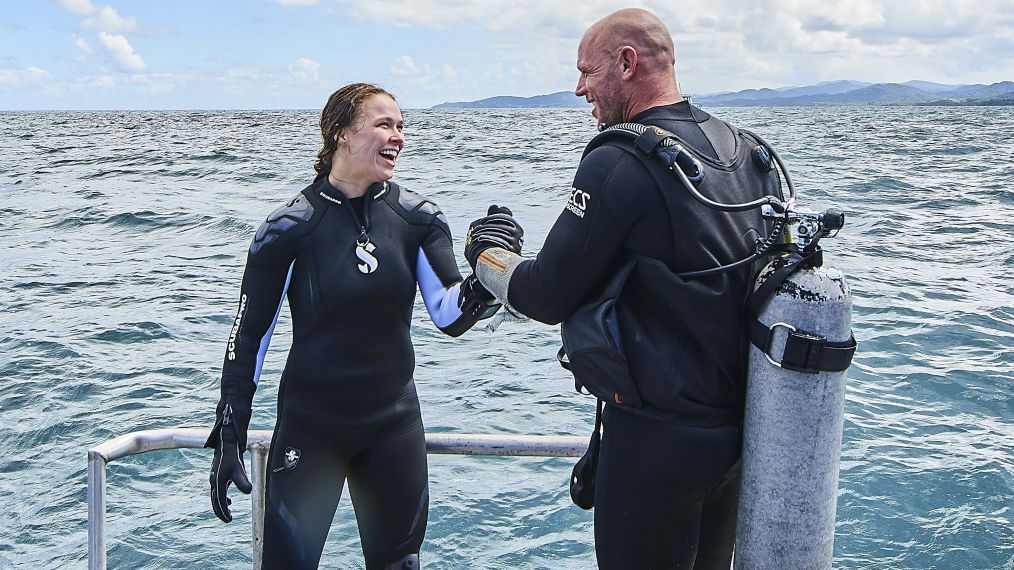 Ronda Rousey shows no fear, whether it's in the octagon, on a movie set or in the WWE ring.
She brings that same mindset to the deep seas in Sunday's new Shark Week special Ronda Rousey Uncaged. The Discovery Channel program chronicles the Olympic medalist and UFC Hall of Famer's experience coming in contact with some of the most fearsome predators in the ocean.
Her trainer and guide through the whole adventure was Paul de Gelder, who is no stranger to Shark Week or to sharks.
The Navy diver, shark attack survivor, author and motivational speaker has been a regular on what has become a traditional summer programming event for Discovery over the last 30 years. De Gelder got the call about working with Rousey after a flight back from Australia where he was reading Rousey's My Fight/Your Fight autobiography. He didn't know quite what to expect before officially meeting the now-WWE superstar.
"I've always been a fan," he said. "I was pretty happy with getting to see the whole progression from her… What an incredible chick. You can tell why she is a world champion at what she does. She just has so much heart."
De Gelder was impressed by Rousey's drive, essentially starting from scratch since she had never dived before. The trailblazing star's journey began learning to scuba in a pool and passing water tests to receive her license. The crew spent a couple of days in Fiji, and it wasn't long before Rousey was on a boat on her first dive 20 meters down surrounded by 40 sharks.
De Gelder prepared his famous student to feed a bull shark, which is the type of shark attributed to him losing his right arm and leg during a 2009 attack in Sydney Harbour.
"We were not going to do that in the first five dives, because nobody does that in the first five dives. There are people who have dived their whole lives and have never handfed a bull shark," he said.
"So, we did about eight dives. Toward the end of those she is like, 'I'm ready to do this.' We took her down. I fed a shark right in front of her, so she could see it, and it's fresh in her mind. Then she fed three or four bull sharks on that dive. It was incredible to watch."
From there they ventured to another island in Fiji for what de Gelder describes as a "diving boot camp." They wanted to make sure Rousey was comfortable in the dark, in enclosed spaces and performing complex tasks. She was put through more tests before the main event.
The group next set a course for New Zealand, where the "Baddest Woman on the Planet" lived up to her moniker by sharing the water with blue sharks and the dangerous mako.
"It was a mind-blowing experience," de Gelder recalled. "The fastest shark on the planet and one of the fiercest. This is the shark that catches the fastest fish… She was like a kid in a candy store.
"We had to build her up over time. We didn't want to freak her out with one bad experience that might set her up for failure. So, we had played with kid gloves first. We had her in a full chainmail suit. She wanted to take that chainmail suit after five minutes.
"She wanted to progress so quickly, we had to hold her back a little bit and just let her know, 'We know you're confident, but we really don't want you losing any limbs.
"And that can happen very easily in this situation. She pulled back the reins a little bit and listened and paid attention to all of us trying to keep her safe. She really was great to work with. She is used to being coached. She is used to listening. She is used to complex tasks. She did really well in the underwater environment seeing as she had very little experience."
For de Gelder, it was fun to see the change in Rousey's demeanor. With each dive, she gained more confidence.
"She is one incredible human being," he said "You know how much fun it is to do something generally you might not want to do yourself, but you go with a kid or someone who has never experienced it before. You just see it light up their face, and all of a sudden, you are having the time of your life.
"Now, I already love diving and already love sharks. But to see Ronda get into this situation and light up like a little kid in Disneyland, that just filled me with such happiness and joy. It made me appreciate it even more than I did before. It was great. That woman is really incredible to stand up to the situations we put her through."
Rousey may not be making a career out of shark diving. However, de Gelder believes filming the show gave her a greater understanding of the work they are doing.
"I've already seen her promoting conservation for sharks on her social media," he said. "She paid attention when we were all talking about conservation. She shared all that stuff. I think she is going to be a great proponent in the fight for preserving the ocean and sharks."
With the 30th anniversary of Shark Week, de Gelder couldn't be prouder to participate in another year of shows. He takes pride in helping spread awareness to audiences through these unique programs. For him, you get a feel for the excitement and passion they have for marine life. De Gelder says they literally risk their lives to bring you Shark Week shows because the hope is viewers fall in love with these animals and to protect them.
"They are hugely under threat," de Gelder said. "The commercial fishing industry is destroying our oceans. Something needs to be done. Sending the message of conservation and why sharks are important is important to maintaining the health of this whole planet because that big blue thing, that's what gives us life …
"I think what a lot of people don't understand about Shark Week is that Discovery Channel throws so much money in the science of Shark Week and science of sharks," de Gelder said.
"People watching. Some people don't like Shark Week, and I think it's because they don't understand. They throw more money into shark conservation and more money into shark science than almost anyone else. You can never change something if you don't like it from the outside. You can only do that from the inside.
"The fact that I get to be a part of this iconic brand and learn from the science they've used and be a part something much bigger than myself and learn all this science stuff and be able to share it with the whole globe. It's incredibly enriching. It's incredibly rewarding for me. It gives me a great sense of value and purpose."
Shark Week 2018 airs Sunday, July 22, through Sunday, July 29, Discovery Channel
Ronda Rousey Uncaged, Sunday, July 22, 10/9c, Discovery Channel
You can also catch Paul de Gelder on other Shark Week 2018 shows, including Sharkwrecked at 9/8c on July 26 and Bloodline: The Spawn of Jaws at 9/8c on July 27.
Powered by