Primetime Emmys 2018: Our Predictions & Dream List of Nominees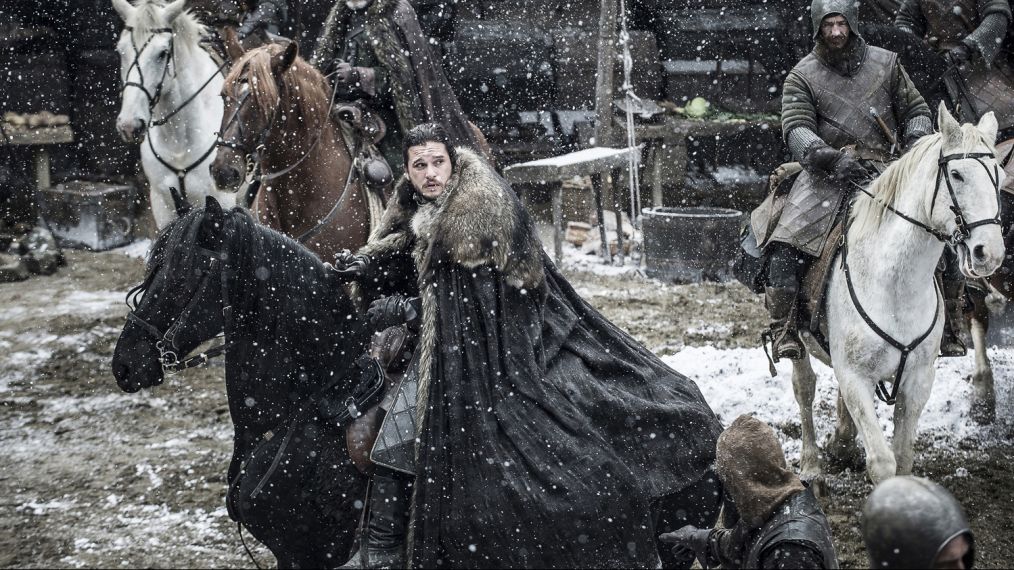 The Emmys get knocked, sometimes rightfully so, for the habit of repeatedly nominating the same shows and stars. That's the nature of the medium, and why wouldn't you want to reward continued excellence? But each year new contenders emerge, and underdogs previously snubbed yearn to get noticed.
So while we await the July 12 announcement of this year's nominees, here are some of our recent — and sometimes longtime — favorites that we'd love to see get the Emmy nod.
Drama Series
Not so much a dream as an inevitability, this category will likely be dominated by two past and very deserving winners: HBO's spectacular Game of Thrones, which sat out last year, and Hulu's harrowingly relevant The Handmaid's Tale, which swept the 2017 awards circuit. No argument here. Thrones delivered so many fiery thrills in its penultimate season, it's the show to beat. (Netflix's The Crown and Stranger Things, and NBC's This Is Us are also shoo-ins.)
With 2017 nominees House of Cards and Better Call Saul out of the running, this presents opportunities for FX's The Americans to return to the lineup for its brilliant final season, and maybe a Netflix upstart: Ozark and Mindhunter were equally gripping.
Long shots on my own personal wish list: the politically charged The Good Fight on CBS All Access, BBC America's kinky spy thriller Killing Eve and the epic Starz romantic fantasy Outlander, possibly TV's most gorgeous show.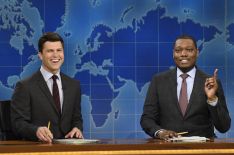 See Also
The 'Weekend Update' anchors are one funny pair.
Drama Actress
Everyone will play lady in waiting to Elisabeth Moss as Handmaid's embattled and pregnant heroine. She's almost certain to repeat last year's win, but I'll also be rooting for Claire Foy in her second (and last) season as majestic Queen Elizabeth in The Crown and Keri Russell's swan song as The Americans' most lethal weapon. Promising new entries should include Sandra Oh as Eve's frazzled, obsessed agent and Laura Linney as Ozark's steely voice of reason.
Wish list: Eve's Jodie Comer as Oh's frenemesis, the quirky assassin Villanelle, Outlander's alluring Caitriona Balfe, a grieving Mandy Moore on This Is Us, Maggie Gyllenhaal as an enterprising streetwalker on HBO's gritty The Deuce and The Good Fight's elegant Christine Baranski. In supporting roles, Yvonne Strahovski deserves to join the parade of Handmaid's nominees, mining complex depths as Moss's demanding mistress.
Drama Actor
Freddie Highmore gave the year's breakout performance, transitioning from Bates Motel psychopath to the sensitive autistic surgeon known as ABC's The Good Doctor. If acknowledged — and he'd better be — he'll face stiff competition from 2017 winner Sterling K. Brown (This Is Us) and The Americans' protean Matthew Rhys.
Jason Bateman has a good shot as Ozark's sympathetic harried hero, and don't count out Oscar winner J.K. Simmons, shining in a tricky dual role in the Starz sci-fi/spy hybrid Counterpart. (James Franco seems a darker horse, also doing double duty on The Deuce.)
Wish list: Outlander's Sam Heughan, the ultimate dashing hero, and Harry Treadaway of Audience Network's Mr. Mercedes, the creepiest of villains. In supporting, here's hoping Justin Hartley of This Is Us breaks through for breaking down as self-destructive Kevin.
Comedy Series
With Emmy fave Veep ineligible, the door is open for a fresh newcomer — and Amazon's delightful freshman hit The Marvelous Mrs. Maisel, about a housewife turned stand-up in the 1950s, more than qualifies. This could also be the year for FX's adventurous Atlanta or ABC's provocative black-ish to step into the winner's circle. All are worthy.
Comebacks are likely for NBC's sparkling revival of Will & Grace and HBO's caustic Curb Your Enthusiasm. But the reboot I'm most eager to see get attention is Norman Lear's vividly reimagined One Day at a Time for Netflix, which has another strong contender with the raucous lady wrestlers of GLOW.
Wish list: HBO's offbeat hit-man caper Barry, NBC's devilishly clever The Good Place, The CW's tunefully inspired Crazy Ex-Girlfriend, IFC's pitch-black Brockmire and one last hopeless time, a plea for ABC's undervalued The Middle. (Can't voters give Modern Family a year off?)
Comedy Actress
Rachel Brosnahan as the brash Mrs. Maisel is a star turn to relish and could vault over the pack. Alison Brie, the most lovably gung-ho of GLOW's warriors, also earns her place on the Emmy mat alongside presumed repeat nominees Tracee Ellis Ross (black-ish), Pamela Adlon (FX's Better Things) and Allison Janney (CBS's Mom).
See Also
There's no shame in this guilty pleasure!
Wish list: Insecure's spunky Issa Rae (HBO), Crazy's fearless Rachel Bloom and One Day's nurturing Justina Machado. As her feisty mom, scene stealer Rita Moreno deserves to own the supporting category.
Comedy Actor
Atlanta's visionary star Donald Glover is likely to repeat, though strong cases can be made for Bill Hader as Barry, a reluctant killer who'd rather act, and Tracy Morgan's return to primetime as TBS's The Last O.G.
Wish list: Hank Azaria as the debauched Brockmire, little Iain Armitage as CBS's precocious Young Sheldon and Keir Gilchrist as the autistic dreamer on Netflix's Atypical. In supporting, I'd be most happy if Emmy recognized Henry Winkler, who's never won, as Barry's mercurial drama coach. He's so overdue.