'Brooklyn Nine-Nine,' 'The Expanse' & Other TV Shows Moving to New Networks Next Year
New year, new network.
Some of your favorite shows are swapping their homes for something new and improved. The most notable save is NBC's pick-up of the cop comedy Brooklyn Nine-Nine, after it was surprisingly cancelled following five seasons by Fox.
The Peacock has ordered a sixth season with 13 episodes.
Fox must have been making room for Last Man Standing since it revived the Tim Allen comedy after the show was canceled last year by ABC after six seasons.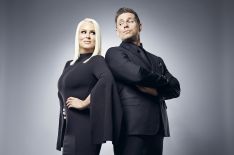 See Also
Plus, find out which of your other favorite shows are coming back next season.
Another show that was canceled was The Expanse at Syfy (pictured at top). The network decided to end the space drama after only three seasons, and now Amazon Studios is coming to the rescue. The streaming service is picking up sci-fi series for a fourth season.
It was recently rumored that the upcoming (and potential final) fourth season of the Bachelor-inspired dating show, UnREAL, will reportedly air on Hulu instead of its current home network, Lifetime, according to The Hollywood Reporter.
The upcoming season has already been cut down from 10 to 8 episodes but if the show does well on Hulu, they could order more.
See Also
The episodes were meant to be part of the now-canceled Season 4.
It's not unusual for shows to jump ship. In past years, many canceled network shows have moved on to cable channels, like ABC's Cougar Town move to TBS, ABC's Nashville pick up at CMT, and Southland moving from NBC to TNT.
And we can't forget The Mindy Project being saved by Hulu after it was axed at Fox.
One thing that can really save a show's future is social media. Fox canceled Lucifer in May and fans were in uproar, so they took to Twitter to try and convince the network it was making a mistake. The hashtag #SaveLucifer was trending for days.