'The Walking Dead' Season 9 Time Jump Confirmed by Showrunner Angela Kang
At an AMC press event in New York City this week, The Walking Dead's new showrunner Angela Kang revealed some very exciting news about Season 9, currently in production in Atlanta.
Kang confirmed there will be a time jump in the story line next season, set to premiere in October. "We're playing with time in the season, so we get to jump forward in the story," she shared at the Kick-Ass Women of AMC panel.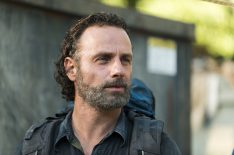 See Also
His departure leaves Rick's fate up in the air.
She also detailed what she wants to do differently with the new season, explaining, "We're working on a season that has a really fresh look and feel. I'm really focusing a lot on the core character relationships in the show that have kind of been long-lasting, as well as all of our wonderful series regulars."
Something else fans can look out for is the TWD focusing on strong female characters. "We're going to see some really great stories with the women in our show, particularly," Kang added. "And I think for people who are really invested in Michonne (Danai Gurira]), Maggie or Carol (Melissa McBride), there's such great material for them."
The executive producer kept mum about the two major cast shakeups — namely, how the departing Andrew Lincoln (Rick Grimes) and Lauren Cohan (Maggie) will be written out of the show.
See Also
Plus, what this could mean for her future with the AMC hit.
As previously reported, with this being Lincoln's final season, co-star Norman Reedus (Daryl) is reportedly in the process of signing a new $20 million annual deal to make him the next top star.
Cohan was in salary negotiations with the network and, in the meantime, landed the female lead role on ABC's spy drama, Whiskey Cavalier, set to premiere in a mid-season slot.
In other Season 9 news, it was also confirmed this week that Jon Bernthal will be reprising his character, Shane Walsh, for an one-episode guest spot.
The Walking Dead, Season 9, October 2018, AMC