Lauren Cohan Will Return in a Limited Capacity for 'The Walking Dead' Season 9
This past April, Lauren Cohan's return for The Walking Dead's ninth season was confirmed, but more details surrounding her role moving forward have emerged.
The actress, who was cast in ABC's dramedy Whiskey Cavalier alongside former Scandal star Scott Foley, will reportedly appear in a limited capacity in AMC's horror hit, according to Deadline. Whiskey Cavalier was recently picked up to series — for a midseason premiere — the deal she's made with AMC will allow her to film during the ABC show's hiatus.
See Also
The actress's return was up in the air due to an unsettled contract.
As of now, Cohan will return for the fall episodes of The Walking Dead, but only appear in six of the eight episodes prior to the midseason break. Regarding the spring 2019 portion of Season 9, the actress's role remains a mystery.
Many fans of the AMC hit know that based on the Season 8 finale, Cohan's character Maggie was left with a pivotal role setup heading into Season 9 — she's gunning after Rick (Andrew Lincoln) and Michonne (Danai Gurira).
Earlier this year, Cohan's fate on the show remained fuzzy as she sought a pay raise in her contract renewal — her costars Norman Reedus and Lincoln, were both paid more than her despite their equal roles as series regulars.
See Also
In the fight against wage inequality, these women are standing up for themselves.
Depending on how Whiskey Cavalier pans out for Cohan, her future on the long-running AMC series could be in jeopardy, but her role in the ABC show would make her a lead star in comparison to the hefty ensemble cast that makes up The Walking Dead.
Hopefully for fans of Maggie Greene, Cohan will stick around beyond her six-episode Season 9 arc.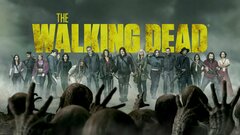 Powered by