Scott Foley Talks Working With 'In Demand' Lauren Cohan on 'Whiskey Cavalier'
The audience at Scott Foley's ATX Television Festival panel last week was not only treated to a hilarious Q&A with the leading man but also the premiere episode of his new ABC dramedy, Whiskey Cavalier.
Foley's excitement about the upcoming series, which was just ordered for its first season, was contagious. "I wanted to do something fun," he explained, after coming off the dark political drama Scandal.
"The stuff I used to love on network television I wasn't seeing anymore," he added, naming former shows like Moonlighting and Remington Steele as inspiration. "For some reason, they don't make these fun one-hours anymore."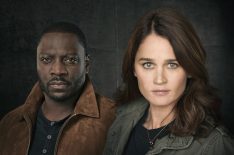 See Also
What are the new shows will you see on ABC later this year? We've got the full list by day.
Cavalier follows Foley's character, "FBI super-agent, Will Chase (codename: 'Whiskey Cavalier'), who's assigned to work with badass CIA operative Francesca 'Frankie' Trowbridge (codename: 'Fiery Tribune'), played by Lauren Cohan," ABC revealed in a press release.
"Together, they lead an inter-agency team of flawed, funny and heroic spies who periodically save the world (and each other) while navigating the rocky roads of friendship, romance and office politics."
The series — which will be shot in Prague over the next year — reunites Foley with executive producer Bill Lawrence, with whom he has a long television history. Foley has had recurring guest roles on a few of Lawrence's comedy series such as Scrubs, Cougar Town and Undateable.

Foley said working with Lawrence "made a big difference" because the producer knows both his comedy and drama skills. Foley explained that Lawrence said you can be funny but you "gotta hold a gun too." And he wanted push Foley as an actor to improvise a lot on set, especially dialogue scenes with Cohan.
As for the format of the rest of the episodes, "The idea is that each episode is not just a case-of-the-week or character-based story but that there's going to be an overarching plot as well," Foley said.
And every leading man needs his equally tough and headstrong leading lady. Foley said ABC jumped at the chance to nab Cohan when rumors started about her role ending on The Walking Dead.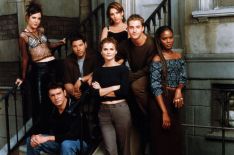 See Also
The cast and crew came together after 20 years for a panel at the ATX Festival.
"There was a whole contract negotiation thing with her and The Walking Dead and because of that, the networks during pilot season got very excited," he explained.
The two actors didn't meet until after Cohan had accepted the role, which means they completely skipped over a chemistry test. Foley described, "I had to do some due diligence and try to find some people we had in common."
It wasn't a problem for Foley, who coming off of Scandal, with Kerry Washington leading the pack, was looking for "powerful female lead who knows what she wants" in his next project. Having "an equal" onscreen was important to him, and the female character actually helped sell the show to a network because of the current Me Too/Time's Up climate.
"I'm really proud of not just her and her work on this but the chemistry we had together and the relationship we've developed," he added.
Whiskey Cavalier, Series Premiere, Fall 2018, ABC