Norman Reedus Eyes $20 Million Payday for 'The Walking Dead'
Fans were shocked to learn that lead actor and star of The Walking Dead, Andrew Lincoln would leave the show in Season 9, but it isn't all bad news — at least not for Norman Reedus.
Over the years many favorite characters have left the show, and the original cast members are dwindling as Lincoln, Reedus, and Melissa McBride are the only remaining actors from the original Season 1 cast. After Carl's (Chandler Riggs) Season 8 death, and Lennie James's departure for Fear the Walking Dead, the show has continuously lost some key players.
See Also
The actor has starred as Rick Grimes since the show's 2010 premiere.
But with Lincoln's exit, Reedus is eyeing a potential major payday, as he could reportedly pull in at least $20 million for his would-be starring lead role in the popular series. According to The Hollywood Reporter, the actor is negotiating his potential raise while filming Season 9 of the AMC drama horror.
Unlike his costar Lauren Cohan, who like Andrew Lincoln will only appear in six episodes of the season, Reedus shouldn't have any difficulty coming to an agreement over what THR is claiming to be upwards of that $20 million rumored pay.
See Also
Plus, what this could mean for her future with the AMC hit.
As with any long-running series, the incentive to keep some characters around is large enough for the networks to pay out, and with the Season 1 cast dwindling to just Reedus and McBride, his promotion to top-billed star makes the decision easy for AMC to make.
Of course, fan favorites Danai Gurira, Jeffrey Dean Morgan, and more are expected to stick around, Reedus is certainly someone that neither the fans nor the network want to lose.
The Walking Dead, Returns Fall 2018, AMC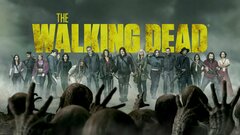 Powered by