Roush Review: Happily Devoted to 'Grease Live!'
The Hollywood rain didn't dampen the spirits of Fox's rambunctious, slickly produced Grease Live!, a happily and knowingly cheesy explosion of lovably cornball bubblegum pop. The show itself may be hopelessly dated—it would have been 50% better with 50% fewer book scenes, which creaked more loudly than some of the underpowered or under-miked singing—but director Thomas Kail's (Hamilton) exhilarating production felt groundbreaking in its cutting-edge and stunningly fluid camerawork, especially in the extended "Hand Jive" school-dance sequence. (Excellent choreography throughout by Glee's Zach Woodley, too, and how cool were the illusory projections and lighting during the "Thunder Road" drag race?)
The scope was astounding as performers scooted between soundstages on studio trams—sometimes while we watched—and a cheering live audience added vital energy in a way that even NBC's best live musicals have lacked, often feeling like they're being played in a vacuum. (NBC really needs to rethink the no-live-audience policy for its next show, Hairspray, which would benefit from this type of audience reaction.)
Still, the greatest asset of this Grease may have been its utter lack of pretense, as it channeled retro sitcoms and classic TV variety shows. The primary goal of the three-hour extravaganza was to reveal the fun that can be had in putting on a show, giving the home audience a real kick by taking us behind the scenes. If you initially groaned at the phoniness of the opening, showing summer lovers Danny (Aaron Tveit) and Sandy (Julianne Hough) against a garish beach background, it was intentional, because the camera pulled back to show the stars against the fake backdrop, then widened out to make way for Jessie J's exuberant delivery of the title song, an excuse to walk us through the stages, dressing rooms and waterlogged exteriors (with everyone initially carrying umbrellas).
MORE REVIEWS: Here's What Critic Matt Roush Loved (and Loathed)
Weather aside, the show must and did go on, and that show-biz truism proved especially poignant for Vanessa Hudgens as primo Pink Lady Rizzo, whose saucy performance (and torchy delivery of "There Are Worse Things I Could Do") was even more impressive given the personal tragedy of her father's death less than 24 hours earlier.
The Pink Ladies pretty much stole this show: Hudgens with her likably brazen attitude, joined by a hilarious Kether Donohue (You're the Worst) as ditzy Jan, Carly Rae Jepsen as an endearing Frenchie—memorably playing a scene opposite Didi Conn, the movie Frenchie—who got a sweet new song leading into the classic "Beauty School Dropout," swankly delivered by members of Boyz II Men channeling their inner Temptation.
The real surprise may have been Keke Palmer as saucy Marty, whose song "Freddie My Love" (usually an afterthought at best) became one of the night's standouts. As she sang, the walls of a bedroom flew away to reveal a glittery USO runway flanked by servicemen, who surely appreciated her magical costume transformation courtesy of Broadway designer William Ivey Long. (Talk about those magic changes.)
The night was not without technical glitches, which comes with the live territory. Words occasionally got lost in the raucous din of some of the bigger numbers, the sound momentarily went out during the "Born to Hand Jive" dance contest, and Sandy's big "Hopelessly Devoted to You" ballad was marred by static. Hough's line readings were insipid, but her singing improved as the night went on, and her dancing, as you'd expect, was sensational.
Tveit, a gifted and charismatic stage performer, struggled to make Danny his own, and like many in the cast, he seemed an awfully overripe high-schooler—was Rydell High's zip code 90210?—but by the end, with "You're the One That I Want" and "We Go Together" ending the show on a high note, this Grease was hard to resist, another high-water mark in an ambitious new wave of live-TV musical entertainment. What will the next word be: Rent?
---
Questions? Ask Critic Matt Roush!
TV critic (and occasional TV therapist) Matt Roush answers viewer questions and concerns in his Ask Matt column each week. Wondering about plots, characters and twists on your fave shows? Submit your query to Matt via the form below: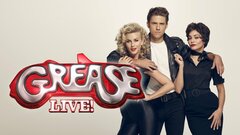 Powered by