'Grease: Live' Revs Up as the Latest Musical to "Shoobop" Its Way to TV
On a warm mid-December afternoon in Burbank, the unmistakable strains of "whoa whoa whoa," "doobee-do" and "ramma lamma lamma" echo through the hallways of a dance studio. "I find myself singing those 'ramma lammas' in my sleep," whispers Kether Donohue (You're the Worst), who plays bubbly Pink Lady Jan in Fox's upcoming musical adaptation Grease: Live.
It's only the third week of rehearsals, but it's already apparent that the cast members go together like a-wop-bam-boom. During a run-through of the iconic penultimate number, "You're the One That I Want," pop singer Carly Rae Jepsen and Scream Queens' Keke Palmer, who play fellow Pink Ladies Frenchy and Marty, respectively, challenge each other to a Hula-Hoop competition, while Donohue and costar David Del Rio (Putzie) improvise some very NSFW moves. At the center of the dance floor, the show's two leads, Dancing With the Stars' Julianne Hough and Broadway vet and Graceland star Aaron Tveit, collapse into fits of laughter as they work on perfecting the elaborate routine, which sends them flying through the studio on top of tables and bleachers.
"It feels like I'm in 11th grade doing West Side Story in a high school cafeteria," Tveit says during a break. "The balance of fun and work, plus the energy that goes with it, is intense."
Former Disney Channel star Vanessa Hudgens, who plays head Pink Lady and perennial bad girl Rizzo, agrees with her costar. "It's six days a week, nine hours a day, consisting of scene work and choreography, so we're now at that point where we're starting to mesh it all together. But these are all genuinely good people who love their craft, so we all make each other better."
Under the direction of renowned Broadway helmer Thomas Kail (Hamilton), Grease: Live marks the next chapter in the growing trend of live musicals broadcast on network television. After the success of NBC's The Sound of Music Live!, which attracted over 18 million viewers in 2013, Fox purchased the rights to Grease from Paramount, which produced the classic 1978 film starring John Travolta and Olivia Newton-John, itself based on the 1971 musical. "Grease is rife for live television because it is full of joy, energy, music, dance and fun," says executive producer Marc Platt (Wicked). "It's so much a part of our culture—the film has been seen by generation after generation, so there's that nostalgia."
RELATED: How The Wiz Live! Continued the Power Trend of TV Musicals
Set in the 1950s, Grease centers on the romance between good girl Sandy (Hough) and greaser Danny (Tveit). After the two engage in a summer fling, they meet again during their senior year at Rydell High and must balance their feelings while staying loyal to their cliques, the Pink Ladies and the T-Birds. Thanks to smash hit songs like "Summer Nights" and the Oscar-nominated "Hopelessly Devoted to You," Grease remains the highest-grossing movie musical in U.S. history. "Our version is taking the spine of the film and grabbing stuff from the stage play that we thought could enhance the experience," Kail says, adding that original songs will be weaved in. Ana Gasteyer and Mario Lopez will also appear, while '90s R&B group Boyz II Men will cameo for "Beauty School Dropout." "This is an opportunity to keep the focus on the love story but also build out and honor some of the ensemble work that the stage play had featured."
Grease: Live will be the first of the network television musical events to feature a live studio audience. Instead of being a passive viewer to the action, the crowd will be integrated into the sets—such as the bleachers in the school gym or the crowd at the year-end carnival—to be a more active element of the production. "I feel like the life just gets sucked out of the room when there's no audience," Hough says. "Our whole life as performers is based off of connecting with people, so to have a connection with a live audience means we're performing for them, not just for a camera."
On the big night, Grease: Live will broadcast from the Warner Bros. lot in Burbank and take up two stages and an outdoor space. Golf carts will be used to transport the actors to and from scenes, and they will all be outfitted with portable GoPro cameras, with viewers able to follow the behind-the-scenes high jinks. "We're literally going to be running and changing and breathing and Instagramming and Vining all at the same time," Hough says. "What world do we live in?!"
Juggling aside, the company are well aware they have only one shot to continue the success of live musicals on network TV. "We're just trying to be a part of this landscape," says Kail, who gathered with the rest of the Grease: Live company and producers on December 3 to watch the latest successful NBC live musical, The Wiz. "We have a deep appreciation for how difficult this is, and we're here because of the effort of the people who have already made these things. Now you don't have to travel to New York or go to your local theater. Stay where you live, and let us come to you." And after Grease drives into the sunset, Fox will prep its second musical, The Rocky Horror Picture Show, to air in fall 2016, betting big that such events will be the ones that viewers want.
Grease: Live, Sunday, Jan. 31, 7/6c, Fox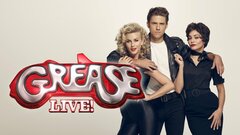 Powered by