Roush Review: The Wonderful 'Wiz Live!' of NBC
What a wonderful Wiz it was.
Flying high, looking and sounding fabulous, NBC's live broadcast of The Wiz Thursday night proved that with enough talent and spirit, bringing home a culturally relevant property in a year of such great diversity on TV, you too could believe—to borrow from the 11 o'clock number so powerfully belted by Uzo Aduba's glamorous Glinda.
It was as if the Glinda from the classic 1939 Wizard of Oz had declared "Begone!" to hate-watchers, who clearly had no power here. Quite a turnaround from the efforts of the last two years, when a miscast (though highly rated) Sound of Music and a lead-footed Peter Pan had snarky skeptics wondering if there was still life in this form of entertainment dating back to TV's first golden age. Bravo to producers Craig Zadan and Neil Meron, who've never stopped believing.
A delight from the start, growing in confidence and showmanship (along with its young instant star) as Dorothy and friends eased on down that yellow brick road to Oz, The Wiz is likely to endure as one of the most purely enjoyable flights of musical fancy ever produced for TV. What a trip, so much better than that misbegotten 1978 movie. Can't wait to see this again on its reported transfer to Broadway, where the designs and movement may look even more spectacular. (As with any live production this ambitious, there were a few technical glitches and awkward camera angles, but this was not a night to nitpick.)
In a classic star-is-born trajectory, Shanice Williams as Dorothy began tremulously, but when it counted—bucking up the grandly endearing Cowardly Lion of David Alan Grier with the soaring "Be a Lion," and killing it with the climactic anthem "Home"—she delivered with charisma, heart and just the right amount of fresh attitude. You couldn't help but root for her, and she couldn't have asked for a more polished support team, starting with Stephanie Mills (the Broadway Wiz's original Dorothy) as a warm and loving Aunt Em, then bolstered on her journey by Elijah Kelley's lovably wobbly Scarecrow, Ne-Yo's soulful Tin Man and especially Grier as a bluff Lion you wanted to hug through the screen.
RELATED: Read All Roush Reviews
Even when some of the tunes in the uneven score left something to be desired, the cast convinced you they were all show-stoppers. (The new song written for the show, the rousing group number "We Got It," co-written by Kelley and Ne-Yo and others, was so entertaining I wish they hadn't stopped there.)
And how about those scene-stealing femmes fatales playing the witches, good and evil: Amber Riley as a saucy Addaperle, Aduba as the gorgeous Glinda, and most notably, Mary J. Blige camping it up and having the time of her life as the wicked Evillene, whose raucous "Don't Nobody Bring Me No Bad News" deserves to make headlines as awards season approaches. The star power throughout was so formidable that even Queen Latifah's gender-busting Wiz (with a dash of Grace Jones-gone-green in her styling) couldn't dominate the proceedings.
Visually, The Wiz was a dazzling wonderland, from the ever-shifting background projections to the stunning costumes (by Paul Tazewell, currently of Broadway Hamilton fame) to Fatima Robinson's smart and sassy choreography, enhanced by the leaping and flying acrobatics of Cirque Du Soleil. Director Kenny Leon kept it moving—the show clocked in 15 minutes earlier than the scheduled three hours—and the performers invested this Wiz with so much funk and spunk that we'll likely be watching, and listening to, this version again and again.
Don't nobody show me no bad reviews.
---
Questions? Ask Critic Matt Roush!
TV critic (and occasional TV therapist) Matt Roush answers viewer questions and concerns in his Ask Matt column each week. Wondering about plots, characters and twists on your fave shows? Submit your query to Matt via the form below: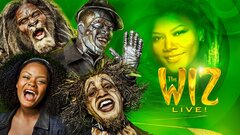 Powered by