Could We See More 'X-Files' Soon?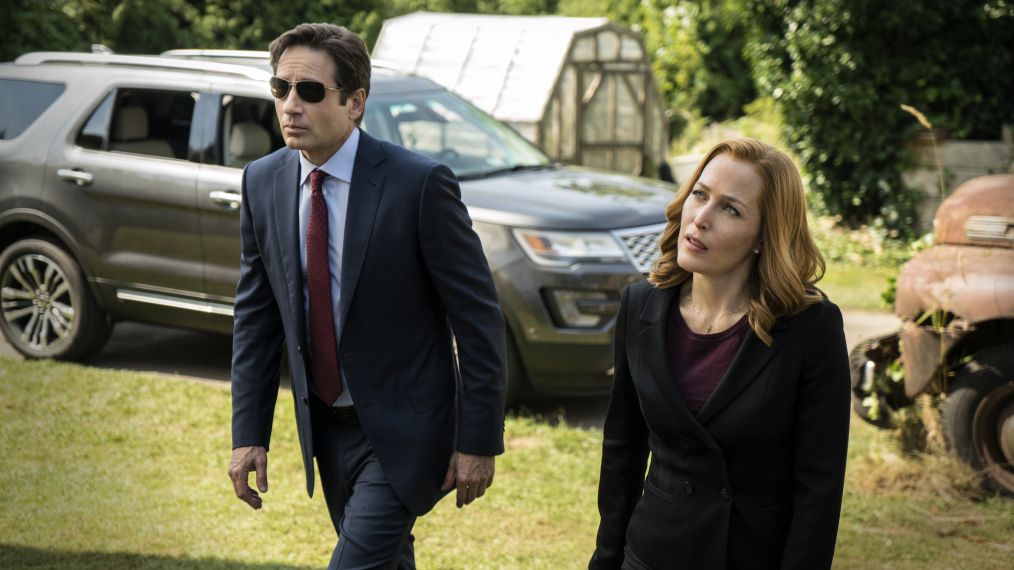 The Fox executive session kicked off the network's day at the Television Critics Association Winter Press Tour with Gary Newman, Chairman and CEO, Fox Television Group, and David Madden, President, Entertainment, Fox Broadcasting Company, fielding questions from critics about its programming and what's coming this spring.
A year ago, the return of The X-Files with original stars David Duchovny and Gillian Anderson to Fox was big news but will we see more episodes in the near (or distant) future? "We hope so," said Madden. "A lot of conversations are going and, as you can imagine, these conversations are complex but we hope to be able o announce something about that shortly."
RELATED: Empire Gets a Fourth Season at Fox
Also during the session, the execs did not have news (yet) about their next live musical production. "We had really hoped to be sitting here and announcing our next live theatrical event," Madden said. "We don't have one to announce yet. We're so close. There are a couple of things that we're circling in on but we still believe the live experience is a big part of television. We want to do more of those." As for whether there's a difference between a live show like Grease Live (which had strong ratings) and the taped Rocky Horror Picture Show (which underperformed), Madden added, "we look to have opportunities for events in both a live and in a pre-tape medium but we're always looking for something that will break through and will get attention and live can get attention."
What's the fate of fall dramas Pitch and The Exorcist that may have not been huge ratings hits but could still live to tell more stories? Newman said of Pitch, "We were very proud of Pitch. I think Dan [Fogelman] and his team did a great job. Kylie Bunbury and Mark-Paul Gosselaar were terrific in it as were the rest of the cast. We would've loved to have seen a bigger audience, there was a lot of delayed viewing, we had a loyal core, we liked that the show was about something, it was specific and it's very much on our minds." He added it will be in consideration when Fox puts its fall schedule together in May. "One of the things we think about it is do we have a place for it in our schedule. I'd think if we were to go forward with it, we certainly want to believe that we're going to grow the show."
RELATED: TV's Biggest Stars Pose in Our Photo Studio (PHOTOS)
As for the fate of the TV reboot of the horror film francise The Exorcist, Madden said, "The same is true of The Exorcist, as well. It's also a show that we were really proud of and we're having conversations with both producers about what we can do with a second season to potentially expand the audience of the show but as Gary said about Pitch, they're both situations that we can't make decisions on yet."
Of the announcement made earlier today about the return of the dating show, Love Connection with host Andy Cohen, Madden said they're still in the early process of shaping the series, which received a 15-episode order but not a premiere date yet. "A large part of the fun of the show or the appeal of the show for us was Andy being able to interact with the people who are in that dating process, having that comedic commentary [and] being able to play the twists of which person they would want to date versus which one the audience would want them to date and play off those expectations," he said. "We think that the show will have certainly a game element and a contest element but it should also have a lot of both fun in it and commentary and what it is to be dating in 2017."
With the show coming from executive producer Mike Fleiss, who has created envelope-pushing reality shows like The Bachelor and The Bachelorette, Madden was asked if we should expect the show to have a certain level of raunchiness. "I don't think the show will be raunchy. I think the show will be fun and any show that deals with dating will naturally deal with those kind of issues." Madden also confirmed that we will see same sex couples on the series.