'Wynonna Earp': Dominique Provost-Chalkley and Katherine Barrell Talk 'WayHaught,' Their Shippers and More (VIDEO)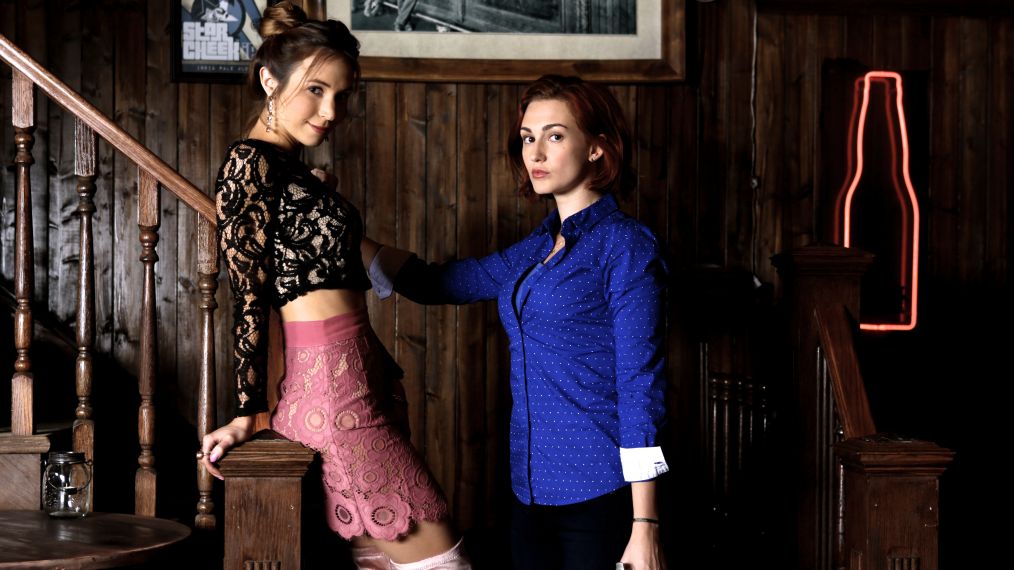 Dominique Provost-Chalkley, who plays Waverly Earp (yes, from that Earp family), and Katherine Barrell, who portrays Officer Nicole Haught (pronounced "Hot"), are two of the most popular figures on Syfy's horror Western ­Wynonna Earp, which returns for Season 2 starting June 9.
The actresses' characters have become girlfriends who have their own shipping hashtag among fans—#WayHaught. Just in time for Pride Month, we talk to the women—the British Provost-Chalkley and the Canadian Barrell—about their characters' onscreen relationship, their offscreen friendship and what the heck is going on in Purgatory this season.
And, scroll down further to check out an exclusive #WayHaught clip!
When did you realize how popular you were as a couple on the show?
Dominique Provost-Chalkley: It seems such a long time ago, doesn't it, Kat?
Katherine Barrell: The first time Waverly and Nicole meet in episode 2, the audience knew that that something would develop out of that relationship. I quickly learned all about hashtags and ship names.
Provost-Chalkley: I turned to Emily Andras, who created the show, and asked, "What's a ship name?" And she said, "You have so much to learn!" By the end of the scene, we already had one.
Nicole was clearly flirting with Waverly during that first meet. We all saw the chemistry.
Provost-Chalkley: I think they knew this being Emily's show—she'd created Lost Girl—they were waiting for there to be a same-sex relationship. They jumped right on board with us.
During your first season, you had a Comic-Con panel, and a passionate fan base showed up. Katherine said how important it was to have more queer characters on TV. Are you both happy to have the chance to play a lesbian couple?
Provost-Chalkley: Absolutely. Both of us have realized the importance of it by exploring the relationship and seeing how the fans like it. Hearing their personal stories and seeing how much it means to them opened our eyes on a level that we didn't expect. It's a gift, in a way. The more we did it, the more I realized how incredibly important it is to have positive representation onscreen.
Gay people's relationships are underrepresented, totally, and their deaths are overrepresented. I think our relationship on the show managed to achieve that positive representation. Emily's written that story so purely.
Dominique, when did you learn you were going to have a girlfriend on the show?
Provost-Chalkley: I don't think Emily likes me telling this story, because I didn't find out until I got to Canada [where the show is filmed] and was reading the second episode. I didn't even blink; if anything, it was a positive addition to the role.
I sent Emily an email, saying that having Waverly potentially bisexual was genius. And she responded, "Oh my goodness, is this the first you've heard of it!" From her point of view, maybe some actresses wouldn't have been OK having that part of the storyline. So in her mind,it was—they got this girl from England all the way over to Canada, and imagine if she's not OK with it? That would be a really bad situation. They were lucky, because I was so excited to see how it would go, and to make sure we tell the story in the right way.
Barrell: I'm pretty sure it was written in the breakdown that Nicole was a lesbian. I didn't really think about it in the audition. It wasn't like I thought I was going in to play a gay character. I was going to audition as this cop on the show. The first scene that I shot was the one in the bar with Dominique. It was wonderful! I had no idea that the relationship would gain the popularity and notoriety that it has. It's been such an amazing journey we've got to experience.
Provost-Chalkley: The key here is that being gay shouldn't define them. It's part of who they are, but they're multifaceted characters. They're not separated from the other characters because they're gay. Kat and I also had no idea this would end up being such a special relationship, with the two of them falling in love.
It's also a fun relationship, though there are dark parts of the show, of course. Waverly is a really funny character.
Provost-Chalkley:
I didn't realize I was funny until after I started. I told my friends, "I think I'm the comic relief." And I'm not really funny.
What do you think, Kat?
Barrell: She is absolutely funny! The more I get to know her, the funnier she becomes.
Provost-Chalkley: I'm not trying to be funny; they're just laughing at me.
What's the best thing about working with each other?
Provost-Chalkley: The best thing is that Kat and I are very different actors in many ways. We learn a lot from each other. I certainly learn a lot from Kat and the way she works, because she's so fearless.
Barrell: This changed both of our careers; brought us up to another level. Plus, it's being done with someone I love so much. We travel together to conventions and other stuff, and that makes it easier. We're so lucky that the cast all get along.
When we last saw you both, Nicole has been shot by Willa (Natalie Krill), the Earp sister gone bad who Wynonna (Melanie Scrofano) had to shoot and kill as some tentacled monster was wrapping around her. Then Waverly touched some black goo that entered her body, and she pointed a big gun at Wynonna. Wow! How has the goo affected Waverly? Does she go dark?
Provost-Chalkley: I can't give too much away, but let's say the black goo causes some complications. I never thought with Waverly being such a bubbly character that I would get to play a dark side. It's not like she wants to be evil. She's always pushing towards being the hero. She was a little naïve in the first season. You'll see her grow up in the second season. You'll see her become something of a badass!
How does this evolution affect her relationships with her sister, Wynonna, and with her lover, Nicole?
Provost-Chalkley: Wynonna has just gone through a terrible time because she just shot her sister. So she needs Waverly more than ever. Under the influence of this black goo, Waverly can't be there the way that Wynonna needs her to be. That's heartbreaking for her. As for the lovely Nicole, she's wondering, "What is going on?" But Nicole is very forgiving.
Barrell: Waverly goes through quite a transformation. Nicole has to try to keep up with her. When you first start dating someone and they're changing so quickly, that adds a lot of tension to the relationship. That's not really the person I thought I was dating!
Is the new Waverly sexier? She certainly seems to be more sure of herself.
Barrell: Yes! I would say so
Do you have a Pride Month message for your LGBTQ fans?
Barrell: Thank you for all the love and support you send our way. And thank you for always being so positive and sharing your passion for the show.
Wynonna Earp Season 2, Fridays at 10/9c beginning June 9, Syfy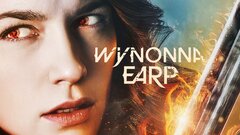 Powered by