SAG Awards: 2016 TV Winners List Looks Awfully Familiar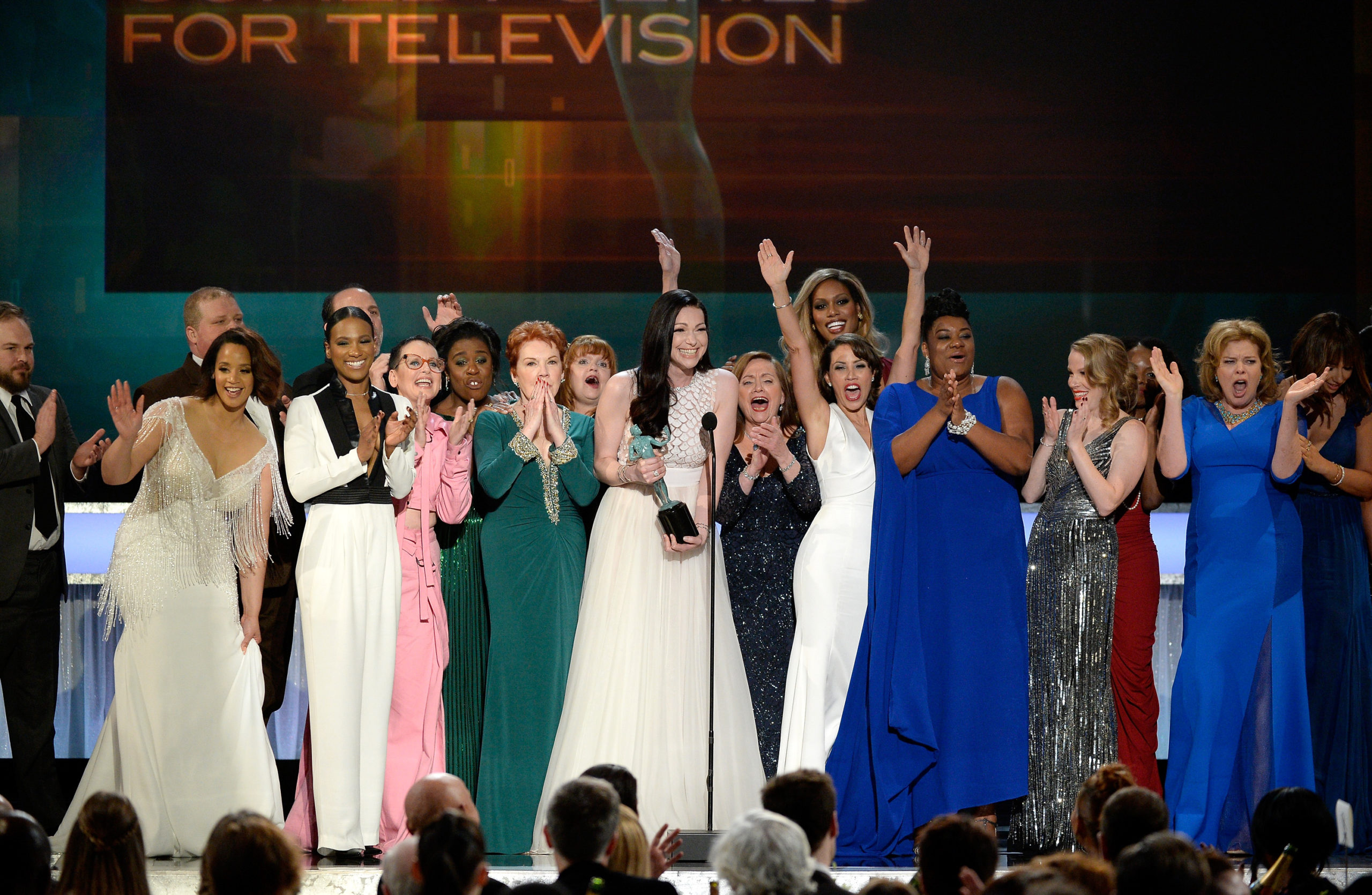 It was out with the new and in with the old at Saturday night's 22nd annual Screen Actors Guild Awards.
SAG voters opted to stick mostly with familiar winners, handing out repeat statuettes in key categories including drama ensemble (PBS' Downton Abbey, its third win) and comedy ensemble (Netflix's Orange is the New Black, above, its second in a row).
The same-old, same-old choices were especially surprising given this year's explosion of new, critically acclaimed scripted series on television. But SAG Awards are voted on by performers, and both Orange is the New Black and Downton Abbey boast two of the largest casts on television. (The Orange win is shared by 34 cast members, while Downton includes 21 stars.)
Among other repeat winners, Orange's Uzo Aduba won her second consecutive SAG Award in the female comedy actor category, while How to Get Away with Murder's Viola Davis and House of Cards' Kevin Spacey also returned to the stage for a second year in a row.
New winners included Transparent's Jeffrey Tambor, who won the SAG award for male comedy actor, a field that also included Ty Burrell (ABC's Modern Family), Louis C.K. (FX's Louie), Jim Parsons (CBS' The Big Bang Theory) and last year's winner, William H. Macy (Showtime's Shameless).
Tambor was previously nominated for the TV comedy ensemble SAG Award in 2005, 2006 and 2014 as part of the Arrested Development cast. (Tambor's Arrested co-star Jason Bateman was on stage to present the award.)
"This is the group of my brothers and sisters," Tambor said of being in the company of actors. "The group that understands 'anybody but him.'"
Tambor also thanked creator Jill Soloway "for the responsibility" of his character, Maura Pfefferman, as well as Amazon for its "guts and support" for the show. He dedicated the award to transgender people who don't have the resources that his character has to transition.
Idris Elba was another one of the night's big winners, picking up the SAG Awards for male actor in a movie or miniseries (BBC America's Luther) and the award for best male film actor (Beasts of No Nation).
That gave Elba a rare victory in both the TV and movie categories at once. "Two wins in one night, that's incredible," Elba exclaimed. It was the first SAG win for Elba; beyond this year, he was previously nominated in 2008 as part of the cast of the movie American Gangster.
In a way, both were also TV wins, as Beasts of No Nation came from Netflix. The movie was released in selected theaters in addition to the streaming service. Elba told the audience that "we made a film about real people and real lives. To be awarded for it is really special. Thank you for giving this film some light."
Downton Abbey's win comes as the show wraps up its final season (which means it will be eligible for one more SAG Award next year). "To be nominated in this category is mind blowing for us," said actress Lesley Nicol, who plays Mrs. Patmore on the British period drama. "We're up against your TV royalty. To win this is just phenomenal."
Downton won against HBO's Game of Thrones, Showtime's Homeland, Netflix's House of Cards and AMC's Mad Men.
Meanwhile, Orange is the New Black won the best comedy ensemble award over CBS' The Big Bang Theory, Comedy Central's Key & Peele, ABC's Modern Family and Amazon's Transparent.
"Look at this stage, this is what we talk about when we talk about diversity," star Laura Prepon said of her cast.
The controversy over the lack of nominees of color at the Academy Awards was never specifically mentioned on stage, but it was clearly on everyone's minds. The SAG Awards' TV winners, including Aduba, Elba and Davis, were in stark contrast to the #OscarsSoWhite debate.
"This is diverse TV," Elba quipped at one point on stage.
Aduba scored her second win for female comedy actor in a category that also included Edie Falco (Showtime's Nurse Jackie), Ellie Kemper (Netflix's Unbreakable Kimmy Schmidt), Julia Louis-Dreyfus (HBO's Veep) and Amy Poehler (NBC's Parks and Recreation).
How to Get Away with Murder's Davis beat out Claire Danes (Showtime's Homeland), Julianna Margulies (CBS' The Good Wife), Maggie Smith (PBS' Downton Abbey) and Robin Wright (Netflix's House of Cards) for her fourth SAG Award (having also won two statues in 2012 for The Help.)
"I get so much joy out of being an actor," Davis said. "[Murder] has been the joy, the pleasure of my life."
Spacey dedicated his second House of Cards win to the show's executive producer Beau Willimon, who is departing the show as it returns for a fifth season. The actor promised Willimon to "honor what you started."
Spacey won over Peter Dinklage (HBO's Game of Thrones), Jon Hamm (AMC's Mad Men), Rami Malek (USA's Mr. Robot) and Bob Odenkirk (AMC's Better Call Saul). The actor has been nominated for 10 SAG Awards over the years; besides last year's win, he also won two in 2000 for the feature American Beauty.
Queen Latifah won the award for outstanding female in a movie or miniseries, for her starring role in HBO's Bessie. She won over Nicole Kidman (Lifetime's Grace of Monaco), Christina Ricci (Lifetime's The Lizzie Borden Chronicles), Susan Sarandon (Lifetime's The Secret Life of Marilyn Monroe) and Kristen Wiig (IFC's The Spoils Before Dying).
Latifah previously won the SAG Award in 2003 (for the film Chicago) and 2008 (as part of the motion picture cast of Hairspray). This was her first TV win.
TV legend Carol Burnett was presented SAG's lifetime achievement award by Tina Fey and Amy Poehler. Burnett recalled how CBS first tried to persuade her not to do a comedy/variety show, that it "was a man's game." But her contract allowed for 31 one-hour variety episodes – and she made it happen. "I'm so glad we had this time together," Burnett said, repeating one of her famed catchphrases.
RELATED: Why SAG Honor Is Making Carol Burnett Nervous
Here, a full list of television winners and nominees:
Outstanding Performance By an Ensemble in a Comedy Series
The Big Bang Theory
Key & Peele
Modern Family
Orange Is the New Black (WINNER)
Transparent
Veep
Outstanding Performance By a Male Actor in a Comedy Series
Ty Burrell, Modern Family
Louis C.K., Louie
William H. Macy, Shameless
Jim Parsons, The Big Bang Theory
Jeffrey Tambor, Transparent (WINNER)
Outstanding Performance By a Female Actor in a Comedy Series
Uzo Aduba, Orange is the New Black (WINNER)
Edie Falco, Nurse Jackie
Ellie Kemper, Unbreakable Kimmy Schmidt
Julia Louis-Dreyfus, Veep
Amy Poehler, Parks and Recreation
Outstanding Performance By a Female Actor in a Television Movie or Miniseries
Nicole Kidman, Grace of Monaco
Queen Latifah, Bessie (WINNER)
Susan Sarandon, The Secret Life of Marilyn Monroe
Kristen Wiig, The Spoils Before Dying
Christina Ricci, The Lizzie Borden Chronicles
Outstanding Performance By a Male Actor in a Television Movie or Miniseries
Idris Elba, Luther (WINNER)
Ben Kingsley, Tut
Ray Liotta, Texas Rising
Bill Murray, A Very Murray Christmas
Mark Rylance, Wolf Hall
Outstanding Performance By an Ensemble in a Drama Series
Downton Abbey (WINNER)
Game of Thrones
Homeland
House of Cards
Mad Men
Outstanding Performance By a Male Actor in a Drama Series
Peter Dinklage, Game of Thrones
Bob Odenkirk, Better Call Saul
Jon Hamm, Mad Men
Rami Malek, Mr. Robot
Kevin Spacey, House of Cards (WINNER)
Outstanding Performance By a Female Actor in a Drama Series
Julianna Margulies, The Good Wife
Claire Danes, Homeland
Viola Davis, How to Get Away With Murder (WINNER)
Maggie Smith, Downton Abbey
Robin Wright, House of Cards