Sploosh! 'Archer' Standout Amber Nash Talks 'Danger Island,' Emmy Noms & Who Pam Would [Blank]
For the past nine seasons, Amber Nash has gotten to say some of the greatest, grossest lines on TV as Pam Poovey on FX's Archer. In fact, most of them we can't even print here and this is the Internet!
But more than a foul-mouth scene-stealer, Nash's Pam is also the openly bisexual, drug-hoovering, fight-fighting, toilet-destroying Girl Friday (with benefits) we all need in our lives.
See Also
The voice actor also shared where the series is headed after Season 9, and why Pam seems... taller this season.
So, in honor of Archer's season finale — and Nash's name being on this year's Emmy-nominations ballot — we chatted up the Atlanta native about Pam's increased role this year and the glory of being so inappropes.
So Archer just wrapped its 'Danger Island' season… what do you think of [show creator] Adam Reed's idea of different themes for each season now?
Amber Nash: I love it! As an actor that has played the same role for nine seasons, it keeps it fresh and us on our toes. He's found such a fun and interesting way to do it. I love that we are all the same, but not the same. [Laughs]
Since Pam was Archer's sidekick in his island tours airline this season, that meant a lot more Pam in the story. Must be nice to see that the character is beloved/reviled enough to warrant more screen time.
It was a very fun season for me. It's nice being the sidekick because you get to have all the fun and none of the responsibility. I also love the duo of Pam and Archer; they are just perfect for each other.
At one point, while Pam and Archer were being held captive by the native girls, she had an amazing monologue about whether she would eat someone. So… if you had to, who would you eat?
I'd want to choose Pam, but that's weird. She is the meatiest, especially this season, all quality cuts! Maybe second I'd choose Malory, she's already pretty well-marinated. [Laughs]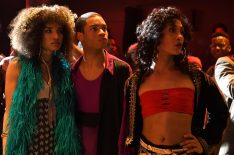 See Also
James Van Der Beek, Billy Porter, and more on what they hope people take away from the groundbreaking series.
This is a discussion I have had with a lot of people: Archer is hot, right?
Uhhh, yeah?
Your name is on the Emmy ballot for nomination consideration this year in Outstanding Character Voice-Over Performance, which is both awesome and totally logical for fans of the show. But how is it for you? Does it come with any added perks? A secret handshake?
If there is a secret handshake, I haven't learned it yet, which doesn't bode well for my chances of getting nominated. It would be a dream to be nominated. Last year we finally saw some women nominated in the category, so hopefully that trend continues.
Do you think it would influence the Emmy voters if you promised to give your acceptance speech as Pam?
That is a great idea and I'm stealing it. I'd need to be able to hide a bear claw and green Russian in my dress. [Laughs]
What's your favorite line from this season?
"That idea sucks. That idea would suck a d**k just to cut in line to suck a bigger d**k."
Does Adam even tell you guys what he's planning? And how much tinkering goes on while you guys are recording your parts?
Not formally, but if he is jazzed about an idea he'll tell us when we are hanging out casually. Then usually we'll get a call or email before we start recording the season and he'll tell us the plan for that season. Not a lot of tinkering happens once we are recording. Maybe a few lines an episode we'll tweak if it's sounding weird, or if we have an idea for a joke, but we always record the scripted line too.
With everything that happened with the end of the season, where does the show go from here?
Who knows! I'm pretty sure it's all in Adam's head, but we really don't know for sure what is happening. I think Adam is still working on that himself.
What's the one thing you are hoping Pam gets to do on the show?
I think it'd be hilarious if the show ended with Pam and Archer having a big dumb soap-opera wedding. [Laughs]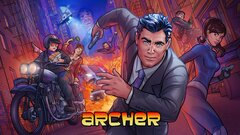 Archer
where to stream
Powered by