'Archer' Star Amber Nash on the Latest 'Danger Island' Version of Pam
FXX's raunchy animated spy spoof Archer has morphed into a kind of anthology series in the last few years. But while the settings and situations change, the voice talent remains the same. That includes Amber Nash as the ballsy, blowsy Pam Poovey.
In this season's "Danger Island" storyline, Pam has been bumped up to full-time sidekick, keeping the 1939 version of Archer (H. Jon Benjamin) in check while hunting for treasure on an island in the South Pacific.
See Also
Whether these characters are trapped in an elevator, janitor's closet or spaceship simulator, hilarity is sure to follow.
TV Insider chatted with Nash about the different versions of her character, where the series is headed after Season 9, and why Pam seems… taller this season.
How involved were you in developing the Danger Island and Dreamland versions of Pam?
Amber Nash: Not at all. Adam Reed has it all inside his head. I get a call with some info about the direction that Pam is headed before we start production each season and it's always so fun to hear what Adam is thinking.
Was there a particular inspiration for Danger Island Pam?
For Dreamland, he told me that Poovey was loosely based on Russell Crowe's character from L.A. Confidential and that Pam this season was like Archer's Chewbacca. Also, I think that luckily Adam likes the pairing of Pam and Archer, as do I. They are so much fun together and it's exciting that Pam is his partner this season.
What would you say are the key differences between Danger Island Pam and… Pam Classic?
Well, she is gigantic, I think she's like seven feet tall and so muscular. It's wonderful but I think, like most of the characters, at her core she is the same as she's always been. I think that's what makes these reboots each season work so well because the characters are in essence the same and so are the relationships, they are just in different situations.
I thought she seemed taller this season. What's the deal with that?
Yeah, I think because she is his Chewbacca they made her that big.
How would you describe her relationship with Danger Island Archer?
She keeps him in line and cleans up his messes, plus calls him on his bulls**t.
She's always been a big part of the ensemble cast, but she's much more front and center as a sidekick this season, isn't she? What can you tell me about that development?
It's been really wonderful for me. I do really love Pam and Archer as a duo. You first really see it in Season 5, "Southbound and Down." I'm not sure exactly why Adam made that decision but I love it.
Pam, Archer and Crackers are treasure hunting this season. What do you think she'd do with her riches if they find it?
Honestly, probably put it under her mattress and keep living the exact same way, a real Margaritaville lifestyle on the island.
What's next for Pam this season?
They have some real sticky situations to come. They are constantly in trouble and about to get killed. We also get to see a lot more of that giant body she has this season. Literally, like, more skin.
See Also
Learn about the new series set to debut later this year.
Next season will reportedly be the series' last. Do you have any idea how creator Adam Reed plans to say goodbye to these characters?
Well, we don't know for sure that it's the last. We got picked up until Season 10 so we don't know what's in store beyond that. I'd love to believe that Adam and FXX will want more seasons.
Do you think we'll ever see the return of "Pam Classic"?
I don't know for sure, but I have a sneaking suspicion that we'll see the return of classic everyone at least one more time before we are done.
Archer, Wednesdays, 10/9c, FXX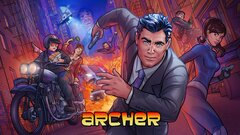 Archer
where to stream
Powered by