What We Learned From the 'Lucifer' Bonus Episodes — Plus, Fans React
It's been a bumpy ride for fans of Fox's canceled series, Lucifer, but the May 28 bonus episodes, "Boo Normal" and "Once Upon a Time," helped a little bit.
These episodes, originally intended for Season 4, featured Ella (Aimee Garcia) as a primary character and also demonstrated alternate realities for Lucifer (Tom Ellis), Chloe (Lauren German), and the gang. There was plenty to digest over the two-hour run-time. Kicking things off, "Boo Normal" revealed that Ella has been hiding a big secret — she can talk to ghosts.
See Also
At least someone at Fox realized that they should do something for the fans.
When her friend, Ray-Ray (Charlyne Yi), showed up during one of her cases, Ella had to confront this partial truth about her. What makes it partial, you ask? While Ella thought Ray-Ray was a ghost friend from her past, she's, in fact, Azrael, sister to Lucifer. This realization came towards the end of the episode, but Ella and Lucifer's shared bond between Ray-Ray/Azrael prevented Ella from choosing to move back to Detroit to be with her family.
Then, there was "Once Upon a Time," where the beloved cast of characters were shown leading different lives, though their paths still intertwined. Chloe was no longer an LAPD detective but an actress that plays a cop on TV. Meanwhile, Lucifer had his sights set on Vegas. In this unusual episode, the world fans have come to know was a little off kilter, but the narrator who identified himself as God (voiced by Neil Gaiman), made it so that Lucifer and Chloe still headed down similar paths by the episode's end.
See Also
Two special episodes of the canceled Fox show will air on May 28.
All of this had viewers wondering, could Lucifer continue? These bonus episodes certainly introduced some interesting elements that could be explored in a potential Season 4. The alternate reality in particular is a plot device that could make for an interesting arc if Lucifer were to be picked up by another network.
Since these bonus episodes were supposed to be part of the fourth season before its cancellation, the series should have plenty of material to move forward with. As fans continue to campaign to #SaveLucifer, see what they had to say about the bonus episodes below.
The fact that they've just met, barely know each other and already act like a married couple 🔥
Call it as you want, I'll stick to ✨SOULMATES✨#Lucifer #SaveLucifer pic.twitter.com/nNmuinTOt3

— julia | #SAVELUCIFER (@juliaxmaczynska) May 29, 2018
I don't think you get it. We aren't regular fans.we are #Lucifans. We don't quit, we won't quit, we want @tomellis17 's devilface until we can't use our thumbs from artists! #savelucifer #lucifer

— QueenBee (@bee_bee_queen) May 29, 2018
Ignoring this knot in my stomach. Only sending out positive vibes for this truly amazing show & it's cast/crew.
I'm not done fighting. #Lucifer #SaveLucifer

— emily🥃😈 (@emmyroex) May 29, 2018
I WANNA SEE MORE OF AZRAEL #SaveLucifer #Lucifer

— liv #SaveLucifer (@angeIucifer) May 29, 2018
Finished watching Boo Normal, just started sobbing?! omd that was so beautiful. With douchifer, Ella & Chloe, and then Ella & Azrael, Lucifer & Azrael and finally that last scene😭 I love this show so much, I really really hope that isn't the last thing I see. #Lucifer

— chlo{#SAVELUCIFER} (@luxidecker) May 29, 2018
This Episode, "Boo Normal" was great! Seen plenty of Ella which is always amazing and learned her "ghost" was the angel of death, Azrael. I loved seeing Ella and Lucifer spending time together at the end. ❤️ #Lucifer #SaveLucifer pic.twitter.com/7Cm4Cd5RH7

— JTrademarc (@JTrademarc) May 29, 2018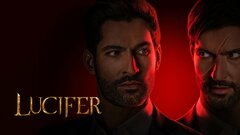 Lucifer
where to stream
Powered by