Kevin Alejandro Breaks Down the 'Lucifer' Episode We Almost Never Saw
You can't keep a good show down! After being sent to Cancelation Hell by Fox, the adored and rallied-around Lucifer has been given a brief reprise.
Tonight, the net is running the show's two unaired episodes — including a fantastical hour featuring the voice of Neil Gaiman, who created the character of Lucifer for his Sandman graphic novels. Last week, we broke the news that the British author and icon (who also penned American Gods) had been tapped to play Luci's long-mentioned father, God, for a standalone story directed by Det. Douche himself, series regular Kevin Alejandro.
Back then, it looked like we would never get to see how it turned out, but thanks to the online campaign to #SaveLucifer that refuses to give up (YASSS!), the powers-that-be-fools wised up for a second and decided to give us a break.
Here, the always chill Alejandro shares his experiences behind the camera, sends more love to the fans, and explains why he and the cast are still keeping the faith.
Hey Kevin, how's it going?
Kevin Alejandro: Good, bro. How are you?
Well, I'm happy that they're at least showing your episode.
I know, man. Me, too. I'm super stoked. At first when I heard that we weren't going forward, I was a little bit heartbroken. Because there was a lot of blood, sweat, and tears that went into that episode.
Was it your first time directing?
Yeah, at this level, it was my television directorial debut, you know?
We spoke with [showrunner] Joe Henderson last week and he was saying how good it was and how great you were as a director. He was pretty heartbroken that they weren't going to show it.
Dude, I know. It was weird, because it is such a different episode, you know? It's kind of set in this alternate universe and we had such a good time trying to figure out small differences within this world that the audience would subtly pick up on. And it was like the absolute last episode of the season, so it was an emotional episode for everyone and just having to entertain the thought that it wasn't going to get to air was not very cool.
For you and the fans. And this is the Neil Gaiman one?
This is the Neil Gaiman one, yeah. How cool right? Like my first time directing, I had Neil Gaiman playing God, of all people!
Amazing.
That's exactly what it is. It's a 'What If?' world and he narrates the entire episode. It's 'What if he didn't put Lucifer [Tom Ellis] and Chloe [Lauren German] in each other's paths?' Would their worlds still meet? It's just fantastic, man.
How different is it for all these characters?
Circumstantially, it's very different. But character-wise, they're still very much the people that the audience has fallen in love with. Just with different circumstances. Like I said, it's almost like an Easter-egg hunt for the audience to be able to search for the little things that are different, from the way Lucifer does a certain thing or dresses or drives. There's so many cool little things that I think they'll enjoy hunting for.
Are Dan and Chloe still together?
I can't tell you that. [Laughs] It all unfolds on its own throughout the episode, but I didn't know that … you guys are going to like it.
This was also the actual last official episode for Tricia Helfer's Charlotte, too?
Yeah, that was really special. I think we pick up in this episode three years after the pilot. After Lucifer's movie star friend gets killed in front of Lux, we pick up three years later.
Had you shadowed anyone on the set before this? Because I know you guys have to prep the week before.
Yeah, I'd been starting to obsess about this sort of new turn for my career for several years now. And you know, what a great place to start this obsession? I started it with Lucifer! At the end of season one and beginning of Season 2, I was able to shadow my producing directors, both Karen Gaviola and Nathan Hope, and just kind of shadow all my favorite directors throughout, which led up to the evolution of me getting to direct an episode. So I've been sort of having my hopes up for the last few years.
And how was it for you?
Amazing. You know, one of the things I learned is that, no matter how prepared you are, you're never fully prepared. Because there's always something that happens or another idea that's better, where you're like, 'You know what? Screw it, scratch everything, your idea is awesome. Let's do that.' You know I just got lucky to do it with these guys.
Did everyone behave?
Of course not. No one behaves ever with our crew. [Laughs]
Who was the one that gave you the most heat?
Lauren German always gives me the most heat. Every time I'd give her a direction she's be like, 'I don't take notes, Kevin. I hate notes.'
Of course!
I love her. But really, everyone was on my side and at the end of the day everyone wanted me to succeed, they want the show to succeed. We're all in it together, and that's why I keep saying how lucky I am to have this experience because we're so tight on the show, as you know.
So catch is up. What have you guys heard? What are you guys doing?
We're all just sort of in the same boat as everyone else. Just kind of waiting, but no one has told us, 'No, it's not going to be saved.' So that gives me hope, you know? And I'm hoping that the fans still fucking let their voices be heard through tweeting and Instagramming during the last two episodes for this season. Their voices are being heard and those conversations are legitimately being entertained. And if there is [an outlet] that wants to pick it up, I know that [the Warner Brothers] team and Peter Roth and those guys won't disregard it… they will have a legitimate conversation. Because they love the show just as much as we do, you know? So the fact that no one has said, 'Move on' yet gives me hope.
And where will you be Monday night watching this? You guys getting together?
Oh, yeah, I'm going to have a raging party. I'm actually still putting it together. I'm such a procrastinator. But at the end of the day we're going to have a big party and just sort of enjoy ourselves and hope that it's as good as it felt making it. And also, even if the show doesn't get picked up — I keep thinking about this — what a way to go out. This has shown us and so many people how responsive and loyal our fans are and how touched they were by what we did, you know?
This is the digital standing ovation you guys deserved.
Absolutely, I agree. Honestly I love our show, I want it to get picked up and I love being part of it. What I mostly want it to get picked up for, is for the fans because they really loved it, you know? They really got into it. That makes me the happiest.
Lucifer, Monday, May 28, 8/7c, Fox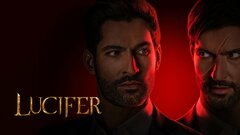 Lucifer
where to stream
Powered by