'The Handmaid's Tale': Yvonne Strahovski Teases Villainous Serena's Human Side
Serena Joy is a force to be reckoned with on Emmy-winning drama The Handmaid's Tale.
The steely wife of Commander Waterford (Joseph Fiennes) even makes Yvonne Strahovski, the actress who plays her, a bit uneasy. "I keep her close because I have to know her," says Strahovski, "but at the same time, kind of an arm's length away." Handmaid Offred (Elisabeth Moss) isn't so lucky.
Following an escape from the Waterford house, pregnant Offred — who's expected to surrender her baby to the couple — is once again a slave under their roof. Ahead of the explosive May 23 episode release (it features a shocking flashback), Strahovski fills us in on the clash to come between the two women.
How does Serena feel about having Offred back in the house?
Yvonne Strahovski: She thinks Offred is a sneaky, cheeky, ungrateful but very smart young woman. So there's a lot of hate there. But it's such a fine line that she walks because there's also a lot of love for what is going on in [Offred's] uterus.
What should viewers make of this relationship?
It's never clear-cut and it never will be — it's as changing as the tides. There are so many things at play: secrets and deceptions and rules and regulations, and very raw human feelings. They both see each other's intelligence, but there's just always this clash inevitably.
Serena isn't particularly nurturing. Will she be a good mom?
I think she wants to be a mother so bad, she would do anything to be a good mother. Whether that is a reality is another story.
What else is in store for her in Season 2?
When you set up a character like Serena, who is a villain, at some point an element of humanity is going to touch her in more ways than maybe she bargained for.
The Handmaid's Tale, Hulu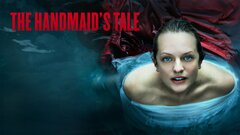 Powered by