'The Handmaid's Tale's Star Elisabeth Moss on June's Journey to Freedom
The first season of Hulu's The Handmaid's Tale ended with a scene — and a line — taken directly from Margaret Atwood's iconic 1985 novel.
As June (aka Offred, played by Emmy winner Elisabeth Moss) is loaded into a van, it's unclear whether she is being rescued from the oppressive theocracy known as Gilead, which has enslaved all fertile women, or being arrested by the regime's militaristic police force. "I step up into the darkness within," June says in a voice-over. "Or else the light."
For more than 30 years, fans of the book have been wondering where Offred was headed — and when the hit series returns for its sophomore run, they'll have the chance to find out. "The fact that I got to be one of the first people to know what happens next was really nerdily exciting," Moss says.
See Also
The first full-length look at the Hulu series says a lot.
The action picks back up with June still in that black van. From there, says executive producer Bruce Miller, the premiere's twists and turns herald an intense 13 episodes. (There's a reason this Tale inspired the hashtag #huluandpanic last year!) "At the end of last season, we presented two options — dark and light," Moss says. "What Bruce did is present a third option we didn't anticipate." Bottom line: Don't assume you can predict anybody's fate from one moment to the next.
"Season 1 really felt like a story completely told," Miller says of the events leading up to this point, which for the most part clung closely to the novel. "But we also didn't do lots of things from the book that we saved for future seasons."
Most notably, that means the introduction of June's mother, Holly (Cherry Jones), a strident feminist activist whose ideals often clashed with those of her more conventional daughter. "Holly was right about what was coming. June judged her for that, and she shouldn't have," explains Moss, noting that the memories of her mother's fighting spirit will further fan the flame of resistance growing inside June. "Holly ends up becoming the pillar of strength June looks up to and uses to find her own strength."
The flashbacks will also shed light on how the religious fundamentalist group the Sons of Jacob — which includes Commander Waterford (Joseph Fiennes) and his wife, Serena Joy (Yvonne Strahovski) — established their brutal reign in America. "We show all the little events that people ignore," Moss says of the slippery slope toward totalitarianism.
Supporting characters get their due as well, with a deeper dive into their backstories and present realities that expands the dystopian world far beyond June's perspective. North of the Canadian border, we'll see how Moira (Samira Wiley) and June's husband, Luke (O.T. Fagbenle), are faring as refugees in "Little America."
See Also
The harrowing photo shows the character at work in the colonies.
Also returning: Emmy winners Ann Dowd and Alexis Bledel. Dowd's Aunt Lydia is as fiercely devoted to training and disciplining the Handmaids as ever, but look for an entirely new side of Bledel's Emily. Episode 2 sees the rebellious Handmaid laboring in the ultra-polluted Colonies and encountering the pious wife of a commander played by Oscar winner Marisa Tomei. And at long last, we'll get a glimpse of Emily's pre-Gilead life as a professor of biology with a wife (Clea DuVall) and son.
The biggest question for all involved, of course, is whether they'll manage to ever leave Gilead. Because even if they do get away, as Dowd's Aunt Lydia warns, "Gilead is within you."
For June in particular, the upcoming journey is about discovering the true meaning of freedom. "Maybe you have to find it in unexpected ways," Moss says. "What is the resistance? Perhaps it's not what you thought it would be. Sometimes, rather than run away from something, you have to change it from the inside." What might that mean for June's chances of ultimately escaping from the nightmare society? "As long as her daughter, Hannah, is in Gilead, June will always have ties to this place," Moss teases, referring to the little girl currently being raised by a family in the ruling class.
See Also
The actress joins Marisa Tomei in the Hulu series' second season.
While both Moss and Miller are aware that some of the series' themes have struck a certain sociopolitical chord with the audience, neither regards it as slanted intentionally to one side. "I don't think of this as a show for anybody with a particular political bent," Miller says. "First and foremost, it's got to be entertaining, and to me that means you're feeling something. It's not always feeling good, but you're involved and experiencing something with the characters."
Whatever your beliefs, Moss says, The Handmaid's Tale all comes down to one thing: "Our show is about people."
The Handmaid's Tale, Wednesdays, Hulu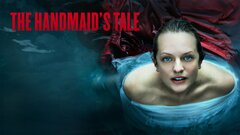 Powered by