'Fear The Walking Dead': 5 Takeaways From 'Buried' (RECAP)
[Spoiler alert: This post contains spoilers about Fear the Walking Dead Season 4 episode 4, "Buried." Read no further if you're not caught up.]
The fourth episode of Fear the Walking Dead's Season 4, "Buried," does indeed deal with Nick's final resting place. But only briefly. Instead, the hour is more about regret, revenge and trust—and whether hope or community can ever be a thing in this new world.
As ever, "Buried" is divided into the Before and After, as we learn how Strand, Alicia, Luciana and dear, departed Nick ended up back on the road. And really, really bitter. In the Before, Madison stays behind to guard the Diamond with rations dwindling (and the Vultures tailgating), while others pair up and head out on a run.
At Nick's insistence, he and Luciana end up at a library search for treats to lure back Charlie and wind up with an ill-fated plan. Alicia and Naomi hit up a water park, where they discuss churros, have epic action scenes and learn that neither expects much of the other in terms of commitment. And Strand and Cole end up in a rural car lot of sorts, where Strand reveals something other than that he has a crush on his partner.
In the After, Strand and Co. make good on their trade-off with Althea and reveal much about themselves (at least we think) and the effect of the apocalypse in the process. Morgan learns just how sentimental that group isn't. And John Dorie gets some heartbreaking news.
Here are our top takeaways from the May 5 episode of Fear the Walking Dead.
See Also
There's more to that surprising exit than fans might think.
1. Regrets are a bitch … if they're real.
As promised, Strand, Alicia and Luciana answer Althea's questions — but whether we should completely believe their tales about "the one day when we could have stopped all of this from happening," remains to be seen. We still don't know what, if anything, they know about Althea before she crossed their paths. But in either case, it'd be a real feat of quick thinking if they did sync up their tales of woe on the fly.
Here's where the stories of the ill-fated supply runs are revealed.
The long and short for Luci is that, while she could identify with Charlie's devotion to the Vultures from her time at the Colonia, the library visit only redeemed itself when she found an atlas/travel guide and convinced Nick to forge a new — and ultimately ill-fated plan for the Diamond. "We should have flipped to another page. We should have found somewhere else to go," she drones into Al's camera. "We wanted to stay."
Alicia learned that Naomi likes churros, was once an ICU nurse, is much scrappier than she appeared to be in the zombie-filled oil tanks — and has zero intention of sticking around to bond with the ball-parkers.
She did, anyway. The motherlode of medical supplies they brough back to the Diamond were for naught. "We should have talked my mom into leaving," Alicia says. "We wanted to believe."
Strand revealed to Cole that he's been stashing a good month's worth of provisions in a car that's hidden in plain sight among some other junkers. (I find it highly unlikely that the Vultures would not have found his stash, but I'll let it be.) Strand may have been playing the faithful syrup-getter at the park, like TWD's Eugene, he wants to live bad enough that the others be damned if need be. "There's famine on the horizon," he tells Cole, as they stand beside his stash. "You want to get to know me? This is me."
Except it wasn't. He drove himself and the supplies right back to the Diamond. "I should have followed my gut. I should have kept that car secret," he tells Althea. "I wanted to be a better person."
"So that's why this day was important. Because you decided to leave. To give up on the stadium," Al says to the group. Their answers:
Alicia: "That's why my brother is dead."
Luciana: "That's why Nick is dead."
Strand: "That's why my friend is dead."
Luciana: "We could have stopped it all."
And that's why they're hunting the Vultures. Althea opts to join them. John and Morgan sit it out, in part because …
2. Naomi is Laura. Or Laura is Naomi. We'll go with Laomi.
We kinda called this one back in episode 2, though we weren't completely convinced. But as the group is loading its buried provisions into Al's van, John spots a backpack. One that belonged to his Laura. He asks to see the pack, as we see Naomi carefully wrap the weapon in a scarf and tuck it inside.
3. Laomi may be dead.
According to Alicia, Naomi didn't make it out of the Diamond, but she offers no real specifics on her demise.
Could be that Jenna Elfman is only signed on for a season. But mulling the revelations in takeaway No. 1, it's possible that Naomi ran again. And it'd make a really fine story if there was some sort of mutiny inside the park and Naomi is dead … to them.
Along with another person we've yet to see in the After…
4. Madison may be dead, too … or in another camp.
While the others were off foraging for stuff, Madison had another chat with Mel as he grilled canned weenies in her parking lot. And he had quite a story to tell, too, for the purpose of explaining to her why her belief in Kumbaya cooperation is exactly why the ballpark will fall.
Hipster Vulture is actually Mel's brother. His real name is Ennis and the pair used to live in a settlement on Mel's family cattle ranch in the Hill Country with couple other families. And then one day, the wildfires came. Only he and his brother got out.
"You were smart. Saw what was coming. No one would listen. So you and your brother left before the fires hit. I'm sorry about the rest of your family," Madison says. Au contraire.
The others did listen—when Mel convinced everyone to stay. "I could hear them dying. Screaming as we drove off," Mel says calmly, gauging her reaction. But his offer for them to Vulture up stands, too.
So two things, then. At first blush, it would be plenty strange for Madison to trust her future to a guy who helped barbecue his own family. But we know the situation at the ballpark grew dire one way or the other. And if Madison truly couldn't go back to her heartless ways, it wouldn't be entirely unheard of for her to pull a Walking Dead Andrea and join forces with a camp that seems more stable than her own over life on the run. Perhaps Naomi, too.
But more likely, one or both were taken when Nick and Luciana's planned long-range run went wrong. Does that mean Madison is dead? I don't think so. Someone here would have said as much. My vote is POW.
See Also
In its fourth season, 'Fear' is showing it is not just A better show, but that it's THE better show in the 'Walking Dead' franchise.
5. John Dorie used to be a cop. And he's still Team Morgan. Sort of.
Eventually, we do get around to the business of burying Nick—which actually is more about unearthing the stashed weapons that putting their boy in the ground. Morgan's a little mortified, but if anyone should know that cemeteries and longterm mourning aren't much of a thing around here, it's him.
Still he, John and Althea are all a little mystified that the survivors are off in pursuit of the Vultures, courtesy of a map Alicia found on Walker Ennis. It goes a little something like this.
"You think you know what happened that day. But you're wrong." — Strand
"It's what Nick would have wanted." — Luciana
"You didn't know Nick." — Alicia
"You've been lying to me this whole time. We had a deal." — Althea
Strands said they answered her questions, so they're even. Al says the answers only matter if they're the truth. Lu says they are. Maybe, says Althea. "But you served them to me between two slices of bullshit, so how am I supposed to know the difference."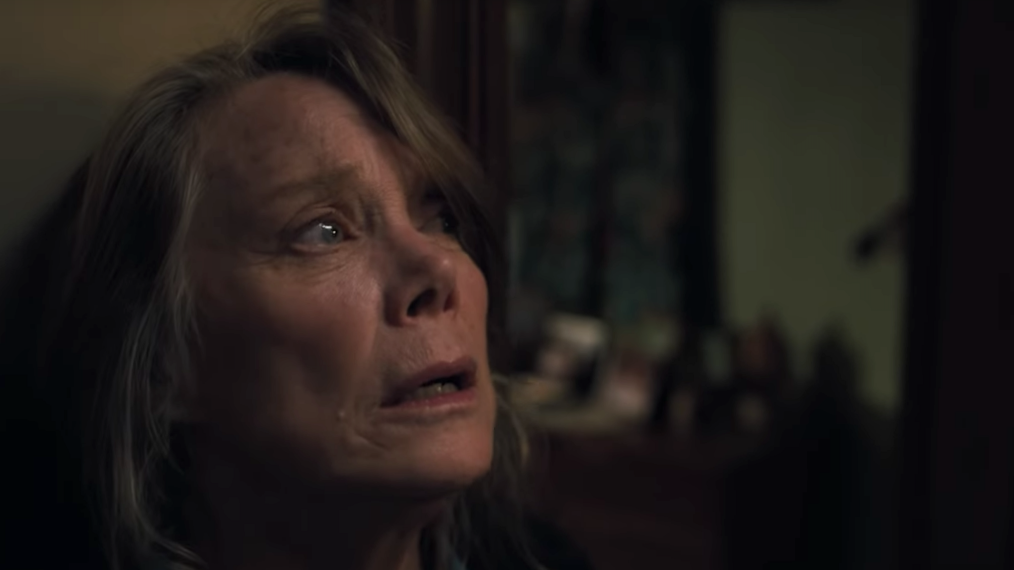 See Also
The teaser raises questions about how Stephen King's famously creepy town got to be that way.
"Sniff before you bite," says Strand. BA-zing!
John tells Althea she got "snookered" and, given what happened to his Laura (and his hope) with this group, why would she go with people whose story ends up with more folks getting hurt? Strand points out that John's story did end with someone getting hurt. Ouch.
Alicia says there's more to their story, which is enough to get Althea back in the van, promising she'll return and leaving John and Morgan alone in the darkness.
"You were right," John tells Morgan. "We are always on our own."
So what do you think, Fear fans? Were you surprised to learn that Naomi is Laura or not really so much? Do you think she is truly dead—and if not, who will find her first? Is Charlie fair game now that she is a killer—or just less rending collateral damage in what's about to down? Is Madison finally about to show up in the After? Are you watching the opening credits like a hawk for clues now that each time is different?
Fear the Walking Dead, Sundays, 9/8c, AMC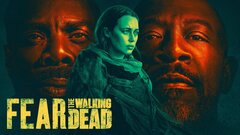 Powered by