The Real Reason Behind [Spoiler's] Shocking 'Fear the Walking Dead' Death
[Spoiler alert: This post contains major spoilers about "Good Out Here," the April 29 episode of Fear the Walking Dead.]
Fans of The Walking Dead and Fear the Walking Dead aren't unfamiliar with a sudden and shocking character death, but that doesn't mean it's painless either.
In Sunday's episode of Fear the Walking Dead titled "Good Out Here," fans were forced to say goodbye to one of the series's first regulars — [Spoiler] Nick Clark, played by Frank Dillane.
Yet it wasn't necessarily the writers' choice to encourage Dillane's exit. The actor himself insisted — and the shock continues!
See Also
In its fourth season, 'Fear' is showing it is not just A better show, but that it's THE better show in the 'Walking Dead' franchise.
During an interview with Entertainment Weekly post-episode, Dillane revealed that it was his decision to leave Fear, claiming homesickness had something to do with it — the actor is a London native.
"I had been doing it for three or four years, the show has undergone many changes in terms of different people in charge, all of this stuff, and I just felt like the beginning of this season kind of felt like the end of an era with this show," Dillane told EW.
"And television is hard work, and you have to shoot a lot," he continued. "I also missed Europe very much. I'm not American, so after a while I get quite homesick and all of those things. I also felt like we had achieved what needed to be achieved in the first few seasons, so I thought it was time to keep moving."
Dillane's choice to move on may be difficult for fans to grapple with, but the addition of so many new characters nearly makes up for his loss. The Walking Dead's Lennie James, along with Maggie Grace, Garret Dillahunt, Jenna Elfman, and Kevin Zeggers, all joined Fear's roster for Season 4.
As for the recently exited actor, Dillane has plans for more work, as he told EW, "I had been playing Nick for four years and I was ready to play some different characters."
With only three episodes into Season 4, Fear the Walking Dead is certainly throwing some big punches, and they know just where to hit their audience.
Fear the Walking Dead, Sundays, 9/8c, AMC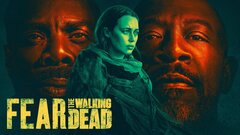 Powered by