'Fear the Walking Dead': 5 Takeaways From 'Good Out Here' — Including That Major Shocker! (RECAP)
[Spoiler alert: This post contains spoilers about Fear the Walking Dead Season 4 episode 3 "Good Out Here" — and there's a few humdingers! — so read no further if you are not caught up and do not want to know. Really. Don't.]
Yeeow! Didn't see THAT coming, though I guess I should have.
After everything he endured and survived, reformed addict and failed farmer Nick Clark was done in by a kid. A kid he wanted to help.
Sunday's Fear the Walking Dead episode, "Good Out There," again featured dual timelines. One—the Before we've now gotten used to—is a veritable study in technicolor, featuring Madison and Nick trying to work around the Vultures to score some grub and keep their chins up in the wake of the fallen crops. Madison's also trying to convince her boy that, no matter what, he should always look for the good stuff—funny billboards, armadillos, signs of people helping each other.
A big ol' field of Texas bluebonnets.
The other — the After — is so devoid of color that it's this-close to being shot in black and white. It clues us in on what shook out in the Morgan-John-Althea versus Strand-Nick-Luciana-Alicia conflict as they headed to the camp where Al and Company found the mysterious number flag.
It also melded hope and cooperation with death and despair in a way that'll have us inside our own heads for a while.
So with that, here are our top takeaways from "Good Out Here."
1. Nick is dead. And, yeah, we're kinda stunned.
Love him or loathe him, to see Frank Dillane's embattled Nick shot dead by Alexa Nisenson's avenging mini-spy Charlie was a jaw-dropper, since just moments before, Fear seemed to be setting up a "Morgan's now Eastman and Nick is now Morgan" deal that could have been pretty interesting.
If you don't watch The Walking Dead, Eastman was Morgan's peacenik mentor who, as Morgan's speech indicated, taught him to honor all living things, embrace hope for a peaceful future and use that staff as a non-lethal weapon if he needed one. Didn't work too smoothly for Morgan in his TWD days, hence his arrival in Texas.
But the prospect of Morgan honoring his mentor (and maybe giving us another peek at John Carroll Lynch in the Eastman role) and healing himself while turning Nick into anything other than a wide-eyed mess was hugely, if briefly, appealing.
That said …
2. Nick signaled his fate.
After the shock of his death wore off, we realized that Nick was pretty clearly signaling his demise throughout the episode.
On their ill-fated supply run, he told Madison that his attempts at doing good always go haywire. And that staying inside the park protects him from the suffocating prospect of being who he knows (and has demonstrated over and over again) that he is outside its safe haven.
And then whatever circumstances led to "After" turned him back out into an unforgiving world — and turned him upside down.
Thus, his attempts to overpower Althea seemed delusional at best, suicidal at worst. Sabotaging the combined groups' tentative cooperation and the salvation of a very helpful van in favor of charging off after Hipster Vulture signaled a selfishness and focus on personal vengeance that never works out well in this world.
Hipster Vulture's stinging "unlike you, I keep my family fed" in the Before, coupled with his hold over little Charlie was likely the nail in both their coffins. Yes, Hipster fell onto the deer antler during their scuffle, but Nick made sure the wound was fatal. And when Morgan hands over his cherished The Art of Peace even after and tells him there is still hope, Nick barks, "too late!" so loud I jump a little.
But he seemed to consider it a little. And the single bluebonnet still tucked in his back pocket. The good stuff. Still some good stuff.
And then Charlie fired. Too late, indeed.
3. That use of color was pretty first-rate.
Though the gang was still dealing with the Vultures in the brightly-colored Before, everyone was still living and breathing, per head Vulture Mel's earlier promise that he'd just wait for the ball-parkers to craft their own demise. Right now, though, it's only a contest to see who can find the most stuff—and an unspoken battle for Charlie's soul.
In the After, we saw color only twice. In Morgan's frayed, golden copy of The Art of Peace and in the bluebonnets Nick strayed into on his march of revenge. Morgan saved him, then. But he couldn't save him for good.
Draining the color from the scenes as folks' collective fortunes drain any hope and ease from their lives is a visual, impactful and resonant reminder of the world in which they must operate.
4. Goodwill and cooperation aren't completely lost to bad fortunes.
Though no one was much appreciating their time together, Althea, John, Morgan, Alicia, Strand and Luciana still opted for, as Strand nicely put it, "acts of faith" and negotiation to get them out of the potentially fatal pickle into which Nick's rashness landed them. Reasoning and restraint for the win. And that's refreshing.
Nick tackled Althea and landed the truck and everyone in it in the ditch, letting Al and Co. regain the upper hand. Without the heavily armored van, no one was better off, so now what.
Luci knew where they could find a tow truck, so everyone was freed from their zip ties in favor of the greater good, leaving Nick and a wounded Morgan to babysit each other and the wheels while the others went in search of the needed equipment.
We know how that turned out for Nick, but there were additional solid interactions that give us hope for the remaining group to collectively put some color back in the world. Strand and Althea are neatly matched in the wits and wisdom department. Alicia, Al and Luci are fine fighters and take no B.S. — though the first two may now be hobbled (or worse, emboldened) by grief.
And blessed be you, John Dorie, the peacekeeper. And my everything.
5. Somewhere out there, there's a place called The Bog.
That's all we know about that, for now, other than that Althea's been there and captured at least some of the stories of the folks who lived there. Those tapes are in a box of their own, which Maggie is relieved to discover have not been lost to Nick's nosey ways.
Clue to Charlie's family? Clue to the Vultures' origins? Your better guess here?
See Also
Amid this 'reboot fever,' which TV shows of yesteryear should be held sacred?
And a bonus takeaway:
Last, but not least, in its fourth season, Fear the Walking Dead is not just a better show, it's the better show.
Even if we are operating in two timelines, by paring down its cast to a wisely curated group of full-realized, multi-dimensional characters, Fear has belatedly embraced what made The Walking Dead so great in its earlier seasons.
Folks we can actually care about—even when they made us insane in earlier seasons—battling for survival with not much more than their wits, their industriousness, their will and their willingness to work together. Connections that count for something. A full gamut of human emotion, instead of revenge and more revenge, guns and more guns.
And so, Nick's death is genuinely shocking.
To be sure, his saucer-eyed weirdo ways and reckless nature didn't endear him to plenty of Fear fans. But he meant an awful lot to Madison and Alicia and Luciana. I worry for how the formerly icy Madison will react when she finds out that Nick is dead, and how he died, if she herself survived to the After.
In this world, too, Morgan's quest for a return to his Eastman ways already feels fully integrated, and makes sense in a way it rarely did in Dead's last few seasons.
I want to know what happens next. And that is a very good thing.
Fear the Walking Dead, Sundays, 9/8c, AMC.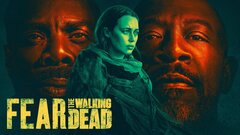 Powered by