TLC's 'This Is Life Live' Announces New Air Time, Hosts, Storylines, and a Spinoff
On Mother's Day, TLC will return with its four-part special series, This is Life Live, but this time with some important changes!
Just as it did with its first series, the show will capture compelling life-altering experiences as they happen in real time over the course of four nights. However, TV Insider can exclusively announced that, for the first time ever, it will air live across the country in all time zones (Eastern, Central, Midwest, Pacific).
See Also
The couple married in 1996 and died in an infamous 1999 plane crash.
Additionally, there's been a slight update on the hosts — original emcee Lisa Joyner will be back for a second year, but this time she'll be joined by her Long Lost Family co-host, Chris Jacobs.
"After witnessing the impact of last year's inaugural This is Life Live and how it deeply inspired our audience, we knew we had to bring it back – and who better to guide viewers through these emotional journeys than TLC's very own Lisa Joyner and Chris Jacobs" says Howard Lee, President and General Manager of TLC. "We are honored to have the opportunity to share such deeply personal stories with our audience and witness real people experiencing some of the biggest moments of their lives in real-time. Seeing such raw reactions on live television is the heart and soul of what this network is all about."
The network also gave TV Insider the scoop on the four stories featured this year, including, among others, one following the survivors of the Route 91 Harvest Festival tragedy. Read on below for the full breakdown:
Night One (Sunday, May 13): Survivors of the Route 91 Harvest Festival tragedy will take part in an incredible, healing experience; and a seven-year-old girl, born without a right hand and forearm, will receive a life-changing prosthetic device.
Night Two (Monday, May 14): A mother will witness the impact of her late son's heart donation by meeting the recipient and hearing her son's heartbeat one more time; and a struggling family in need of a safe place to live will be surprised with the gift of a house.
Night Three (Tuesday, May 15): A young man will meet the family and friends of a young woman who passed away during a car accident he was involved in several years ago; and a father will be reunited with his two long-lost daughters and take custody of them, growing instantly from a family of four to a family of six.
Night Four (Wednesday, May 16): A 32-year-old man, forced to relearn all his motor skills after a cardiac event left him clinically dead and in a coma, will surprise an unsuspecting crowd of people who helped save his life; and a woman seeks to reunite with her biological mother who placed her for adoption 37 years ago.
And that's not all! In addition to this year's new live moments, TLC will also catch up with those featured in last year's set of emotional reveals. In This is Life Live: Where Are They Now?, viewers will find out how these families were affected by the show and what they're up to now. These episodes will be available only on the TLC GO app beginning Sunday, May 6. Read on for the four people profiled:
Tanner, who lost his legs in a horrific motorcycle accident and was told he'd never walk again; for his live moment, he surprised his fiancé by walking down the aisle at their wedding. Has he progressed in his physical therapy enough to continue walking? And what shocking hobby has he picked up since?
Ryan, a baseball player who was scared to confront his sexuality both to himself and to his loved ones for fear of rejection; for his live moment, he came out to his mother as gay. How have his relationships with his mother and friends developed, and does he have a significant other?
Nathalie, a deaf mother who was in the process of receiving a cochlear implant to restore her hearing; for her live moment, her cochlear implant was turned on and she was able to hear her daughter say "I love you" for the first time. How has her hearing improved her life, her ability to raise her kids and have fun?
Ericka, who found out she had a long-lost sister after their father passed away and hired a private investigator to find her; for her live moment, Ericka met her sister Tiffany for the first time ever and broke the news of their father's passing. Did Ericka and Tiffany keep in touch and have they been able to make up for the lost time?
Check out an exclusive sneak peek clip with Tanner below:
This is Life Live, Premieres Mother's Day, Sunday, May 13, 9 pm ET/8 pm CT/7 pm MT/6 pm PT, TLC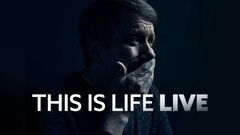 Powered by