'The Big Bang Theory': Jerry O'Connell Talks His Debut as Sheldon's Brother (VIDEO)
In the course of 11 seasons of The Big Bang Theory, we've gotten to know Sheldon's (Jim Parsons) loving mother Mary (Laurie Metcalf), met his twin sister Missy (Courtney Henggeler) in Season 1, and learned that his father George died when he was 14.
We've really only heard mention of older brother a few times over the years, but in Thursday's episode, "The Sibling Realignment," we'll finally get to know George Jr. as Jerry O'Connell steps into the role. In the episode, viewers will find out a little more about the character and the rift between the two Cooper boys. Plus, they'll see that the way Sheldon painted his brother over the years may not have been totally accurate.
See Also
The Season 11 finale airs May 10 on CBS.
This is the first time we're meeting a character on TBBT that was already introduced on spinoff Young Sheldon. On that show, young Georgie is played by Montana Jordan, and O'Connell had a chance to speak with him ahead of the TBBT guest spot.
O'Connell, who famously burst onto the scene as Vern in the beloved 1986 film classic, Stand By Me, was beyond giddy talking to TV Insider on The Big Bang Theory set the week before taping the season finale. "First of all, I love weddings so I'm so stoked I got invited!" he gushes. "I really do feel like I'm part of something so special."
What we find out in this episode is that Sheldon and Georgie have not spoken in years. However, Mary, wanting to see the estranged brothers mend fences, throws down an ultimatum that she won't attend Sheldon's wedding to Amy (Mayim Bialik) unless Georgie comes. This then prompts Sheldon and Leonard (Johnny Galecki) to head to Texas for a reunion.
"We have a rather touching moment about reuniting family," O'Connell says of his working with Parsons in the episode. He also commends the writers for being able to instill both laughs and touching moments effortlessly. "As funny as the writers are, they're just as effective when it comes to the drama. The dramatic moments really feed the funny moments, and the funny moments obviously feed the dramatic moments."
If you like seeing O'Connell in the episode, he'll be back for next Thursday's season finale, which also features guest stars Mark Hamill, Kathy Bates, Teller (of comedy magic team Penn and Teller), and the aforementioned Henggeler and Metcalf.
Watch a clip from this Thursday's episode:
The Big Bang Theory, Thursdays, 8/7c, CBS.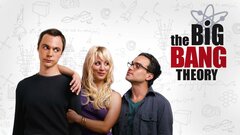 Powered by