The 'Alaskan Bush People' Premiere Is Delayed and You'll Never Guess Why
Hey, so remember last week when we told you there was going to be boatloads of new Alaskan Bush People episodes coming to Discovery Channel in May? Yeah, well, about that…
See Also
And yes, it's still called 'Alaskan Bush People,' even though it now takes place in Washington.
The dedicated but overly-optimistic folks who make the programming decisions at Discovery Channel didn't factor Brown Luck into the equation when they put the ABP Season 8ish premiere on the schedule for May 11.
The latest Discovery Channel schedule reveals that the new season will no longer premiere on May 11. In fact, it won't premiere in May at all. We have no idea when — or if! — the show will be back.
Will the new regime at Discovery be as patient with the Browns as the old one? Discovery's recent order for Book of Hines suggests that the Browns may soon be given the boot. And Park Slope's failure to deliver an ABP season on time doesn't help the argument for keeping it on Discovery's lineup.
See Also
The Discovery Channel show is filming its eighth season in a new, unexpected place
Last year, Park Slope slapped Season 7ish together quickly, while the events of Mother Ami's cancer diagnosis and treatment were unfolding in "real time." Most of the action last season was of Mother Ami going to the hospital in Los Angeles and sitting in bed all day. Game of Thrones it was not.
Maybe Park Slope thought they could pull off the same turnaround time in a whole new state building a whole bunch of new stuff with the same budget as last season. The accountants clearly did not set aside enough funds for the Browns' squabbling, pigheadedness, laziness, and pizza.
Billy, Ami, and Bear went to Los Angeles recently for follow-up medical care for Ami, which probably also caused a delay in production. Or maybe production went more smoothly with Billy not there to micromanage everything.
Complicating matters further, Noah and Rhain finally made their presence known in Washington, despite our desire to see them remain in exile forever. Rhainoah's meet and greet in Coeur d'Alene, Idaho, was sparsely attended and their honeymoon gift registry came in short of revenue projections. Noah must be desperate for some of that sweet, sweet Discovery Channel dough. We're not sure if Billy and Noah have smoothed things over yet, or if Billy is allowing Noah to be smug and arrogant on camera this season.
Also, Matt is now living in a trailer down by the mountain. Apparently, living with his mom and dad was cramping his style.
But there comes a time in every man's life when he must leave his family's rented house and venture out on his own in a trailer across the street from the production office of his dad's crappy reality TV show.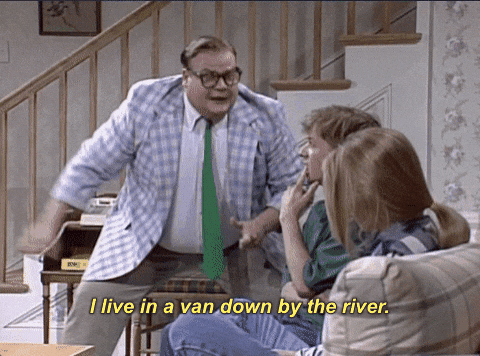 Until the Browns and Park Slope get their dead ducks in a row, we'll have to just enjoy Billy and Mother Ami's ringing endorsement for DeFelice Dentistry of Spokane, Washington. Because if DeFelice Dentistry is good enough for the Alaskan Bush People, it's more than good enough for your family.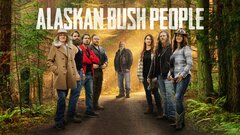 Powered by