Does Discovery's 'Book of Hines' Spell the End for 'Alaskan Bush People'?
Just how many large-oddball-family-living-off-the-grid unscripted series is Discovery Channel going to give us?
Discovery announced it has ordered Book of Hines (working title), a new docuseries eerily similar to its own Alaskan Bush People, which is believed to begin its eighth-ish season late this spring or early summer.
See Also
The Discovery Channel show is filming its eighth season in a new, unexpected place
According to Discovery's press release, Book of Hines "is an original unscripted series that follows former covert military man and intelligence officer Brett Hines and his family as they transition from living under the modern trappings of life in America to forming their own way of life."
Of course, we all know that the best way to get out from under the trappings of modern life is to put yourself on a national cable TV show. And even I could go around telling people I'm a former covert military man and intelligence officer, because you can't prove that I'm not. It's like that Shawn Eckardt guy who was Tonya Harding's "bodyguard" and claimed to have expertise in anti-terrorism tactics. A whole bunch of ninjas will be trying to uncover the Hines' family's "real story" in 3…2…1…
The press release continues:
Wendy, Brett's wife, is the visionary behind the homestead and the rock of the Hines family. Michael, the oldest of the Hines children, serves as the outdoors specialist. Nathan is the mechanic and crafts necessary tools and weapons needed to survive off-grid. Sarah, the oldest daughter living on the homestead with her husband Drew, is considered the second mother of the family: she is the organizer and delegates tasks to her younger siblings. Joshua is the 'sheriff' of the family and tries to keep the peace. Ariel, Evelyn and Daniel, the three youngest children, are eager to learn the ways of homesteading.
See Also
We explore some of the biggest 'Alaskan Bush People' questions.
You'll notice distinct similarities between the Hines family and the Brown family. Hell, the Hines family version of Joshua "Bam Bam" Brown is even named Joshua. You'll also remember that there was a series of Alaskan Bush People reruns titled "The Book of…" It's very clear that someone stole the Alaskan Bush People playbook here.
Book of Hines is produced by This is Just a Test for Discovery Channel. TIJAT has produced a number of TV and digital shows, including I Am Jazz for TLC and Ice Lake Rebels for Animal Planet. Among those on the team for Discovery Channel is John Slaughter, who has past experience as an EP on Alaskan Bush People.
I'm excited about the prospect of Discovery ditching the Brown family and giving us a whole new show to bash.
Waiting for Discovery Go to post last night's #AlaskanBushPeople so I can make fun of it. pic.twitter.com/LeX7RkCSmA

— Ryan Berenz (@RyanBerenz) August 24, 2017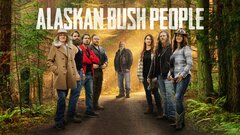 Powered by