'Alaskan Bush People' Is Coming Back Worse Than You Ever Thought Possible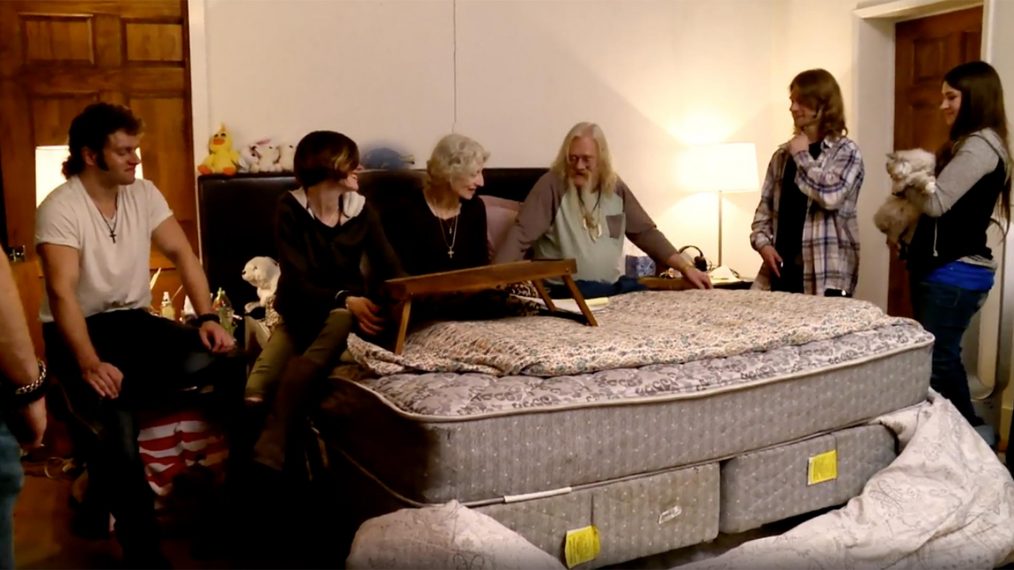 It's been a while since my last highly-optimized Alaskan Bush People ploy for pageviews. I figured an update on the Browns' offseason escapades is in order.
Another season* of Alaskan Bush People is currently in production, and you can expect it to debut early this summer. I realize this may come as disappointing news, but I am here to offer comfort. For as long as Discovery Channel or any other media entity continues to excrete Alaskan Bush People into our entertainment supply, I will be here to mock and deride it with you.
So onward with the mocking and derision.
The Browns Are Moving to Washington! The Hell?
Alaskan Bush People came into existence because the Browns purported to live deep in the Alaskan wilderness, often going for up to six months without seeing an outsider. LIES! The state of Alaska knew that the Browns didn't even live in Alaska long enough to qualify as permanent residents, and the state brought charges of Permanent Fund Dividend fraud on Billy and other family members. How Alaskan Bush People remained on Discovery's lineup after this news remains one of life's great mysteries.
The Browns haven't been living in Alaska very much at all. Lately they've been living in Los Angeles so Mother Ami could be treated for advanced lung cancer at UCLA. At the end of the most recent Alaskan Bush People season, the Browns were all excited about moving to Colorado and building a bunch of new stuff. So what happened to all of that?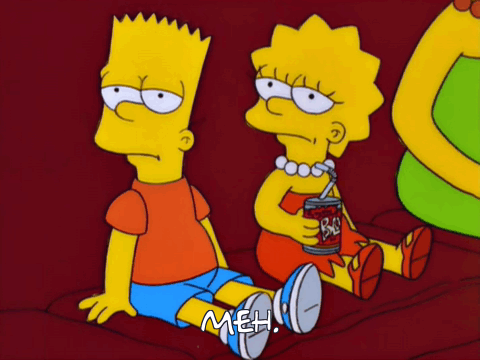 Man, I can't wait to hear Billy's explanation. Was someone shooting at them again?
Billy supposedly purchased land near Loomis, Washington, a bustling town of 159, according to the 2010 census. Geographically, it's a nice place for fake Bush living, and it's isolated enough for the Browns to do their TV shenanigans out of sight. One of the area's most interesting features is Palmer Lake. An anonymous source with intimate knowledge of the shape of lakes confirmed exclusively to TV Insider that the lake resembles a "droopy penis." Henceforth, we shall refer to Palmer Lake as Lake Flaccid.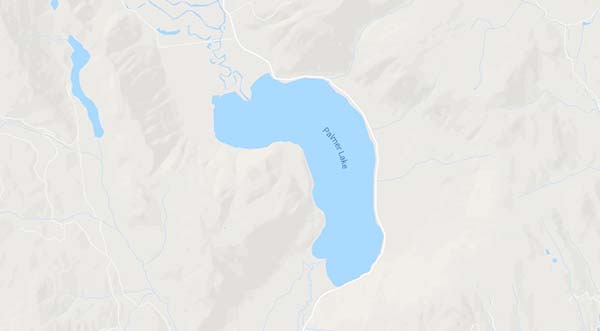 You may be wondering how this clusterfarce can still be called Alaskan Bush People. Would Discovery consider renaming the show—and if so, what would they call it? There's already plenty of brand equity built up in the show's name. Changing the title would bewilder the show's core audience of people who still program their VCR. Discovery might consider a subtitle thing and call it Alaskan Bush People: Washington Wolfpack or Alaskan Bush People: The Un-Alaskan Years or Alaskan Bush People: Still on TV. (I will lawyer up if Discovery uses any of those titles.)
They're Building Yet Another Brownton Abbey. Yawn.
In the first ABP season, the Nine Member Brown Clan built a cabin in the woods near Chitina, Alaska. It was the fulfillment of their lifelong dream. Then they abandoned it. In the second season, the Brown Family (all nine of them) began to construct a different cabin, this one near Hoonah, Alaska. It was the fulfillment of their lifelong dream… then they abandoned it. In the series' most recent season, the Members of the Brown Family Numbering Nine bought land in Colorado on which they were planning to build several cabins. It was going to be the fulfillment of their lifelong dream. Then they abandoned it.
After that, the Nine Browns Who Are a Family Unit bought land in northern Washington. There's a pattern here, is what I'm getting at. Now, there's going to be construction on a new Brownton Abbey in Washington, and I don't understand why anyone would emotionally invest in watching these dopes pretend to build something they're eventually going to trash and abandon anyway. They've pretty much exhausted that storyline. Unless they're constructing a Bush Death Star, this is going to be boring as hell.
On the subject of boring as hell, this area of Washington is a popular place to pan for gold. You'll recall that prospectin' is one of Billy's favorite wastes of time, and we can expect ABP to waste a lot of screen time on his hunt for nuggets. If we wanted to see this stuff, we'd watch the 30 other gold-mining shows on Discovery Channel.
Noah in Exile
There's this sublime subplot going on in the Browniverse, and it's a travesty we'll never get to see it on TV. You'll recall that Noah didn't appear in the "Home Away for the Holidays" Christmas special in December. We'll let Billy explain why.
She Who Is Not To Be Named is Rhain, Noah's fiancée (though there was scuttlebutt that they were married in Colorado in summer of last year). Rhain has made a few appearances on ABP, her first being a tour de force of insincerity in "All Falls Down." Last ABP season, Rhain only appeared in recycled footage. Turns out there's a great rift between Rhainoah and the rest of the Browns, and it is marvelous entertainment. In an unusual display of good judgment, Billy won't let Rhain appear on the show. Rainy and Birdy do not like her.
Rhain's whole scheme to get on TV by snagging the most desperate Brown boy has collapsed, and thanks to the sad voyeuristic wonder that is Facebook, we get to behold her meltdown in all its glory. Rhain is hellbent on seeing this through, and Noah won't give up the first woman he's been with that didn't also have an air valve. No one's backing down, so Rhainoah is banished to a cabin on Billy's land in Colorado while the rest of the family films in Washington.
But wait, it gets worse! Rhainoah's crowdsourced honeymoon gift registry was "accidentally" leaked on the internet. Noah claims the registry was only intended for friends and family who are being invited to their wedding, yet they've done nothing to rectify it or dissuade their deluded "FAN-ily" (Noah's word, not mine) from giving them a handout of gas money or dog/ferret boarding expenses. I would send them a gift, but no amount of cash can buy them class or dignity. Besides, Noah should be making good money now that he just started an imaginary job as a diesel maintenance technician.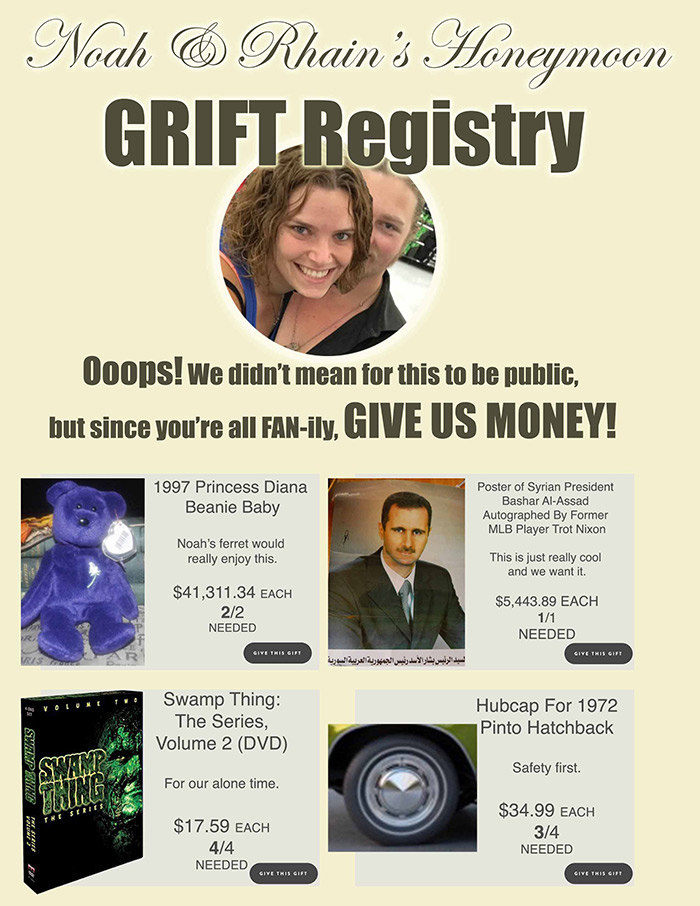 But wait, it gets worse! Rhainoah is throwing some kind of meet-and-greet potluck party in a park in Coeur d'Alene, Idaho, on March 31. Rhainoah will supply some cookies or something, and guests can bring a dish (no glassware) to share with the two or three other people sad and lonely enough to attend this thing. Consumption of alcohol is prohibited in the park, so make sure you get liquored up before you arrive.
Rhainoah will answer your dumb questions, and you can probably get an awkward photo taken with them. If the potluck is lame, you can always crash the children's Easter egg hunt taking place in the same park at the same time.
Ami Brown: Medical Miracle?
People Magazine had this whole big thing back in January about Mother Ami beating Stage 4 lung cancer, complete with Billy's expert medical opinions. It is indeed good news that she responded well to treatment, and I wish her good health and a total victory over this awful disease. There was a lot of jubilation, and a lot of people losing perspective.
Here's the reality: The survival rate for her disease is 3 percent after five years. Mother Ami is still very deep in the woods, and she'll need lots of follow-up care and tests to check for cancer recurrence. Still, Billy drags his ill wife up to northern Washington, far from her physicians in L.A., to film this worn-out TV crapfest. None of this should surprise you. Billy only thinks about Billy.
No, Gabe Is Not in Love With You
If the saga of Rhainoah didn't creep you out enough, let me regale you with the ribald tales of smartphone-philandering Gabe, who has been linked to various ladies from all over the globe. One such lady stalker went to great lengths to convince others that she was Gabe's fiancée. According to Profane Reality:
She's gone so far as to buy herself a ring, send herself presents, and send gifts to her children, all allegedly from Gabe. Her proof? A couple of 2-year-old photographs from when she went to Hoonah in 2016 to stalk meet the Brown family.
The jig was up when Rainy posted this pic of her brother snogging with some other lass.
https://www.facebook.com/alaskanfrauds/photos/a.914151288667995.1073741829.877850308964760/1632146080201842/
Not only was the secret life of Gabe's faux fiancée blown up, but some other ladies who were also being wooed by Bush Casanova cried foul and made public screenshots of their interactions.
Gabe is even getting some action in the fantasies of this ABP fan fiction author, who has given the Browns the Danielle Steel treatment. The stories are en español, but stuff like Gabe losing his virginity is freaky in any language.
The Internet should be burned to the ground and its ashes buried deep within an oceanic trench.
Meet the New Boss—Worse Than the Old Boss?
You may have heard the news about Scripps Networks Interactive and Discovery Communications doing one of those massive media merger deals. Basically, it puts Scripps' lifestyle TV networks—HGTV, Travel Channel, Food Network—in the same corporate family as Discovery Channel, TLC, Animal Planet, and Science Channel. One of the biggest bigwig casualties of the merger is Rich Ross (pictured below), group president of Discovery Channel and Science Channel, who joined the company in 2014 and was just given the heave-ho.
Ross had high hopes for bringing prestige back to Discovery. He sounded like he was going to open the windows and clear out the stench of B.S. like ABP and shows about guys getting swallowed by snakes. He did not. Ross had countless opportunities to jettison ABP from Discovery's lineup, but he found the lure of cheap and easy ratings from the dunderhead demographic too hard to resist.
I like to imagine Ross got the boot for not canceling ABP, but my dreams were shattered when TLC President Nancy Daniels got Ross' old job and Discovery CEO David Zaslav said he's putting all his chips down on so-called unscripted programming. ABP sounds like it's right in Daniels' wheelhouse.
Goody.
*The exact number of Alaskan Bush People seasons is in dispute.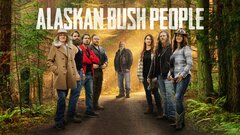 Powered by