Priscilla Presley Says HBO's 'Elvis Presley: The Searcher' Humanizes the Music Icon
My earliest memories of "real" music are all about Elvis.
The velvety voice, the songs and the brooding face on the albums my mom and dad collected. The smell and feel of their papery covers. The creaking doors on the cabinet that housed our record player. My parents' excitement as they dressed up for Elvis' April 1977 concert in Green Bay, Wis., a half-hour from my childhood home.
And, just a few months later, sitting at a stop light as it turned from red to green to red to green while my stunned mother gripped the steering wheel and tried to process the news that 42-year-old Elvis was dead.
To hear his songs on the radio or a jukebox now brings it all back in one nostalgic wave. To sit beside Priscilla Presley, Elvis' former wife and lifelong confidante, in a Pasadena hotel suite and spend an hour talking about the man who made that music and those memories is bucket list realized.
I met with Priscilla at a press event promoting Elvis Presley: The Searcher — a multi-year collaboration between Priscilla, Presley intimate Jerry Schilling and Emmy-winning director/filmmaker Thom Zimny, whose projects on Bruce Springsteen and the E Street Band wowed fans and film critics in equal measure.
The three-hour, two-film presentation, which premieres April 14 on HBO, takes viewers on an intensely personal journey from Elvis' childhood through his final Jungle Room recording sessions in 1976, focusing on the King as an artist, a rare talent and uncommonly sensitive soul — not a myth or a tabloid mainstay.
And the project thoughtfully deconstructs the evolution of his revolutionary sound and style, his conflicted relationship with Hollywood, and his mercurial dance with all the facets of fame.
Zimny and screenwriter Alan Light enjoyed the full participation of the Presley family estate, which afforded them unprecedented access to Graceland and its archives, never-before-seen photos and rare footage.
The director augmented the affecting visuals with nearly two dozen interviews with Priscilla and Schilling, directors, session players and other Elvis and industry intimates, plus musical icons — Springsteen, Tom Petty and Robbie Robertson among them — who considered Elvis key to their own musical journeys.
To Zimny's credit — and because this is Elvis' story — interviewees are heard but not seen, ensuring that an absorbing character study was never reduced to a shiny collection of on-camera celebrity chats about the King.
"He did more research and had such a personal interest in this that it just warms my heart — because you never know," Priscilla said, smiling at Zimny, who saw his casual Elvis fandom grow into a full-blown obsession.
"He lived it every single day. He went to Graceland. Phone calls and interviews, trying to get the whole story — the full story in its depth. This is Elvis and his music, and this is uncharted territory. Elvis was very much alone in the journey that he took in being who he was as an artist — the journey we left to Thom to put together."
For Zimny, those conversations were the pathway into a story far removed from his own painfully common misconceptions. Which is exactly what Priscilla and Schilling had hoped to accomplish with The Searcher.
"For example, when I listened to Priscilla describe watching Elvis for the first time on TV, I realized that it was a much bigger story than I ever imagined," Zimny offered.
"Listening to Priscilla describe the intensity of Elvis's eyes, all of a sudden it opened up how I would look at all the shows. All the TV performances. … The key thing that I heard in the interviews with people who really lived with him — not the scholars — was that Elvis was an artist and he was held back. That, to me, was the story to chase, and that's really what I got from Priscilla."
Thus, what truly sets The Searcher apart is its connective tissue — Elvis as lifelong observer of the human condition and his uncanny connection to emotion, expression and movement — replacing gossip and speculation with heart and soul.
Each moment, iconic or otherwise, is viewed through the lens of how Elvis was feeling and where he was as a person, not a rising or falling star, as events in his life unfolded.
Zimny started from the beginning. An adored only child (his twin, Jesse Garon, was stillborn), Elvis wandered the streets to observe the folks around him, becoming intrigued by personal styles and genres of music well beyond his tender age — and realizing with increasing certainty he was meant for something greater than the destitution he and his mother Gladys endured.
"She was his confidante," said Priscilla of the mother-in-law she never knew. "They trusted each other. You have to remember, when he was very, very young, the poverty that they lived under was beyond. If you see the two-room house that they lived in with no electricity, no running water, you can't believe it.
"The two of them only had each other because his father had gone to jail for some time. They really depended on each other. He would run everything by her. Everything. When she passed I don't think Elvis really ever got over her passing. Ever."
And Elvis lost his mother at a pivotal time in his life, shortly after his induction into the army took him away not only from his home, but also from his career, his rising fame and his fans, leaving his livelihood in the hands of people who were actively turning "Elvis" into a brand.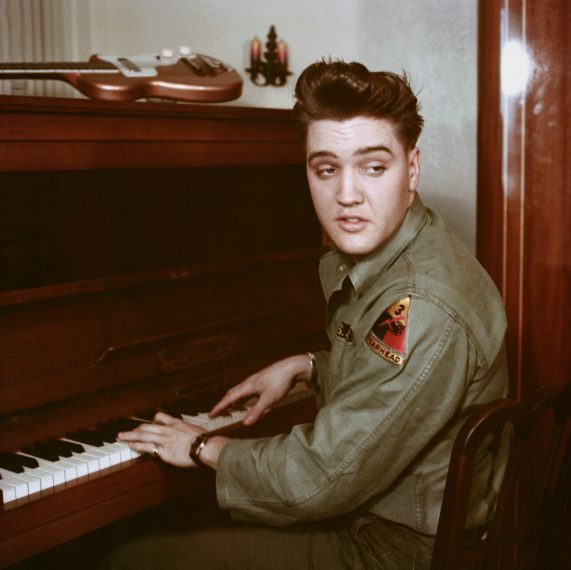 "The story of Elvis's connection to his mom has been talked about before, but one of the things I got from the interviews with Priscilla was that it was nowhere near the intensity and love and deep spiritual connection that actually existed," said Zimny.
"That came out in details such as Elvis keeping his mom's clothes after she had passed. The beauty in that is the poetry you look for in a film. Details of their poverty and the closeness that they had when Elvis's dad went to prison.
"Those small moments fleshed out the story to be much bigger than just 'Elvis loved his mom.' I was able to step into the story differently and look at his childhood differently, look at his decisions differently and also look at some of his connections with other people in the world and how they never matched that connection of Gladys."
Or the comfort provided by the steadfast religious faith Gladys instilled in her son.
"His go-to was always gospel music," Priscilla explained of a running theme in The Searcher. "He would end a performance in Vegas and go upstairs and hang out with all the guys. They would go up to his room and play gospel music and he would sing. …
"At Graceland late at night, the house would be all quiet, everybody had gone to bed or gone home, and he'd go into the music room and play gospel music. I'd sit in the corner on the couch and listen to him, and he would be so deep into it. He was so connected to gospel that I was like a fly on the wall. A couple of times, he'd look over if he hit a high note and he'd wink at me because he hit the note."
The film reinforces that the King's Memphis mansion was indeed his castle — a symbol of his hard-won success and a retreat where his actions, the unusual hours he kept and his opulent tastes in food, decor and dress were never scrutinized.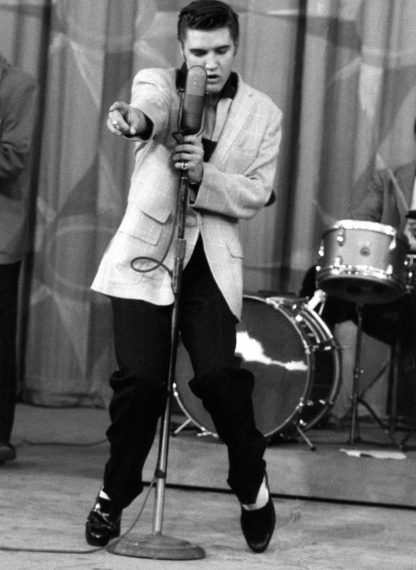 "When I heard Priscilla describe her first time going to Graceland, I realized 'Wait a minute! Graceland is a character in Elvis's life,'" Zimny said.
"That's so important that we have to treat it that way in the film. Because these discoveries completely give you a fresh point of view.
"Those moments describing Elvis playing gospel at home or just taking Priscilla up to the gates for the first time, gives for me, the Elvis fan, a moment and an insight that I haven't heard before but also brings me the feeling like I'm getting a sense of the artist, his true life and his struggles. We didn't shy away from the darker times."
Struggles that took root when Elvis realized that while his early mentor, Sun Records founder Sam Phillips, deeply understood the power of Elvis' voice and his creative ideals, he could only do so much for Elvis' aspirations.
And that Phillips' successor Colonel Tom Parker's knack for promotion, coupled with Elvis' own dream of being a movie star, ultimately stranded the trailblazing musician in cinema as the musical renaissance he helped usher in was commandeered by the British Invasion.
And then came 1968's legendary 1968 NBC television special that reacquainted the world with the power of Elvis' magnetism and his unrivaled skill as a musician and performer.
"Early on in my dialogue with Priscilla, and also with [fellow executive producer] Jon Landau, I started to look at this '68 special differently," said Zimny.
"I talked to Jon at length about the beauty of the '68 special, but one of the interviews I really remembered was Priscilla talking about the tension that Elvis had.
"I had a really different understanding of what the odds were and how the pressure was stacked against him, but also it became a great metaphor for the film itself — which is, in '68 a lot of people didn't understand Elvis and now there's generations that truly don't get Elvis."
"The '68 special worked for the spine of the narrative of the documentary, but symbolically and spiritually it reminded me that I wanted both films to tell the story of Elvis that was being missed," Zimny continued.
"On that stage, he is a musician. He is playing the guitar. Using the moment. He's enjoying the music. He's present. I wanted the film to feel that. … That '68 special had an energy that I would return to again and again, because it was the message to get across for the whole narrative."
A year later, Elvis began his residency at Las Vegas' International Hotel—on Colonel Parker's terms.
"Barbra Streisand opened up the International," Priscilla said. "Colonel Parker didn't want him to, because it was a first-time appearance. He didn't know how everything went, how the show room was going to sound. What it all looked like. So, Colonel wanted him to open up after all the kinks were out, which I thought was pretty good, really."
And Elvis drew audiences in droves, including entertainment's upper echelon. It was, Priscilla says, both exhilarating and terrifying.
"It was huge," she said. "And not only that was it huge, but every night was like that.
"I learned a lot more about his struggle then because now it was a struggle to maintain and keep the people coming to Vegas and keep those seats full. I was constantly seeing him evolving as a man, as an artist, what he felt his future was or wasn't. But first and foremost, as a human being and his trials and tribulations of being on top, staying on top, not being on the top.
"But he really broke the rules about artists not playing Vegas, that that's what you did when you were older — in your fifties or sixties. He broke the mold. To this day, that's all there is. Your top acts."
And that's the Elvis Priscilla, Zimny and Schilling want to spotlight — a singular artist who, by his very nature, defined and redefined a genre simply by being himself in all his incarnations.
"If the viewer loved Elvis as a musician, as a movie star, as an artist, I think that they will love him even more because it so humanizes him," Priscilla promised viewers watching The Searcher. "He's not just this iconic singer. You touch into his life and you go, 'Oh my God.' That journey that you're taking, you just feel you're in love with him more."
"There's so many people's perspective out there," she continued, referring to the more than 800 books that have been written about the King. "So many viewpoints. So many scholars saying that they know Elvis and 'he was very complex.' He could be complex but when you see the story, it's not that difficult."
"He's a man who loved music and he was an artist first and foremost. When I hear people try to simplify him so much — or complicate him so much — I have to leave the room. Because they're so far off.
"At home, at Graceland, you'd forget that he's Elvis," she continued, smiling softly. "He's a dad. He's a husband. But he still had a presence about him. With the guys joshing and kidding around, hitting each other or watching football on a Sunday afternoon, sitting around with his feet on the table and watching TV, you forget. Until you see him …"
"Until the rest of the world clicks on," Zimny chimed in. "And then you go, 'Oh!'"
Elvis Presley: The Searcher premieres Saturday, April 14, at 8/7c on HBO, HBO GO and HBO NOW
Available on HBO On Demand beginning Sunday, April 15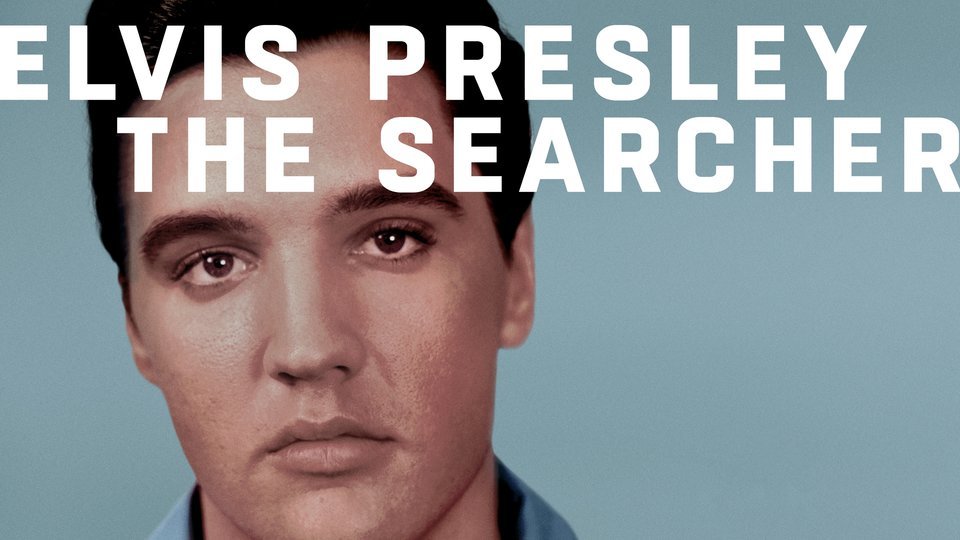 Powered by