'Westworld' Season 2: HBO Unveils New Promotional Poster
On Thursday, HBO released a pretty cool promotional poster for the upcoming Season 2 of Westworld, which debuts on the network April 22.
Although there have been hints and fan suspicions that there are new worlds included in this new season, the poster sticks with the "west" world of the show's title, and which was featured in its first season, during which the drama became HBO's most-watched freshman series ever.
See Also
See who's been added to the cast.
The image in the poster—a robotic vulture (buzzard?) standing next to a bloodied cowboy hat in the middle of a desert, against the backdrop of an eerie sunset—captures the retro-futuristic feel that the series pulls off so well. The tagline for the season is also fitting: "Chaos takes control."
Check it out:
Westworld stars include Evan Rachel Wood, Thandie Newton, Ed Harris, Jeffrey Wright, James Marsden, Tessa Thompson, Jimmi Simpson and Shannon Woodward. (Sorry, no Anthony Hopkins this season.)
If you need to catch up before Season 2, click here to watch episodes, read character descriptions and episode guides, and more.
Westworld Season 2, Sundays beginning April 22, 9/8c, HBO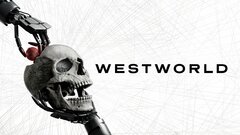 Powered by