My TV Obsessions: The Americans' Holly Taylor on the Show That Makes Her Laugh
The Americans star Holly Taylor shares with us what she's watching now, which shows make her laugh, who her dream costar would be an much more.
MY CURRENT FAVORITE SHOW:
BoJack Horseman. It's hysterical and sad all at once. Plus, my costar Margo Martindale is awesome in it.
See Also
The actress also dishes on the show she misses most, and who makes her laugh on TV.
THE FUNNIEST PERSON ON TV:
Ellen DeGeneres. She is so funny and, most importantly, kind. I love that she helps people who really need it.
THE SHOW THAT ALWAYS MAKES ME LAUGH:
The Office. It really doesn't get old.
THE SHOW I MISS MOST:
Friends. There has never been a show quite like it.
See Also
And who his dream co-star is.
GUILTY-PLEASURE SHOW:
Kids Baking Championship on Food Network. It's unbelievable how the kids can create these amazing desserts, while all I can make is toast.
WHAT I EAT WHILE WATCHING:
Fresh-baked chocolate chip cookies! Pre-made dough, though. Nothing too fancy.
See Also
Plus, the actor admits his favorite show on TV right now.
WHAT I HATE-WATCH:
Any reality television that centers around people fighting with each other.
MY DREAM COSTAR:
Jennifer Aniston. She's so talented, and she seems super nice.
The Americans, Wednesdays, 10/9c, FX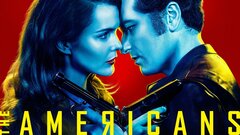 Powered by