My TV Obsessions: 'Superior Donuts' Jermaine Fowler on What Makes Him Laugh
Superior Donuts star Jermaine Fowler talks his favorite TV snack.
MY CURRENT FAVORITE SHOW:
Rick and Morty. It's one of the most well-written shows I've ever seen. Not only is it plot-driven, but the characters are perfectly flawed.
THE SHOW THAT ALWAYS MAKES ME LAUGH:
It's Always Sunny in Philadelphia and Atlanta are the funniest shows on TV.
THE FUNNIEST PERSON ON TV:
Dave Chappelle. He knows how to read a room and is so immersed in the sociopolitical atmosphere.
See Also
'They are more open with each other,' says the actress.
WHAT I EAT WHILE WATCHING:
Maple pecan granola cereal with rice milk.
THE SHOW I MISS MOST:
Martin. It was always so much fun. You can tell by the live studio audience's laughter that they were having the best time ever.
MY GUILTY-PLEASURE SHOW:
I have no shame in what I watch!
See Also
We know shows like 'Riverdale,' 'The Handmaid's Tale' and 'Will & Grace' are coming to PaleyFest but now we know WHO is coming from each show! Check out the list!
THE SHOW I'D LIKE TO GUEST STAR ON:
I hope they bring back Moesha so I can play her new man. My character name would be Tyrelleon.
MY DREAM COSTAR:
I've always loved Daffy Duck. I think we'd make an unbelievable duo. I would want to do something like Space Jam meets CHiPs.
Superior Donuts, Mondays, 9/8c, CBS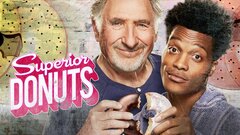 Powered by