WWE Superstar Alexa Bliss on Her 'Battle of the Besties' WrestleMania Match
Four years ago, Alexa Bliss stood alongside fellow upstarts Charlotte and Sasha Banks as part of Triple H's grandiose entrance at WrestleMania 30 in New Orleans.
Since then, all three have gone on to win titles, headline events and break down barriers for female WWE superstars. Bliss, whose real name is Alexis Kaufman, will return to the Mercedes-Benz Superdome for WrestleMania 34 on April 8 as the Raw women's champion. It's a come-full-circle moment for the 26-year-old.
Bliss knows she will walk the aisle ready to perform before more than 75,000 fans and a worldwide audience. However, "Five Feet of Fury" doesn't know how just yet.
"Our creative team is awesome," she said.
"They always take our suggestions for entrances. We always try to work with them because sometimes they have some ideas for us or sometimes there are no ideas at all. So, we just have to mesh together and be open to suggestions on both ends. Our creative teams and writing teams are always great about that."
Standing on the opposite end of the ring to challenge the villainous Bliss is Nia Jax, her good friend.
The buildup for this "battle of the besties" has been fueled by Bliss' verbal barrage of insults regarding Jax's physical appearance. Thanks to the two women's solid onscreen work, their interaction leading into the match has struck a chord with audiences.
"It has been a very real road with Nia," Bliss offered.
"We both have struggled with image issues in the past. So, it's a very real subject that we are bringing to light with mine and Nia's story. I think because it's an actual issue, people can relate. There are people who are bullied or are bullies.
"I think it's one of those things that people are going to be invested in our story because it's real and there is real emotion behind it. People know that me and Nia up to this point were best friends, which they've seen through Monday Night Raw and Total Divas. Now our storyline is more personal; I think that is what getting people into what we are doing."
Bliss recalls how the idea for the rivalry developed. They knew the key for it to be successful was to bring a level of conviction and believability. Bliss is grateful to have writers open to suggestions and ideas.
"Some of the stuff I've brought up in the past have been terrible, but they have fixed it," she said. "They are always amazing about taking our opinions and making it their own, and making it better."
Women's wrestling has never been more represented at WrestleMania than it will be this year, with Bliss-versus-Jax among the big showdowns. Another major attraction will be Ronda Rousey making her WWE debut in a team-up with Kurt Angle to face Triple H and Stephanie McMahon.
Bliss has enjoyed watching Rousey begin her journey from the octagon.
"I've always said that if anyone can legitimize the fan's perception of what we do, I think it's Ronda," Bliss explained.
"Everyone knows she has made a name for herself in UFC and had this division built around her. She has done all these amazing things, but to see her train and struggle and do the grind of what we do, I think it gives people more appreciation for what we do. For many, Ronda is it. I think it's great that we have her, and I think it's what our 'Women's Revolution' needs."
The women's battle royal at WrestleMania opens the door for potential appearances from members of the NXT roster. If history is any indication, chances are even greater for callups from the developmental brand to Raw or SmackDown Live. Bliss has a personal favorite whom she wouldn't mind seeing make the leap.
"I've worked with Ember Moon so many times in NXT, and she has always been a great friend of mine," she said. "I would love to see her because her story is amazing too. She had about eight or nine different WWE tryouts before she made it to NXT. I would like to see her get the success she deserves."
Speaking of success, Bliss' fiancé Buddy Murphy has recently been gaining traction on 205 Live. The couple wondered if his chance to shine would ever come, given what was shown on Total Divas. She is glad it did, and that he is making the most of it.
"He has worked so hard," Bliss said. "He has been in NXT now for around five years. We were signed around the same time. I was signed a couple of months before him.
"To see the struggles he has gone through with the process, to know I wouldn't be the Alexa Bliss I am without him and [Wesley] Blake, it's nice to see him get the recognition he deserves and the opportunity, because he is very talented. He is one of the most talented guys I know.
"This place is almost like a lottery. They always describe it to us like this upside-down funnel. A lot of people come in, but very few make it to the top. It's nice to see him make that transition to 205 Live."
She believes their relationship thrives because there is a constant mutual support system.
"It's never once been jealousy. We are both happy for each other," she said. "He is there for me and happy for me. I'm there for him and proud of him."
After last season, Bliss doesn't rule out continuing with Total Divas and revealing more of her life outside the WWE Universe.
"It has been one of those opportunities that when it comes to you, you say yes," she said. "I don't know what the next step is for the show and if they are going to have us on another season or not, but I'm open to do it."
The decorated competitor welcomes whatever comes her way from WWE. Whether it's on the mic or when the bell sounds, she has been heavily relied upon to get the job done. A partnership with Braun Strowman on the inaugural Mixed Match Challenge gave Bliss a platform to bring out another dimension of not only her character, but the "Monster Among Men," as well.
"I love working with Braun," said Bliss. "Working with Braun is a lot of fun. It's crazy, because he has such a crazy character on TV. He is this monster that destroys everything, so to be able to get a softer side to the monster, it was a lot of fun.
"It's always a challenge to show different sides of ourselves on TV, especially for me, who had to be a little nicer. That's hard to do when I'm Alexa Bliss. It was a lot of fun, so I would love for that concept to be incorporated into a division within WWE, given how popular it was."
A mixed-tag championship would give Bliss another goal to reach. Looking at her accomplishments within the company, she has checked many boxes. Sometimes more than once. However, there is one ultimate accolade to add to her already impressive resume: headlining WrestleMania.
"I've gone into WrestleMania as SmackDown women's champion," Bliss explained. "I've become the first person ever to hold the SmackDown and Raw women's championships twice. I'm now going into WrestleMania as the Raw women's champion. I don't know what else there is."
"I've had so many amazing opportunities in WWE, and I couldn't ask for a better year. Out of all the historic moments that we have had with this 'Women's Revolution,' I think that is it. The main event of WrestleMania."
The way things are going, check back in less than four years—Bliss may have her wish.
WrestleMania 34 airs live Sunday, April 8, 7/6c on Pay-Per-View and WWE Network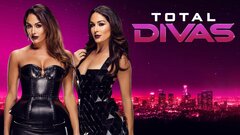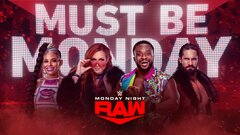 WWE Raw
where to stream