WWE SummerSlam: Braun Strowman Explains Why He Is Not Your Typical Giant
With every passing week on WWE television, Braun Strowman is proving to be more than your typical bearded giant. And when you speak to the near-7-footer ahead of arguably the biggest match of his career so far August 20 at SummerSlam, there are even more entertaining layers of his personality fans have yet to see.
"A few may know this, but I have a lark-like voice, I like to claim. I like to sing," Strowman said in a dead serious tone. "Here and there it has flipped out on the internet of me rapping to some Biggie Smalls and stuff. I usually drive Bray Wyatt crazy in the car because for some weird reason I know all the words to every song that comes on the radio. I just sing like nobody is watching. I don't care. Plus, it's not like anyone can do anything about it anyway."
When it comes to his athletic ability, those who watched "The Monster Among Men's" first Raw encounter with the Big Show began to really sing his praises. Strowman was performing moves in the ring such as a kip-up that others half his size may not be able to pull off. The emerging superstar saw this match as a turning point.
"That is one of my most special matches to date," he said. "To go out there and do what Big Show and I did together. I will go out on a limb and say you will never see anything like that again in this business. That's because there are no more men like us in this business. We are the last of a dying breed. I'm keeping the big man alive in the business and evolving it into what you are seeing now with the Braun Strowman character. I showed the world a glimpse, because you guys have only seen a glimpse of what I'm capable of doing. It was a big moment for me going out there and having that kind of match with Big Show."
Much like Strowman, Big Show was pushed heavily early on in his young career. He now imparts his more than 20 years of knowledge on to the next generation.
"Big Show has been very hands on with me. We have a joke around the locker room that he is my wrestling dad. I've been like his wrestling son," Strowman said. "He has kind of taken me under his wing seeing that I want to keep the big man alive in the business."
Another who has been heavily involved in the remarkable performer's evolution has been Vince McMahon himself. Following in the footsteps of André the Giant and Big Show can be a lot of pressure.
See Also
The incredible life of the legendary Andre the Giant will be the subject of an upcoming documentary on HBO.
"Vince has been adamant that everything I do be spot-on, and when it's not, I know," he said of his relationship with the WWE chairman. "That's part of the reason I take pride in what I do and give 100 percent of what I am capable of giving. That's because I know that not only are there millions of fans watching to make sure I'm doing what I'm supposed to be doing, but the boss himself is watching, too. He is so hands-on and wants me to be a peak performance at all times."
Strowman has earned the respect of audiences, who—despite the fact that he portrays a villain—cheer for him. The 33-year-old describes the experience as surreal.
"I go out there and work as hard as I possibly can," he said. "I put my body on the line every night. I don't care what match I'm in or who I am working. I go out there and do everything I can. Fans are starting to see that. They feel it that I want to give the best I possibly can for them because I'm there to entertain them."
His many battles with the polarizing Roman Reigns has helped get such a strong response from the crowd. Strowman and his rival have taken their series of matches to new heights, with ambulances and any type of furniture you can think of involved.
"You can't take anything away from Roman Reigns. He gets the boos and cheers. People react to him," Strowman said. "The man is a phenomenal athlete. He is one tough son of a bitch. I knock him down. He gets back up. I knock him down. He gets back up again. That's it. This feud could last forever. The ambulance match, we pulled out all the stops. We do that every outing. Short of throwing each other into a volcano, I don't know what else we can do."
When looking back at all their confrontations, he finds the recent last man standing match to be his favorite. For Strowman, they drive one another to raise the bar.
"Any time you can get a 'W' over Roman Reigns, you're doing something right. Every time we go out there, Roman and I have something special," he said. "We tear the roof off the place. You can't deny it. When we are on the card, we're the match to see. It doesn't who else is on it. We are going to be the main event no matter where we are. He will say that, too. Us together, there is no better pair on the red brand or the blue brand to go out there and putting on a show."
RELATED: Sign Up For TV Insider's WWE Newsletter
Growing up an avid Hulkamaniac, his success is not lost on him. Strowman fell back in love with WWE later in life after dedicating his high school years to sports. Now he says it has consumed his life, to where he eats, sleeps and breathes wrestling.
"There is no more surreal moment than being in the ring and sharing a locker room with people you grew up idolizing," Strowman said. "I will take every opportunity to learn from them because they are an encyclopedia of knowledge when it comes to the wrestling aspect and life in general. They've been around the world and done everything there is to do. It's just a shut-your-mouth and open-your-ears atmosphere. You just listen. You never know what little piece of information will set you aside from all the rest and put you in that upper echelon of superstardom."
Being seen by millions on a weekly basis, Strowman gets recognized more and more. However, his uniquely imposing look does open the door for moments where he gets mistaken for a character from the Seven Kingdoms.
"People come up to me all the time and confuse me for The Mountain on Game of Thrones," Strowman said. "It kind of hurts me, because Gregor Clegane is actually one of my friends. I mean, come on. You have to know the difference between the two of us. I'm the more attractive one. Give me a break."
Strowman is gearing up to get some added exposure by competing for the Universal Championship against the title holder Brock Lesnar, Samoa Joe and Reigns at SummerSlam. The fatal 4-way will headline WWE's second biggest show of the year.
"Just to share the ring with guys like Brock, Joe and Reigns," he said, "they have all been doing this a lot longer than I have. They have been around the world and done it all. To be able to be in the main event of SummerSlam, about two years to the day when I debuted on Monday Night Raw. If that doesn't speak for itself. I don't know what does…Everyone can look forward to me holding the Universal Championship over my head at the end of it."
And if—or when, according to Strowman—he wins, what does he plan to do to celebrate? Perhaps sing a victory tune?
"You never know," he said. "One thing I will do after is get ready to go to Monday Night Raw and defend it. I'm not going to be a part-timer champion. When I win the Universal Championship, I'm going to be there defending it every night. I don't care who it is."
Watch SummerSlam live 7/6c Sunday, August 20 on WWE Network and Pay-Per-View
Watch Raw on Mondays and SmackDown Live on Tuesdays, 8/7c on USA Network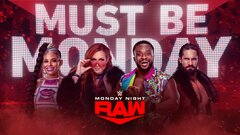 WWE Raw
where to stream
Powered by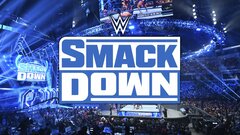 Powered by