Charlotte Flair and Dolph Ziggler on the Importance of WWE's 'Tribute to the Troops'
WWE superstars are often viewed as larger-than-life figures, idolized by millions around the world.
However, for SmackDown Live Women's Champion Charlotte Flair and Dolph Ziggler, the real heroes who truly deserve endless adulation are the brave men and women of the United States military. The two performers were among the top names from the company who participated in the 15th Annual Tribute to the Troops. The two-hour special airs Thursday on December 14 on USA Network, and was recorded at the Naval Base San Diego.
"It's our most heartwarming, patriotic show of the year," Flair said.
"It just seems to get bigger every year," Flair added, "especially this one being in San Diego and performing outside with an actual ship beside us. It was absolutely amazing. The coolest part for me was seeing the soldiers in their fatigues watching us… After the triple threat with Ruby Riot and Carmella, I was able to have some mic time. To be able to look in the audience, trying to specifically point out the women in the crowd as I was talking and thanking them for being brave, strong and powerful.
"Once the promo was over—and not that I was neglecting the men—but I wanted to thank the women, because I know in our industry to be a woman you have to try that much harder. We are and want to be equals. Also, to see the few women out there who are mothers or married and doing double-duty being a mom and serving, I just wanted to hug them as I was walking by. I will never forget their faces."
Along with the action in the ring, viewers will see what happened when the superstars spent time with personnel and their families. This included Be a STAR bullying prevention rallies, hospital visits and military outreach initiatives at Naval Base San Diego, Naval Air Station North Island and San Diego Naval Medical Center. No matter who Ziggler encounters, the smiling faces tell the story.
"A lot of times a handful of them will have relatives or wife or husband or sons or daughters come in that day to work with them. You see how much the family bonds talking about our shows or going to see our shows," he said. "Then we get to see them interact…The man who took us around. His brother was dressed head to toe in a John Cena outfit. He was so excited to see us. He was letting us know all the stats we had with all our matches. It made the day that much more fun."
Ziggler's more than a decade with WWE has given him the opportunity to be part of many of the Tribute to the Troops specials. In his eyes, it remains one of the best parts of the job.
"We see kids and adults going to shows, but when we actually have the chance to say thank you to these brave men and women who are constantly putting their lives on the line, there is mutual respect there," he said. "But it's the least we can do for them. We get a chance to see them, high-five, shake hands, hug. It's truly rewarding…
"You watch it go from almost an experimental stage with the idea of doing something special for the troops. Now it becomes a thing where we are getting prepared a couple of months out. We find out we are setting up a ring just to the side of an aircraft carrier and having a schedule for the day, broken off into groups. It has become part of our routine and runs on a tight schedule. The first couple of years you aren't sure what is going to happen. It becomes this institution you look forward to now."
Since 2003, WWE has hosted Tribute to the Troops as a way to honor the American armed forces serving domestically and abroad. In the past, well-known figures from all forms of entertainment have joined in with musical performances, like Machine Gun Kelly. Ziggler believes the celebrity involvement helps give Tribute a WrestleMania feel.
"All the superstars are great, but using every possible angle we can bring in, whether it be a comedian, singer, makes the show that much more special," he said.
"Someone like George Wallace, who I grew up watching. He loves doing things for USO and the troops. He came in to do standup in the past. It's cool for us and cool for them."
Looking back at memorable moments, Flair was honored to travel to Afghanistan for a handshake tour. She found it put everything into perspective and reinforced their mission.
"It was an experience of a lifetime," she said. "Just being on base, literally a week-and-a-half after the bombing had happened. Morale was down. Just to know that we were able to give them some kind of joy and mix up the monotony of their daily life. It was hard not to tear up, but you don't want to tear up in front of them. They are gone from their families for a year or more. And just to hear the noises at night. Hearing the bombs coming over. It's crazy. They are always in danger to protect what we often times take for granted every single day."
15th Annual WWE Tribute to the Troops, Thursday, Dec. 14, 8/7c, USA Network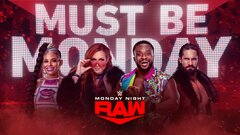 WWE Raw
where to stream
Powered by