7 Pro Fighters Who Went on to Pack a Punch in WWE
When Ronda Rousey signed on the dotted line, she became one of the biggest acquisitions in WWE history. Since the announcement, the pro-wrestling rookie has dedicated much of her time to training and appearing on Monday Night Raw.
Although Rousey was announced as part of the WWE team during an appearance at January's Royal Rumble, she will make her in-ring debut at WrestleMania 34 on April 8 alongside Olympic gold medalist and Hall of Famer Kurt Angle in a mixed-tag match against Stephanie McMahon and Triple H. Rousey has already proven a headline draw for the company; the question is whether she can bring the type of business she did as a box-office draw for MMA.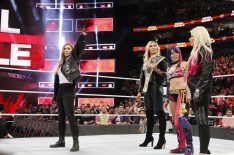 See Also
WWE kicked off the road to WrestleMania with the 2018 Royal Rumble, capped off by an appearance by newly signed Ronda Rousey.
Of course, the former UFC Bantamweight champion and mainstream superstar isn't the first combat sports athlete to transition to the unique world of sports entertainment. In 1976, Muhammad Ali participated in a boxer-vs.-wrestler exhibition. From there, Ali made numerous pro-wrestling appearances, including at the first WrestleMania in 1985.
Since then, other fighters have also gone all-in with WWE. Whether it was for one shot or becoming a regular performer, there have been some big names who have stepped through the ropes surrounding the "squared circle."
Ahead of Rousey's WrestleMania debut, click through the gallery above to check out seven other pro fighters who went on to have knockout stints with WWE.
See Also
These sports entertainers are making history inside and outside the ring.
WrestleMania 34, Sunday, April 8, pre-show starts 4:30/3:30c, Pay-Per-View and WWE Network