Lightning Round! Isaiah Mustafa Shares Secrets From the 'Shadowhunters' Set
Isaiah Mustafa spends a lot of time on the set of Shadowhunters in Toronto, Canada. Shoot days can be long and weary but surrounded by a great mix of cast and crew, they can also be fun and an incredible bonding experience.
Actors get to know their co-stars pretty quickly while filming, and Mustafa, who plays cop/werewolf pack leader Luke Garroway, is no exception.
See Also
Magnus is bisexual and Alec is gay—where does Lorenzo fall? The actor fills us in!
He chatted with TV Insider about his experiences on set, and what he's currently loving on TV right now.
New show you're most excited about?
Isaiah Mustafa: Cloak and Dagger. That was one of my favorite comic books growing up.
What are you watching on TV right now?
Definitely grown-ish… that's great. Say Yes to the Dress was big for a long time because I'm getting married soon. I had to watch that for a while and you get into it! What else? the Property Brothers. A lot of adult-decision reality TV shows. Things about buying houses, getting married, and probably next year raising children.
Which cast member uses the most emojis when texting?
I'm going to have to say Kat (Clary Fray). She's a walking emoji. [Laughs]
Favorite part of the Shadowhunters set?
We have this precinct set that I think is awesome. It's just like a cool, old cop show type of look.
Which cast member is best at fight choreography?
I'm going to have to say myself, depending on what I'm doing. But I'm going to also say Harry (Magnus Bane) because he can pick up choreography like nobody's business. We both do our own stunts.
Who breaks character the most in a scene?
Dom! We have a blooper reel coming out and it's all Dom (Jace Wayland).
See Also
Will the mother of demons destroy everyone? The star gives Season 3 scoop.
Actor most likely to catch taking a nap on set?
I mean, I like to retreat to my trailer to get a little meditation in but maybe Emeraude (Isabelle Lightwood).
Shadowhunters, Tuesday, 9/8c, Freeform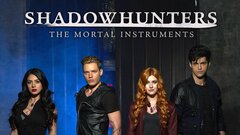 Powered by