'Shadowhunters' Premiere: Isaiah Mustafa Teases What's Next for Season 3
[Do not read if you haven't watched the Season 3 premiere of Shadowhunters.]
The dark and twisted world of Shadowhunters just became a lot more dangerous.
In the Season 3 premiere, fans saw Jace (Dominic Sherwood) struggle with violent tendencies, Luke Garroway (Isaiah Mustafa) finally coming clean to partner Ollie (Alexandra Ordolis), a sweet moment between Magnus (Harry Shum Jr.) and Alec (Matthew Daddario), and the mother of demons, Lilith (Anna Hopkins), threatening everyone's existence.
Mustafa spoke with TV Insider about what lies ahead in the highly-anticipated third season of the Freeform fantasy series.
See Also
We know there's something up with Jace. Clary knows it, too. But can she ask anyone for help? Find out here!
First off, we have to talk about the mother in the room. "With Lilith coming on board and being part of the show, personally I think what happens is it challenges everyone to question their own dark side," Mustafa explains.
The characters are all going to confront a battle within: "What darkness to they have inside? And how much of that are they letting out? How much of that controls them?" the actor says.
Luke also is working with Clary (Katherine McNamara) on a more mature level. She's starting to become her own powerful Shadowhunter, not some "tag-a-long," he reasons. Plus, Clary has these amazing new weapons which also have a very special meaning: One was her father's dagger and the other belonged to her mother, Jocelyn. As Luke says in the premiere, "You don't choose the blades, the blades choose you."
But with Maya (now-series regular Alisha Wainwright), Mustafa says, "he sees something in [her] that could possibly benefit the pack." Fans will see Luke helping her a lot and guiding her "in a lot of decisions that she's making because she can be a little hotheaded at times."
As for the rest of Luke's werewolf pack, the actor explains how they just can't seem to get along—at all. "I'm constantly at odds with my pack for some reason," he says. "Russell seems to be the main agitator. I would say there's a lot of drama between me and my pack this season. A lot of stuff goes down."
He then teases, "We just filmed something for 3-B which kinda changes the landscape of things."
See Also
'This season is really eerie,' the actor teases.
Unfortunately, his pack, as of right now, is his only family. Mustafa hopes to eventually have someone at home for Luke after a hard day of slaying evil. "I think Luke would love to have somebody to go home to, but unfortunately, he doesn't," he states.
"Now, I think there may be something brewing out there with a character that is out of left field. I don't think anybody will see it coming. It is a character from the books and that's all I'm gonna say," the actor concludes.
Shadowhunters, Tuesdays, 9/7c, Freeform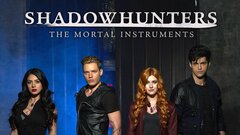 Powered by