Wrestling Veteran Natalya Talks 'Total Divas' Season 7 Finale and Weighs in on WWE Rookie Ronda Rousey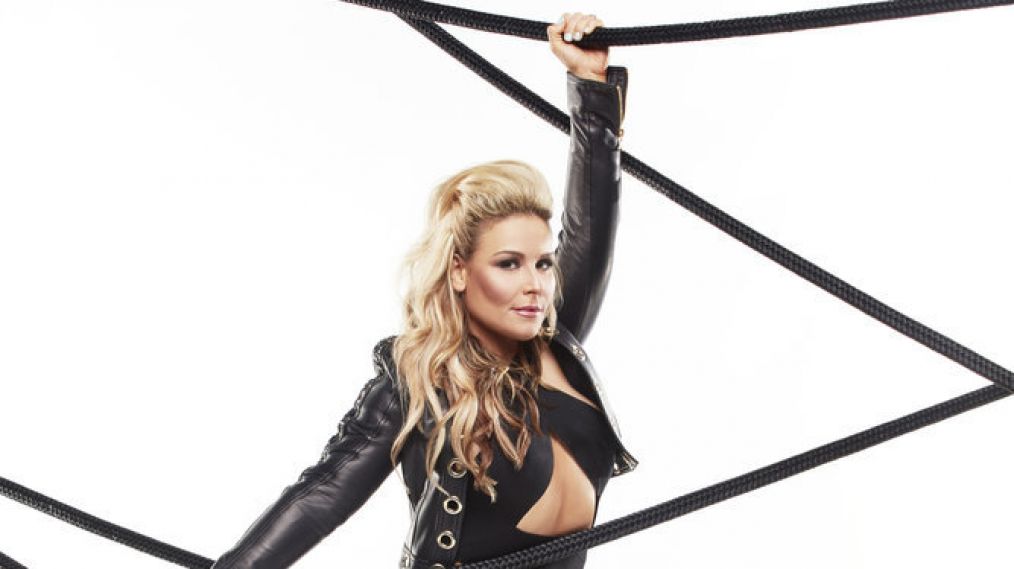 Thanks to more than 10 years with WWE and seven seasons on the E! reality series Total Divas, Natalya is one of the most successful female wrestlers in history.
Despite her championships won and accolades earned, the third-generation grappler has never lost the fan inside her. That was evident when she participated last Sunday in the first-ever women's Royal Rumble.
"It was surreal. It's been something that all of us girls have been wanting to be a part of for a long time," Natalya tells us.
"Before, we've only seen Chyna, Beth Phoenix and Kharma in the guys' Rumble matches. So, for us to have enough women in both divisions and NXT come and be a part of this first-ever women's Rumble with the women from the past who paved the way for us, it was such an honor to be a part of it."
The SmackDown Live representative was able to work against her "Pinup Strong" partner Beth Phoenix, and another Hall-of-Famer in Trish Stratus.
"Just seeing Beth lift Nia Jax up, I was watching from the floor. I was in awe of that alone," Natalya says. "Going back in my career, a lot of people have not seen me work with Beth. I did one obscure match with her on SmackDown two weeks before she retired. We had tag-teamed a lot, so we never really worked against each other. I think it was a surprise to everyone.
"Obviously, Trish Stratus has been a huge inspiration to me. She is somebody that I, in a nutshell, idolized. I saw Trish beforehand at Raw 25. And after all the interviews I've done [where I've] spoken of her, I've never told her in person that more than any person in my family—including Bret Hart, Owen Hart, British Bulldog and my father Jim Neidhart and my grandfather Stu Hart—more than anyone in my family, I'd watch her on TV and wanted to be like her.
"She was the game-changer. … I wanted to be like Trish. So, I get to tell her [that] in person, and the following week I find out I'm going to be in a match with her and put her in the Sharpshooter, which was the cherry on the cake."
Another buzzworthy event to take place in Philadelphia was the appearance of Ronda Rousey. The former UFC Bantamweight champ showed up immediately after the Rumble concluded. This drew criticism not only from some fans, but from WWE women, as well.
Natalya, who is friends with Rousey and has trained with her in the past, feels there is never one right answer as to how to introduce someone.
"Every single person has an opinion. That's such a fun part of our job," she says.
"My husband, Tyson, is a producer at WWE, and we always have friendly exchanges of our opinions driving in our car from town to town. Was it the right way to debut her? Should she have debuted the next night on Raw or at WrestleMania? It's hard to know what the answer is. I have a tremendous amount of respect for Ronda as an athlete.
"To me, just seeing her backstage as a friend, I picked her up off the ground when I saw her. It's not my place to say if it was right or wrong. The other girls and I, we all have our own opinions. We can speak our minds. It's a free country. For me, more than anything, I was just happy to see my friend…"
The verdict is out how Rousey will do in the ring compared to the octagon. However, Natalya is willing to give the WWE rookie a chance to show what she's got.
"It's all very new. It's a new situation for everyone," Natalya admits. "There is definitely going to be an adjustment phase. I've always embraced new talent with open arms. We take it one day at a time and see how it goes.
"I think [Ronda] is going to be an excellent fit in WWE. She has a great attitude. She wants to be part of this company. She wants to get to know the girls. She has a tremendous respect for the history of our company. I think she definitely brings attention to the company in a lot of ways.
"I'll tell you one thing, because I am in the women's locker room. There is nothing but respect towards Ronda, no matter how anyone felt [about] how they debuted her. I think we are all excited about having her there, because there are so many possibilities of what we can do with her. We are all wondering if she is going to be on Raw or SmackDown. I really want to work with her, because I know we would tear it up."
It's been a banner year for Natalya, who won the SmackDown Live women's title at SummerSlam and had a series of classic battles with Charlotte. Much of those highlights were captured during this current seventh season of Total Divas. At the same time, there were often heated disagreements with fellow cast member Lana. Natalya likens her relationship with Lana to sisters who don't always get along.
"Lana drives me crazy, to put it mildly," she says. "We tend to argue and make up. We have a strong friendship, but Lana is very strong-minded, which is a good thing. But she is also stubborn and likes things a certain way. I totally get that, but we both are strong-minded. That is why we clash at times."
This dynamic comes to a head in the Total Divas Season 7 finale, when Lana seeks the help of Natalya's husband, TJ Wilson (who used to wrestle under the name Tyson Kidd), who moved to a behind-the-scenes role after suffering a serious neck and spinal injury. Natalya is admittedly protective of her spouse, knowing all he has been through for the better part of two years.
"I understand how tough it was for him to step away from what he did in the ring," Natalya said. "Sometimes transition takes time, and I saw that with TJ. Lana is very hard-working, yet pushy at times. So, she wanted TJ's help, and we had this conflict. We had conflict this whole season and sort of worked through it. … Sometimes Lana crosses that boundary with me. She crosses a lot of boundaries. I do love Lana, but she does drive me nuts.
"The season finale story is powerful with TJ. One, we haven't really shared to the world yet. It shows that when one door closes or temporarily closes—because TJ never announced a retirement; TJ has no plans of ever announcing he is retired from wrestling—another door opened with a new role that is much better for him and his health. It's nice to share this all with the world, to show there is so much you can do in this company besides being an active WWE superstar."
Natalya plans to continue doing Total Divas for as long as she sees the positive impact it has on members of the audience. The original cast member believes that with every experience shown in each episode comes a lesson learned. In many ways, the E! series has been therapeutic.
"Lana and I have been able to take a step back. Even with myself and TJ," she reveals. "We just work through it like any relationship, whether it's a working one or a marriage. Talking about stuff and communicating is so important.
"The show has helped me out tremendously…We were watching one of the episodes, and it was Lana saying she wanted everyone to get off her back about not knowing how to wrestle. I told her I never said she didn't know how to wrestle. She, on the show, said I couldn't cut a promo. She said that out of anger or hostility, a heat-of-the-moment statement. It really offended me, because I've never felt I couldn't speak.
"Then it was something she was bringing up that wasn't true. We were watching [the episode] back, and she sent me a text saying she was sorry she said that. It's a perfect example about working through it. It's what I like about the show; that you may have conflict, but we are strong, empowered women that will work through it."
The popularity of Total Divas has given way to spinoffs like Total Bellas and the upcoming Miz & Mrs. Will we ever see a third offshoot starring Natalya?
"My family is so funny. You never know," she concludes. "I think it would be interesting to do a spinoff with this family. The Hart family is wild. We're a little crazy and eccentric. But we're also a dynasty. I come from one of the most prestigious wrestling families in the world. So, I think we have a lot stories to tell and chaos to share."
Total Divas Season 7 finale, Wednesday, Jan. 31, 9/8c, E!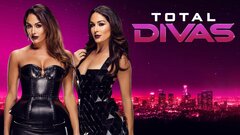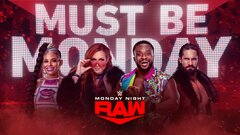 WWE Raw
where to stream