Bah Gawd! WWE Hall of Famer Jim Ross Looks Back at 25 Years of 'Monday Night Raw'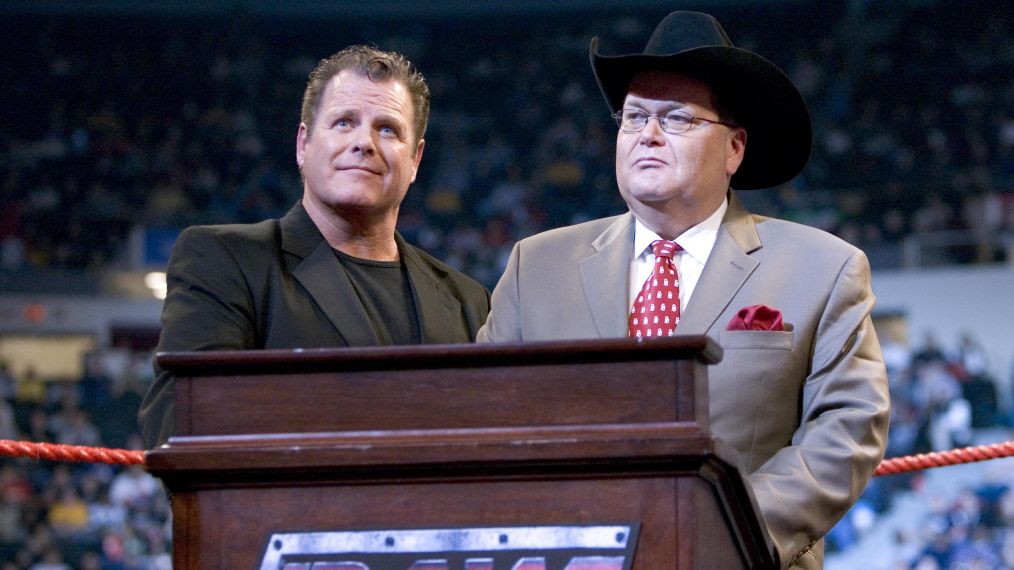 It has been an emotional rollercoaster for Jim Ross since he tragically lost his wife Jan in a 2017 road accident. Since then, the WWE Hall of Famer carries on and keeps busy working on a plethora of projects, all with the love and support of family, colleagues and fans from the proud Okie's more than 40 years in the pro wrestling.
Around half of his career was spent in WWE, where he initially signed on to work for Vince McMahon in 1993. That year, along with Ross marrying the love of his life and receiving the opportunity of his professional life, also saw the launch of Monday Night Raw. Ross would become the voice of the company's flagship show with Jerry "The King" Lawler.
The duo will reunite on WWE TV for the first time in years at the 25th Anniversary of Monday Night Raw on USA Network in January. Ross, who can also be heard calling New Japan Pro Wrestling on AXS TV and on his Ross Report podcast, is excited to return to the place that helped put him and so many others on the map.
"I got my jersey back," Ross said.
"Before my wife got killed I was negotiating with Vince McMahon and Kevin Dunn. She said, 'I hope you get your jersey back, and you get back on our team. Our team. I can't wait. Maybe you'll work a WrestleMania.' My wife, thinking she knows all these inside terms, says, 'And I can't wait to hear your pop.' She wasn't there in body, but she certainly was there in spirit when I came back at WrestleMania. That was her big dream. I'm glad Vince and his team helped facilitate that.
See Also
Roman Reigns defeats The Undertaker to mark the end of an era at WWE's WrestleMania 33. Show brings Hardy Boyz shocking return, Brock Lesnar dethroning Goldberg, John Cena and Nikki Bella getting engaged and more history-making moments.
"…I will always feel like I was a part of something very special to help build a brand like Monday Night Raw. Going back and being a part of the 25th anniversary is something I'm very much looking forward to, no matter our role. We are on the team and will contribute. That's my attitude with everything I do. I do what I love to do."
Ross remembers Raw's humble beginnings, and when it ran only one hour. Even though the show initially didn't air live weekly, he knew eventually that would be the end game. The passionate play-by-play guy loved the rush that comes with no net or re-dos.
"For any broadcaster, to be live in front of an enthusiastic audience is pretty hard to replicate," he said. "Monday night was also not known as a big-time night of TV wrestling. It has become that…I was pumped. I worked 19 years in WWE. It wasn't easy. It was an interesting journey which I document in my book Slobberknocker: My Life in Wrestling. It was an exciting time in my life.
"I had no idea what the franchise Monday Night Raw was going to eventually mean what it has. I worked with Vince [McMahon] and Jerry Lawler. That was new. Three men in a booth was new for me. Not being the lead guy was new. It was a great, refreshing start. A reboot. At that time, I came from a chaotic WCW with all the changes in management. It was a relief to work for a company where you could get a straight answer from the decision-maker. I loved that part of it."
In the mid-1990s, Ross was in the trenches of the "Monday Night War" in which WWE Raw battled the now defunct WCW Nitro for ratings supremacy. Each side challenged the other creatively. Ross would get a good sense of how big things were getting when the ratings came in.
"There were quarter-hour ratings on Monday nights that surpassed Monday Night Football," he said. "I thought, 'Man, we are on to something.' Then we saw the number of viewers that tuned in for Raw. It was awe-inspiring. When the numbers came in and the statistical data, we were pretty sure we were on to something very special. It showed consistently, even when we were losing to WCW Nitro 83 weeks in a row, I thought the numbers were still good.
"We were still drawing a big audience, and they were, too. So, it showed us all that there are a lot of wrestling fans out there who watch if they are compelled to do so. Keith Jackson was one of my broadcast heroes. I think he was the first play-by-play guy for Monday Night Football. I kind of look back on my career for me as being part of a special, adventuresome team of talents, broadcasters, TV personnel. I loved that team. Vince put together a good team. We were able to sign some guys who exceeded our expectations. Those guys I signed when I was head of talent relations, they overachieved."
It wasn't long before performers like The Rock and "Stone Cold" Steve Austin became household names. Raw was the platform for superstardom, with Ross ringside more times than not telling their stories. Looking back, there were many moments and confrontations that stand out for the man under the Resistol hat.
"There were so many matches I've loved to call. Some matches are off the grid," Ross said.
"I worked with Randy Savage, which is never easy. I loved his talent. I loved his passion, but he had to trust you. I think he had trust issues, but he was damn sure talented. He and I called the 1-2-3 Kid and Bret Hart. To many in the crowd, I'm sure they thought it would be an easy Bret Hart win and that this young guy, Sean Waltman, wouldn't have a chance.
"It was one of the classic examples of how great a talent Bret Hart was, because he made Sean Waltman look like a million bucks. They had an extremely competitive match that was based in logic, unpredictability. A great piece of work. So, matches like that jump out at me as much as other stuff like Steve Austin driving the Zamboni, Milkomania with Kurt [Angle]. We were lucky to have some hellacious talent like Jeff Hardy and The Undertaker, who had a ladder match. All memorable."
After broadcasting for a ton of the show's almost 1,300 episodes and counting, "Good Ol' JR" has few regrets during his run on Monday nights. However, a prevalent one was that he had suffered his second bout of Bell's Palsy around the time Mick Foley won his first WWE Championship.
"I worked so diligently and with all my heart to get Mick hired because I felt like he was a good citizen and a great opponent for The Undertaker, which I needed at that time," Ross said. "I didn't get to call that match. That's one of my regrets as far as Raw was that I was ill when Foley won his title. I thought it was a moment I would have loved to experience with him."
Through tragedy and triumph, Ross has persevered. The same is accurate for Raw. In many ways, the 25th Anniversary of Raw is a homecoming for himself and Lawler. The Madden and Summerall of WWE are coming back to where the magic happened.
"That Raw brand is part of pop culture, Americana," Ross said. "I can't tell you how many big-time athletes that I've met and said, 'J.R., you were the voice of my childhood when I was going to high school and college. You and Lawler were our soundtrack.' That show, and our work to a lesser degree, has impacted a lot of folks. For that, I'm very lucky to be a part of it."
Watch the 25th Anniversary of Monday Night Raw on January 22 at 8/7c on USA Network