Natalya Promises History-Making Season 7 of WWE 'Total Divas'
When Natalya signed on for Total Divas, it changed her life forever. The E! reality series following the lives of some of WWE's fiercest females inside and outside the ring returns for its seventh season in November. And the "Queen of Harts" is proud to says she has been there from the beginning.
"By the end of this season I'll have done 100 episodes," she said. "To be able to say I've done every single season and had the WWE Universe on this journey with me, I just feel so blessed…People become connected and want to know more. To be able to let people into my life, I feel grateful for that."
This season, the show finds Natalya reaching new career heights as the SmackDown Live women's champion. The ladies of WWE are at the forefront of a revolution, headlining events and marking countless milestones in short order. This includes the first-ever women's Money in the Bank ladder match. Total Divas cameras were there when Nattie battled an intense fear to be part of history.
"Most people would never know I'm afraid of heights," she said. "So, I got to show that vulnerability going into that match…I didn't want to let my co-workers or upper management know I had that fear because I didn't want that opportunity taken from me. It was a situation that forced me to confront my fears."
The pro wrestling diehard looks back at all that has happened since Total Divas began. Audiences saw her struggle to find her place within the women's division. With new faces in the fold, Natalya fought to stay in the mix. She married fellow grappler Tyson Kidd, with her family and cats becoming a popular staple of episodes. Fast-forward to today, and she smiles from the top of the WWE mountain.
"Come Hell in a Cell, I would have had the most pay-per-view matches out of anyone in WWE history. I will surpass Trish Stratus' record," Natalya said. "To know how hard I worked, and to get this opportunity, it's so great because 100 or so episodes later you see me achieve my dream. It's a great message for men and women alike that if you believe in yourself and don't give up, no matter how many times you want to throw in the towel, you can reach your dreams. Everything you ever wanted to happen can. You just have to keep going."
Joining the cast for Total Divas Season 7 are Alexa Bliss, Nia Jax and Carmella. The Canadian likes having new blood on the show.
"Carmella has actually become one of my closest friends. We travel together," Natalya said. "We just came back from a tour of China, Japan. We made it through Hurricane Irma. We both live in Tampa and were freaking out. We hugged each other once we knew would be okay. …
"Nia is such a character. She is going to be so well-liked on Total Divas because she not only wears her heart on her sleeve, but Nia just says what she thinks. I aspire to be her in that sense in that I can say whatever I want. She says what she feels, and I think the world needs more of that. Alexa is adorable. She is just as lovable in real life as she is on TV. She is very relatable. Alexa was a pleasure to work with when she was on SmackDown Live. She is really growing in WWE and is a good person."
During her more than 10 years with WWE, Natalya has watched friends transition into motherhood. Among them are Brie Bella and her husband Daniel Bryan. Maryse and The Miz made their baby announcement on Raw a few weeks ago. Although Natalya would love to have a child one day, she'll stick to kitties for now.
"Tyson came back to the show and jumped into a new role in WWE that he loves. So, we are both in happy places," she said. "But the first time I met Brie and Bryan's Birdie I was telling my husband, 'So much has changed for us. Birdie almost makes me want to have a baby.' Granted, I'm not in that place in my life yet, but Birdie is like no other baby I ever met. She is the best of Bryan and Brie. She is just so good-natured. I've never seen her cry. She could give any girl baby fever."
Natalya believes this season of Total Divas is the best one yet, with more of a focus on the wrestling aspect.
"We just follow what happens in life. The seasons prior we had a lot of weddings. This season is the first season we don't have a wedding. You get to follow more history-making stuff like the first-ever women's Money in the Bank. Plus, Brie and Nicole stepping out of the ring to do something different.
"I was with Carmella and was literally going through the curtain with her at a live event when she got the news [fiancé] Big Cass blew out his knee. She was so scared and upset, seconds away from going out to perform. She was such a professional and focused on the match. I don't know if I could have done that, and I've been wrestling since I was 18. A true pro."
She also promises drama with Lana, as usual.
"I was ready to bodyslam her in China. She was asking way too many questions," Natalya said.
The more things change, the more they stay the same.
Catch Natalya defending the Smackdown Live Women's Championship against Charlotte Flair 8/7c, October 8 on Pay-Per-View and WWE Network
Watch the Total Divas Season 7 premiere Nov. 1, 9/8c, on E!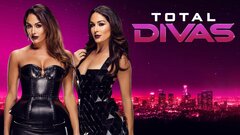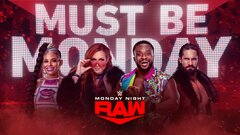 WWE Raw
where to stream