WWE 'Total Divas' Superstar Naomi Is Gearing up for a Glowing 2018
The goal of any WWE superstar is to stand out.
And Naomi certainly does that, with an exciting in-ring style coupled with one of the most visually eye-catching entrances (see photo above). The 30-year-old found herself over the years, and success followed. As one of the original cast members of Total Divas, fans have been there every step of the way to witness the transformation.
"There is a big difference now on the show, being a veteran compared to when I wasn't before and taking a break from it. I just feel now I'm in such a better place with my career and personally," she said.
"It's a lot smoother for me now and easier. I can't complain. I'm just happy and grateful to just be part of Total Divas and just see how it has grown. We are all growing and evolving and becoming better superstars, women; better everything. I think the show is very empowering, so it's nice to be a part of that still."
Naomi, real name Trinity, believes there is a bond with the founding females of the E! reality series. However, she welcomes the new additions that help keep the program fresh.
"They work just as hard," she said. "They are all passionate. I feel they all belong. I've created and established some great friendships with them. It's nice. You get to see all these personalities and how we work together at the end of the day."
The SmackDown Live performer will never forget what it has taken to get to where she is today. There was a time the former women's champion endured having her match cut from WrestleMania, being snubbed on an event poster and fighting for any kind of television time. Naomi developed a "Feel the Glow" presentation that is true to herself, which has resonated with fans.
"I think that is why I struggled in the beginning, because I feel like I was put in storylines that weren't me," she said.
"I did the heel stuff. When I first came to NXT, I was wearing the neon stuff. Then I got away from it and ended up being a Funkadactyl dancer, which was awesome. Then I ended up being with Tamina and Team B.A.D. Then I was with the Usos for a little while. I just felt like I needed an opportunity to be on my own. I knew that once I got that moment the 'Glow' was what I wanted to do. That's who I was. I really believe in the 'Glow' and live my life that way. It's about being positive inside and out, and being the best version of yourself possible. I really wanted to incorporate that into wrestling. That was my way of doing it."
What you see on WWE programming today was two years in the making for Naomi. She pitched the idea to creative. It took time to get the proverbial green light. However, the superstar stood by her idea and was determined to see concepts become reality. After Team B.A.D. split, Naomi wondered what she was going to do next.
"I went and had one of the many talks with Vince [McMahon]," she recalled. "I went to him with the idea and he was like, 'Well, we will give it a try.' It was a at a point where they weren't doing anything with me. Thanks to Vince and Triple H and Road Dogg, they really helped me get everything off the ground. It was rough trying to get the gear, trying to get the lighting. I just had to stay on them on that, because this is a machine. There is so much going on each day."
Getting approval was half the battle. Next, she had to find the time to rehearse, as well as the get the clothes and fabric for the "Glow" gear. Initially, Naomi came out in a glow-in-the-dark outfit made from fabric she found. She experimented and worked hard to get it right.
"We couldn't get it to translate right on TV. It looked cool. It glowed in person, but for some reason on TV, the glow in the dark fabric wouldn't translate on TV," Naomi said. "I literally had to charge it backstage with the bright lights. Let it charge and go out. It was just too much. It wasn't going to work. Then we ended up doing the UV reactive stuff, which is where we are now. All of my gear has to be certain fabric that glows. Not all neon things glow. That was tricky, too.
"I would find all this stuff off of rave sites and trying everything. I would get to TV and the stuff wouldn't glow. I got it down now. I have a closet, a whole room of glow stuff that never made it on TV yet or didn't work. Money I've spent on all this stuff."
Completing the presentation were her flashy, light-up footwear. She began wearing them before you could find them at mall kiosks. However, the initial reviews of the trendsetter's reinvention weren't all…ahem…glowing.
"I remember when I first started wearing them I would get on social media, 'What are you, 12 years old? Wearing light-up shoes, really? I got a lot of slack for it," she said. "One day it became cool and [now it] is everywhere."
Jon, one half of the successful Usos tag team, has been there for support and encouragement. Naomi and her husband are consistently an entertaining part of Total Divas. There is a natural chemistry.
"No matter how long we know each other, there are still things we are finding out. What we realized is that it's okay to have disagreements. It's okay to have arguments as long as we understand and grow from them and continue to respect each other," Naomi said.
"It's tough because we are together 24/7. We live together, we travel together, and I have two step kids. It does get challenging at times because we go through everything together. If I'm having a bad day, he is the one I'm with 24 hours a day. So, most of the time I take my frustrations out on him. It's learning how to cope with all those things.
"Our relationship has changed so much in the years with our career and jobs. We're a lot busier than when we first got together. So, it's learning to grow and evolve with each other. I think that is what every couple goes through. It doesn't matter if you're famous. It doesn't matter if you're a celebrity. It doesn't matter what job you have. If you're sharing your life with someone, you're going to have bumps in the road. But I wouldn't want to go through that with anyone else but him."
The same isn't necessarily true when it comes to Mixed Match Challenge, a new Facebook Watch series featuring male and female superstars competing on teams together. The 12-episode series premieres on January 16 at 10pm ET, with mixed duos competing to give $100,000 to charity. Naomi and Jon are participants.
"I wanted to work with him and team up with him, but he doesn't really want to team up with me," she said.
"He thinks I don't listen. I tell him I will listen and do whatever he tells me to do. He goes, 'No you won't.' I'm curious about it. It would fun to be with someone else like New Day or Nakamura or Rusev. Teaming up with Rusev would have been very entertaining because we can get on each other's nerves all the time. And I'm the complete opposite from his ravishing wife Lana. We'll see how it all goes."
Naomi wouldn't mind seeing mixed tag titles created as a result of the tournament show.
"The more championships the better. That means I can set more goals for myself."
She marks another milestone in January, entering the first-ever women's Royal Rumble at the event with the same name, which airs Jan. 28 at 7pm ET on Pay-Per-View and WWE Network. Naomi will be one of 30 female competitors.
"I knew a women's Royal Rumble would happen eventually, but nobody was sure," she said.  "We speculated about it in the locker room, we were all so excited. I was watching Raw, and we were all so ecstatic when it was announced. We all go on the phone texting each other and calling each other. It's very fulfilling.
"I feel like all the hard work for decades the women have been putting in is why we are here in this moment and getting that opportunity. Just us delivering on the prior opportunities that have been given rewarded us with this first Royal Rumble match. Everyone is so happy and proud about it.
"I'm excited about what women who are coming in there. The surprises. That's going to be so awesome. I'd like Kharma to come back. I would love to see Beth Phoenix, Melina. I am a huge fan of Melina. Trish Stratus, LIta, Victoria, Molly Holly. The list goes on and one. If we get any of those, I'll be happy."
WWE Total Divas, Wednesdays, 9/8c, E!
WWE Mixed Match Challenge, Streaming Live Tuesdays beginning Jan. 16, 10/9c, Facebook Watch
WWE Royal Rumble, featuring the first-ever women's Royal Rumble match, Jan. 28, 7/6c Live, Pay-Per-View and WWE Network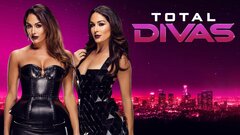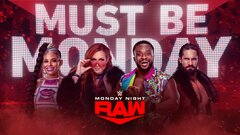 WWE Raw
where to stream