'Electric Dreams': Vera Farmiga Is a Frightening Politician in the 'Kill All Others' Episode (VIDEO)
If you have enjoyed adaptations of the visionary work of sci-fi author Philip K. Dick that have been made over the years—such as the Blade Runner films (based on the novel Do Androids Dream of Electric Sheep?) and the Amazon drama The Man in the High Castle (based on the novel of the same name, and which will debut its third season sometime this year)—you'll be excited to know that Amazon has more Dick adaptations for you. Several of the author's short stories have each inspired an episode in the new anthology series Philip K. Dick's Electric Dreams, available on the service starting Friday.
Dick's works are adapted for this series by leading American and British writers and directors, including Ronald D. Moore of Battlestar Galactica and Outlander fame, who also serves as an executive producer for the series.
See Also
The anthology series features an all star cast, including Steve Buscemi, Bryan Cranston, Maura Tierney, Janelle Monae and Terrence Howard .
Another executive producer of Electric Dreams is Bryan Cranston, who is also part of the large and notable cast of actors bringing Dick's tales to life. Along with Cranston, the series will feature Steve Buscemi, Greg Kinnear, Maura Tierney, Janelle Monáe, Mireille Enos, Anna Paquin, Terrence Howard, Vera Farmiga and many others.
You can watch Farmiga in the exclusive clip below, courtesy of Amazon Studios and Sony Pictures Television. It's from the "Kill All Others" episode of Electric Dreams (based on Dick's story "The Hanging Stranger"). Farmiga plays a politician who makes a shocking statement encouraging violence; in the wake of that, a man is found hanging from a lamp post, apparently murdered and inexplicably ignored by passersby. When Philbert Noyce (Mel Rodriguez) dares to question the situation, he finds himself a target.
Check out the chilling scene here, with Farmiga's politician questioning if Noyce is what she calls an "other":
Philip K. Dick's Electric Dreams, Season 1 available on Amazon Friday, Jan. 12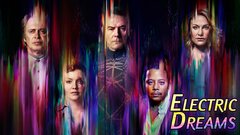 Powered by