Roush Review: The Stars Come Out for 'Electric Dreams'
How many dark mirrors can even the most devoted fantasy fan look into without cracking? For those who may have already raced through the six terrific episodes from the latest season of Netflix's Black Mirror, here's a happy, or possibly unhappy, New Year present: an even more heaping helping of downbeat science fiction, from the imagination of Philip K. Dick, best known for inspiring the Blade Runner movies.
It's easy to see the appeal for Amazon, which had early success with its series adaptation of Dick's The Man in the High Castle and wisely sees the anthology format as a natural for streaming. Electric Dreams really turns on the star power, with headliners including Bryan Cranston (one of many executive producers), Steve Buscemi, Maura Tierney, Greg Kinnear, Anna Paquin, Terrence Howard, Mireille Enos and Game of Thrones veterans Richard Madden and Liam Cunningham.
The 10 episodes of Electric Dreams often share Mirror's fascination with the sinister blurring of humanity and technology, and while these stories are as lavishly produced as they are impressively cast, many soon begin to seem rather mechanical.
Or preachy, as in "Human Is," which even a pro like Cranston can't enliven much. He plays a gruff astronaut whose unhappy wife (Essie Davis) is delighted when he comes back from a dangerous mission changed for the better. Possessed by aliens? Who cares, because "if sacrifice, kindness and love is not the ultimate test of what makes someone human, then what is?" In "The Father Thing," when Kinnear as a loving dad is seemingly replaced by invading aliens, you may long for the subtlety of Invasion of the Body Snatchers.
Consuming these episodes in too quick succession can test one's threshold for future-shock dystopia. Even an enjoyably twisty tale like "Autofac," about an uprising against unyielding automation, comes off as a downer. And while the most poignant installment, "Impossible Planet," euphorically realizes a 342-year-old woman's (Geraldine Chaplin) dream to visit a ravaged Earth before she dies, the actual state of the planet could keep you up at night.
Unblemished happily-ever-afters are rare in this genre, of course, but even so, too many of these bleak Dreams are a few watts short of electrifying.
Philip K. Dick's Electric Dreams, Series Premiere, Friday, Jan. 12, Amazon Prime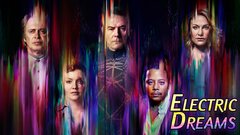 Powered by