NYCC 2017: Amazon Releases 'Philip K. Dick's Electric Dreams' Trailer
Amazon unveiled the official trailer for its new sci-fi anthology series, Philip K. Dick's Electric Dreams, during the "From The World of Philip K. Dick" New York Comic Con panel on Friday.
The ten standalone episodes— inspired by Dick's short stories—each explore different worlds in different times. "While the stories may be worlds apart, central to each is the poignant and warm exploration of the importance and significance of humanity. From five to 5000 years in the future, each compelling tale will both illustrate Philip K. Dick's prophetic vision and celebrate the enduring appeal of the prized sci-fi novelist's work," reads a synopsis.
The series stars Steve Buscemi, Bryan Cranston, Greg Kinnear, Maura Tierney, Janelle Monae, Terrence Howard and many others.
Philip K. Dick's Electric Dreams, Series Premiere, 2018, Amazon Prime Video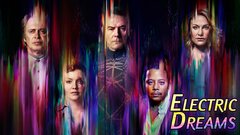 Powered by