'The Man in the High Castle': Who Is Jason O'Mara's Mystery Character?
Fans of Philip K. Dick are lining up to see Blade Runner 2049, the inspired sequel to the 1982 film based on the sci-fi icon's novel, Do Androids Dream of Electric Sheep?  But that's just the start. We'll have plenty more of his speculative fiction to look forward to on TV next year. Dick's alternate history series, The Man in the High Castle, returns for a third season on Amazon Prime in 2018, along with Dick's latest series, Philip K. Dick's Electric Dreams.
The cast of The Man in the High Castle gathered at New York Comic Con on Friday to share tidbits for the series' third season. Rufus Sewell, Alexis Davalos and new addition, Jason O'Mara (Agents of S.H.I.E.L.D), joined executive producer and Dick's daughter, Isa Hackett, and series producer Eric Overmyer on stage at the Javis Center.
The  show, set in an America conquered  by Nazi Germany and Japan in World II, will amp up its sci-fi element in Season 3 when it becomes clear the seeming return of  Trudy Walker (Conor  Leslie), the dead sister of  Julianna Crain (Davalos), is connected to the documentary films that show the Allies winning the war.  And Trudy probably isn't the only one, Moore revealed. In other words, it's a multiverse world and different versions of every person may exist in different universes.
Though the return of Trudy/not Trudy helps open up Julianna's mind to the idea of the multiverse, that knowledge is not something that Sewell's character, top American Nazi John Smith, wants to accept.  "His world starts to crack open," says Sewell. "His doubts are growing."
The Resistance also grows this year and there could be room for the new guy in it. Though the O'Mara was tight-lipped about the role, he allowed that his character is an Irish refugee currently known as Wyatt Price. Word is out that Price lives in the Neutral Zone, where he survives by hustling and meets Juliana. Also to be determined, whether Julianna gets involved with Wyatt or she goes back to Nazi spy Joe Blake (Luke Kleintank).
The Man in the High Castle, Season 3, 2018, Amazon Prime Video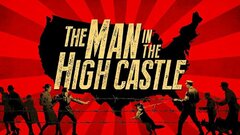 Powered by